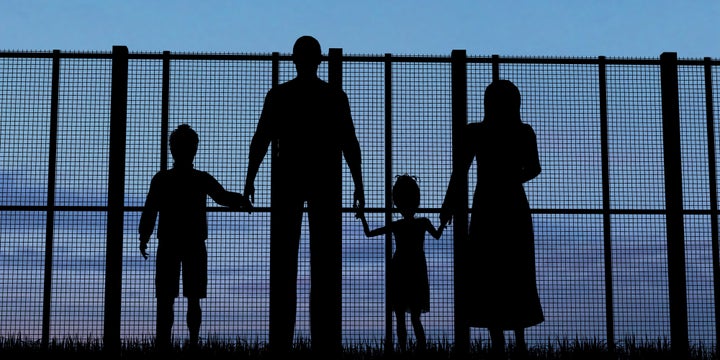 Dozens of Cambodian-Americans who have established their lives in the U.S. may be forced to leave a nation they consider home.
More than 100 Cambodian-Americans have been detained across the country within the past month and could be facing deportation, according to a recent statement from the Southeast Asia Resource Action Center, or SEARAC. The organization says most of the individuals being detained are refugees, and many have green cards.
The incident is likely a response to the Cambodian government's pushback on the U.S. deporting Cambodian refugees here who have few or no ties to their home country, experts say.
"With over 100 people rounded up this month, we've never seen anything like this," Quyen Dinh, executive director of SEARAC, told HuffPost.
Mari Quenemoen, SEARAC's director of communications and development, explained to HuffPost that most of those affected by the round-ups have had contact with the criminal justice system and had received final orders of removal in the past because of their records. So the majority have been under orders of supervision and have been regularly checking in with U.S. Immigration and Customs Enforcement for some time. When many of these individuals went in for their regular check-ins in the past few weeks, they were unexpectedly detained. Dinh said that in most cases, their past crimes aren't relevant to their lives today.
"In the vast majority of cases, we are talking about people who came to the United States as children fleeing genocide with their families. These are individuals whose crimes were often equated with poverty and youth," Dinh told HuffPost. "Many were released years or decades ago and found a new path forward, whether in a career, education, family, or faith. ... To use their past served criminal sentences to justify punishing them again is inhumane and unjust."
ICE didn't provide HuffPost with specifics about the situation, but the agency said Cambodia will have to cooperate with any deportations.
"International law obligates each country to accept the return of its nationals ordered removed from the United States," Brendan Raedy, a spokesperson for ICE, wrote in a statement to HuffPost. "The United States continues to work with the Government of Cambodia to establish a reliable processes for the issuance of travel documents and their acceptance of the prompt, lawful return of Cambodian nationals who are subject to removal from the United States."
SEARAC has been spearheading an online campaign to support the families of those who have been detained. Other leaders have been vocal against the detentions, including Janice Hahn, a Los Angeles County supervisor. Hahn wrote a letter to Elaine C. Duke, acting United States secretary of homeland security, expressing concern that the detentions were a result of tensions between the U.S. and Cambodia, and calling on the release of those detained.
"These detentions are troubling. In fact, at least one of the detainees lives in my District and was swept up in the increased enforcement," she wrote in the letter. "My residents and their families cannot be used as pawns."
The majority of those rounded up are being held at Adelanto Detention Facility in California, with more from North Carolina, Virginia, Wisconsin and other states being transferred there, according to Quenemon. Quenemon said SEARAC has received word the group will likely end up at an ICE facility in Indiana, where the Cambodian consulate will meet and interview them. She added that a number of them probably will then be deported, though it isn't clear how many.
Dinh told HuffPost the round-up is one of the largest her nonprofit has ever witnessed and is not random. She pointed out that Cambodia began accepting deportees following a 2002 repatriation agreement with the U.S., taking in a limited number. But as protests over the deportations arose from the Cambodian-American community, the Cambodian government temporarily suspended repatriations. As a response, the Trump administration imposed visa sanctions on the country, preventing high-ranking officials and their families from traveling to the United States.
To demonstrate cooperation, Cambodia then announced it planned to look into accepting a limited number of repatriations. It expressed intent to interview 26 people facing deportation, a press release from the government explained. But the Trump administration continued with the large-scale roundup anyway, "presumably with the hope that they will pressure Cambodia to take more over the coming year," Dinh said.
Experts say that under the Trump administration, the Department of Homeland Security is expected to make harsher decisions regarding immigrants with criminal convictions. Trump has already rescinded a 2014 Obama-era memorandum that prioritized deporting those with criminal records but was more forgiving toward those who had shown progress and rehabilitation.
For deportees, a life away from the U.S. could present a host of other challenges. While some find a way to successfully start anew in Cambodian society, others battle depression, a 2010 report on returnees notes. Some turn to drugs and alcohol to cope with the difficulty of their new lives, and a number of returnees have killed themselves.
Her organization is pushing people to contact their representatives to stop future deportations of these refugees from occurring.
Dinh says that after all, these families who escaped a violent regime decades ago deserve happy lives.
"They are fathers and mothers, business owners and valued employees. They support elderly parents still suffering from the physical and emotional scars of a brutal genocide," she said. "If we really care about community safety and justice, we would invest in their communities and families, not tear them apart."
Popular in the Community