The temple complexes of Angkor and Bagan are two Southeast Asia greats. Both boast a vast number of historic temples, oft-photographed sunrises and sunsets, and a magnitude of scale unimaginable to anyone but an art historian.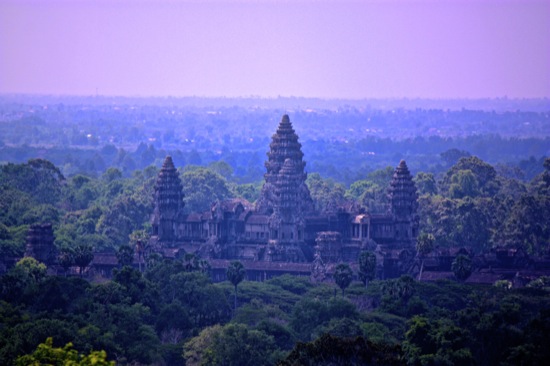 Bagan was largely constructed from the 9th to 13th centuries and served as the capital of the Pagan kingdom. During its height, it boasted 10,000 Buddhist temples and pagodas. The number remaining today is estimated to be between 4,400 and 2,000. You should allow at least two days for Bagan, even if you're not a temple buff. If you are, allow a lifetime to explore the thousands of crumbling temples strewn across miles of desert.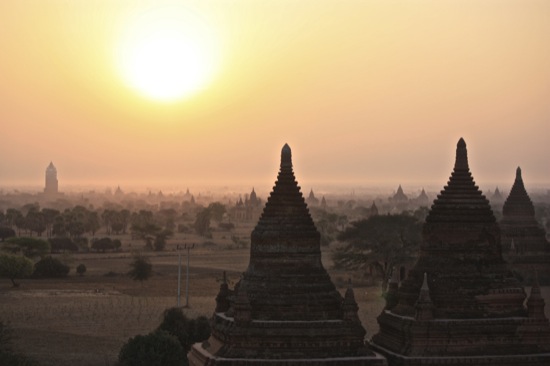 Angkor was the seat of the Khmer Empire, which flourished from the 9th to 15th centuries and, at one point, controlled much of Southeast Asia. There are over 1,000 temples in the Angkor complex, the most famous of which is Angkor Wat, built in the 12th century and often described as the largest religious monument in the world. The whole Angkor complex is a UNESCO World Heritage Site and you should budget at least two days to give it justice.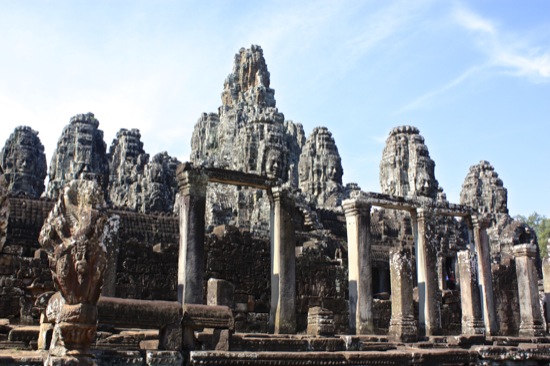 Travelers with limited time in Asia are often faced with a dilemma. With only two weeks of vacation, which ancient ruin site should you visit: Bagan, in the desert sands of Burma, or Angkor, outside the developed tourist-friendly town of Siem Reap, Cambodia?
We put the two sights face to face in our ancient ruins race. See who comes out on top:
Angkor has Bagan beat. Thanks to meticulous restoration work over the past several decades, you'll see exquisite stucco decorations and elaborate complexes that you can't find in Bagan.
Where else in the world will you feel like you're in Legends of the Hidden Temple, that Nickelodeon show from the 90s?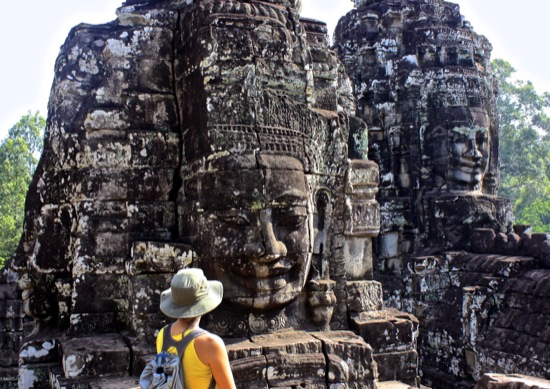 In addition to the detail found in the restored temples, there are also a few that, while crumbling, have their own unique beauty. Perhaps the most famous is the Ta Prohm temple complex, where Angelina Jolie filmed Tomb Raider. When nature overtakes architecture in this way, there's only so much set design you need.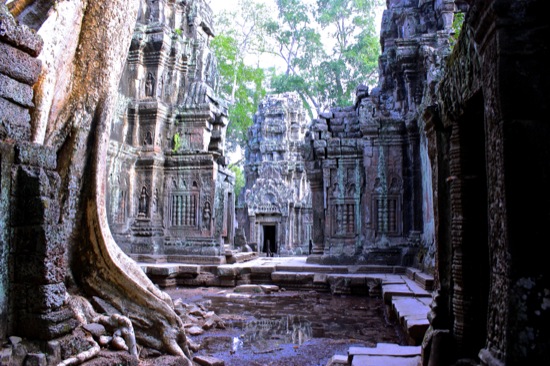 Angkor is expensive by Southeast Asia standards. A three-day pass costs $40, while a weeklong pass in Bagan is the equivalent of $10. The money is supposed to go toward restoration, but when we visited Angkor, the only people working were the ticket collectors. Temples were covered in scaffolding and signs told us about the restorations taking place, but it was unclear whether the work was occurring.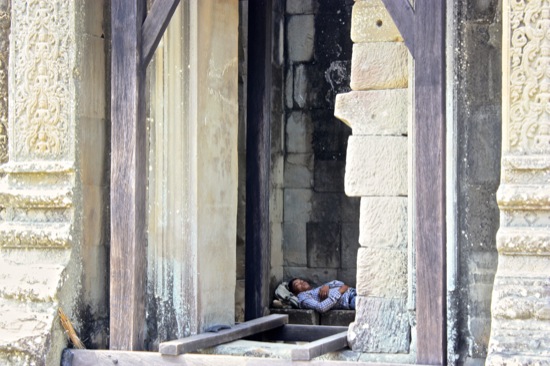 Therefore, Bagan wins for affordability, even though neither is cost prohibitive.
Bagan has this hands-down. Angkor Wat has a few good sunrise and sunset spots, but nothing that competes with this: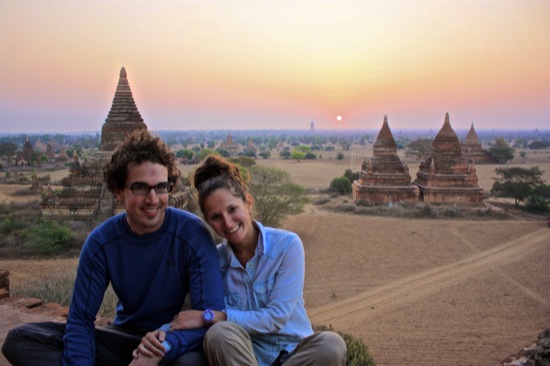 The popularity of Angkor with tour groups also means it's crowded, so you'll have to jostle for a good spot to enjoy the views. While Bagan and Burma are growing in popularity, you won't find the type of crowds you'll see in Angkor: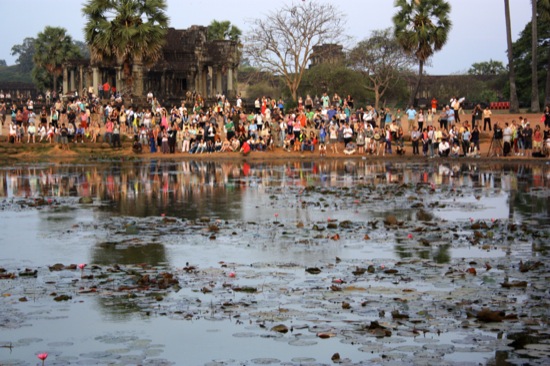 Unless you consider being harassed by children who want to sell you anything from coconuts to flutes as fun, I'd say Bagan has this category. Sure, there are sand painters and postcard sellers, but once you say no, they leave you alone. Sometimes they even show you around the temple and explain the history, actions we were more than happy to reward with a tip.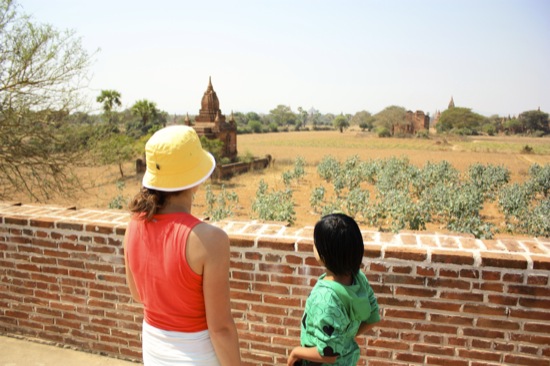 The Burmese visit Bagan for the same reason you do -- to see the temples for themselves and feel closer to the history of their land. For the most part, they're incredibly excited when they see you there. They don't want to sell you things; they want a picture.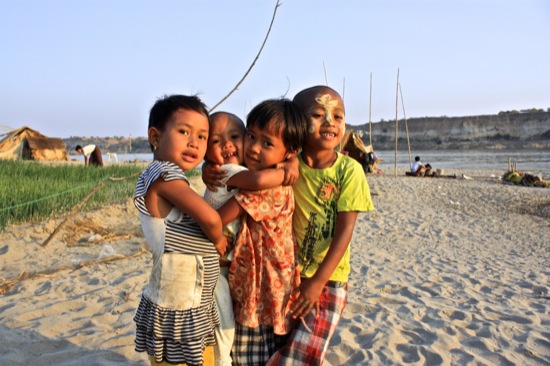 Transportation Difficulty
Our transport of choice for both Bagan and Angkor was bicycle, though there are lots of other choices, including tuk-tuks, horse-drawn carts, and even cars.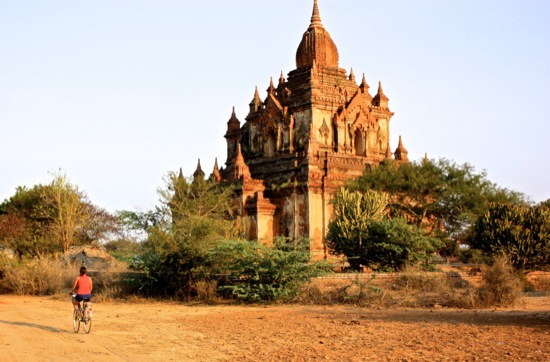 Because we were traveling on two wheels, the winner for ease was Angkor. Almost all the roads are paved, and though I somehow managed to get two flat tires at once, the roads were easier to navigate than the dust and sand of Bagan. That said, real roads did make the temples a bit less atmospheric. Just look at this dust in Bagan: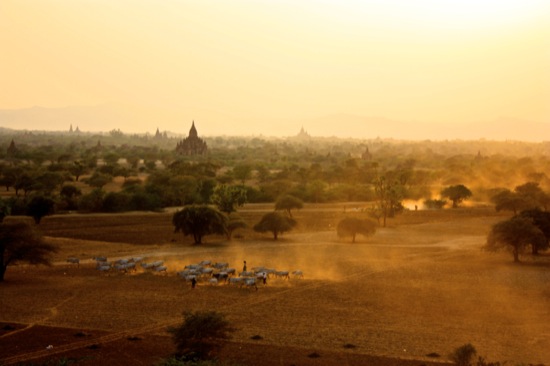 Angkor takes this category. As with most guesthouses in Burma, Bagan's were overpriced and desperately in need of a remodel.
In Siem Reap, we paid $25 per night for a beautiful new room in a resort with an infinity pool, huge breakfasts, fast wifi, and AC that always worked!

That said, if you want to splurge, there are luxury options in Bagan.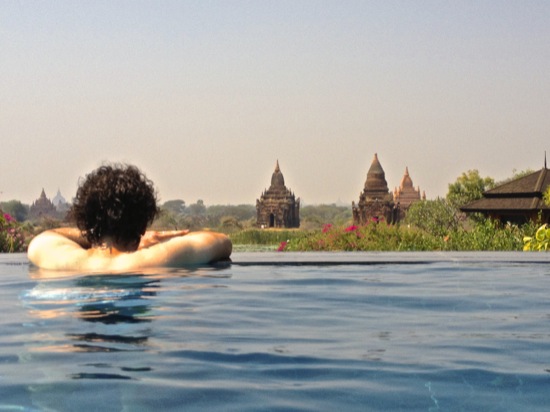 Depending on what you're looking for, this is a tough one. For us, the scale tipped toward Angkor/Siem Reap. Bagan had its Restaurant Row, but there was little choice and a non-existent nightlife. While we enjoyed the tea leaf salads and curries in Burma, Siem Reap won us over on variety. With 50-cent draft beers and restaurants that ranged from tourist to authentic to gastronomic, Siem Reap has something for everyone.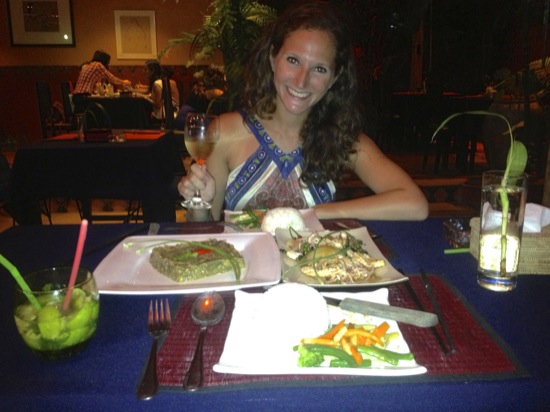 Some people complain that Siem Reap is too touristy and they're right. But after a few months living on rice and noodles, variety was appealing, even if it came with a Spring Break-like environment.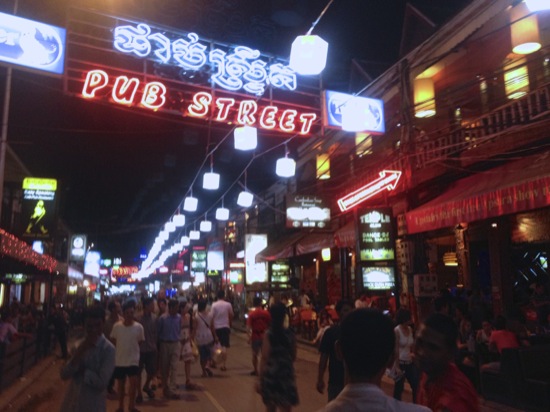 Final Tally: 4-3 in favor of Angkor
Angkor wins our ancient ruins race by a narrow margin, but here's something to consider: Unless you have extended time to travel like we did, you'll likely not want to spend your whole vacation in Cambodia. That means you'll visit Angkor from Thailand or Vietnam, which means extra transport and visa fees.
So if I had limited time and had to pick just one, I'd actually go with BAGAN, despite the issues with food and lodging.
Have you been to both Angkor and Bagan? Which would you recommend? Let us know in the comments!

Related