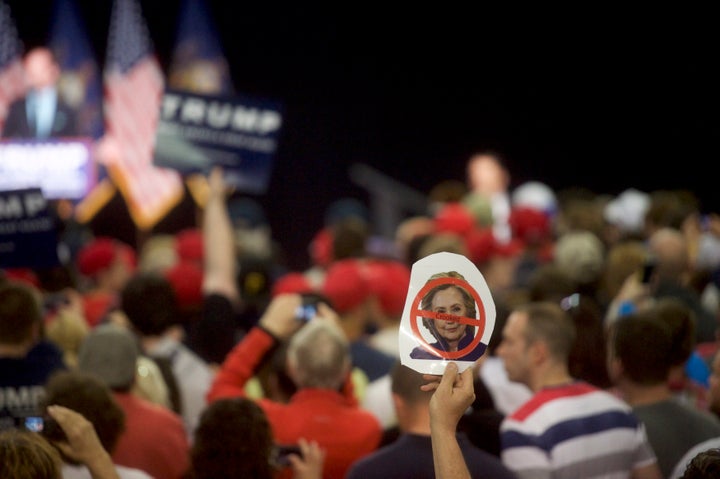 The president's ability to come up with insulting nicknames may not be as keen as we thought.
Cambridge Analytica, a British consulting firm that was hired for Trump's 2016 election campaign, made headlines over the weekend for using data acquired from 50 million Facebook users to build "psychographic profiles" about voters without their knowledge.
Undercover footage — shot between November 2017 and January 2018 — released by Britain's Channel 4 News on Tuesday shows Mark Turnbull, managing director of Cambridge Analytica's political division, bragging about how the company came up with the "Defeat Crooked Hillary" campaign and promoted it on social media.
"The 'OO' of 'Crooked' were a pair of handcuffs and it was all about … she belongs behind bars," Turnbull says in the video.
He then says the company made "hundreds of different kinds of creatives, and we put it online."
According to Channel 4 News, videos promoting the phrase "Crooked Hillary" — which Cambridge Analytica said received millions of views through Google, Facebook and YouTube — were linked to an independent organization (a pro-Trump super PAC) called "Make America Number 1" so users couldn't trace them directly to the Trump campaign.
"We just put information into the bloodstream of the internet and then watch it grow, give it a little push every now and again over time to watch it take shape," the firm's CEO, Alexander Nix, says in an interview in the video. "And so this stuff infiltrates the online community, but with no branding, so it's unattributable, untrackable."
Nix is also shown saying that Cambridge Analytica's data was key to Trump's successful campaign.
"We did all the research, all the data, all the analytics, all the targeting," he says. "We ran all the digital campaign, the television campaign, and our data informed all the strategy."
"Wait, wait! They made up 'Crooked Hillary!'" Colbert exclaimed. "Coming up with demeaning nicknames was the one skill we knew Trump had. You can't take that away from the man."
Popular in the Community