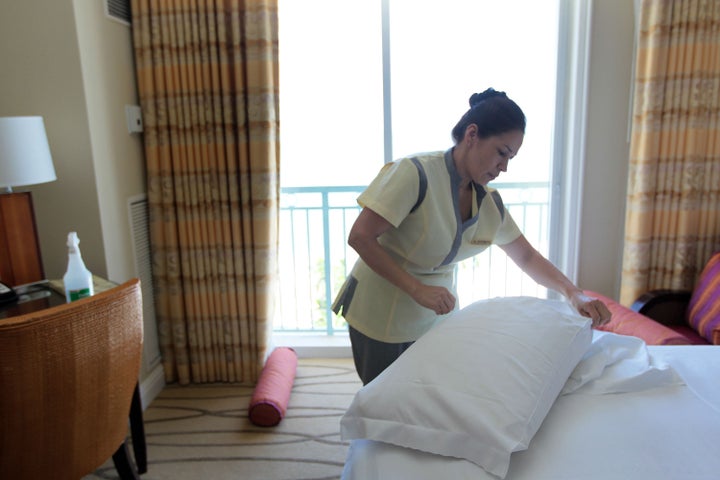 The City of Cambridge, Mass., has moved to create an ordinance that will effectively bar hotels from outsourcing in-house jobs, the first ban of its kind in the country.
The ordinance will require any large hotel seeking a license to prove that its workers who regularly enter guest rooms are directly employed by the hotel and not by an outside labor agency. Although the regulation has not yet been written, the city's licensing commission voted 2-1 on Tuesday to move ahead with it at the behest of city council.
The commission purportedly based its decision on public health and safety concerns, saying that hotels should be accountable for the housekeepers and other employees who are near guests and their belongings.
But the real subtext for the ordinance is a controversial labor practice. In recent years, some hotel chains have been saving money by outsourcing traditional in-house jobs to temporary staffing agencies that pay workers lower wages and don't offer health benefits.
As The Huffington Post reported last month, the outsourcing has had a serious impact on lower-rung workers in places like Indianapolis, where temporary staffing agencies supply a significant portion of the housekeepers and dishwashers toiling in local hotels. The mostly Latino workers tend to earn around the minimum wage, often don't have health insurance, and can go years without seeing raises. Many people told HuffPost that the outsourcing trend has played a large role in the decline of hospitality jobs in Indianapolis.
"They've been replacing Hyatt workers by attrition," one Hyatt worker told HuffPost. "It saves them money and that's the bottom line. They've found ways to increase their profit margins at our expense."
Cambridge City Councilor Marjorie Decker says the impetus for the ordinance was the 2009 mass firing of housekeepers at Hyatt hotels in Cambridge and Boston. At the time, 100 housekeepers were let go and replaced with new workers who earned about half the pay and had no health benefits. The incident caused such an uproar that Gov. Deval Patrick (D) called for a boycott of Hyatt.
After the incident, Decker led her council colleagues in asking the licensing commission to consider barring such outsourcing.
"What they did was unconscionable," Decker says of Hyatt. "That aside, there's still a real issue surrounding public health and public safety. The licensing commission did not base their decision on labor practices."
Decker says that she didn't face much opposition to the ordinance from the hotel industry, with most local hotel operators telling her they wouldn't outsource jobs anyway. She also says the ordinance will probably exempt hotels with fewer than 100 rooms, since such small operators would likely know all the staff working on their properties, even those who aren't direct hires.
Officials with the hotel workers union UNITE HERE consider the pending ordinance in Cambridge a victory for workers. They say that the outsourcing of housekeeping jobs has helped drive down wages and given workers less security.
"I think it's a very good development," says Brian Lang, president of UNITE HERE Local 26, which covers Cambridge. "The examples we have where hotels have outsourced -- particularly in housekeeping -- it's been a very, very bad thing for workers."
A Hyatt spokesperson did not immediately respond to a request for comment.
Popular in the Community