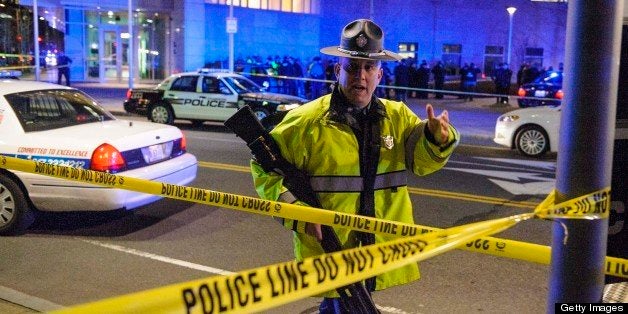 Anyone in Cambridge, Mass., who sees flashing lights or hears sirens need only log onto the police department's Twitter account to find out what's going on.
Bank robberies, fights, downed trees, and 15 other categories of crimes and crises get tweeted out by the Cambridge Police Department almost as they're happening. But the manhunt for the surviving suspect in the Boston Marathon bombing on Friday tested the wisdom of the Cambridge Police Department's Twitter strategy. The possibility of Dzhokhar Tsarnaev monitoring law enforcement activity on Twitter Friday made officials decide that it was too dangerous to post updates.
"When we got really into the thick of the manhunt, there wasn't really a debate," said Dan Riviello, a spokesman for the Cambridge police, about the decision to stop tweeting locations of crime reports. "We didn't want to be providing any information that could assist this guy."
As thousands of officers, FBI agents, and other law enforcement personnel combed through Watertown, Mass., looking for the 19-year-old suspected terrorist, Cambridge police announced an abrupt change to its social media policy:
Gone were the notifications about suspicious packages that had inundated the local police since the bombing near the Marathon's finish line. Starting around 11 a.m. Friday, the only tweets from @CambridgePolice pertained directly to the manhunt, such as a reminder that people should stay indoors.
Tsarnaev was found that evening hiding in a covered boat in a Watertown backyard. The department resumed tweeting crimes Saturday evening, without formally announcing its resumption.
In February, when the Cambridge police launched the automated system, which tweets the approximate location of crimes 10 minutes after cops respond to the call, the department had about 3,000 followers, a spokesman said. Two months later, they were up to 7,000 and following last week's events they surged to about 13,000.
Experts on police strategy say that the manhunt revealed the hazards of sharing real-time information with the public. Vigilantism is a potential risk and so is the chance of crowds materializing that could hinder an investigation.
But, nonetheless, more departments are likely to emulate Cambridge's fast delivery of information.
"As opposed to the waiting for the six o'clock news come on, this operates very quickly," said CUNY John Jay College of Criminal Justice professor Joseph Pollini. "It's informative. Crimes are public record, so the public has a right to know about this ... as long as it doesn't compromise the police investigation."
Unfortunately, Twitter reaches only a small cross-section in most towns and cities, a law enforcement consultant told HuffPost.
"Everyone's not on Twitter and everyone's not on Facebook, so you're missing some segment of the population that's more susceptible to crime," like the elderly, said Richard Brody, president of the Matrix Consulting Group.
Though tweeting is relatively new, it falls into the realm of hobbyists listening to police scanners to find out what's happening around town, experts said.
"This is not a new phenomenon, but the technology is different," said Maki Haberfield, another professor at John Jay College. "It looks to me like a good idea, but knowing human nature, it might backfire."
Calling all HuffPost superfans!
Sign up for membership to become a founding member and help shape HuffPost's next chapter
BEFORE YOU GO