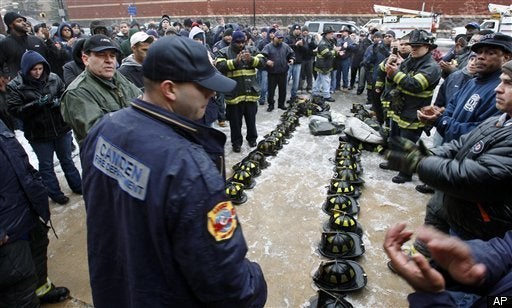 Budget pain hit home in Camden, N.J., on Tuesday, as nearly a sixth of city employees lost their jobs in one of America's most dangerous cities, AP reports.
The layoffs are just the latest consequence of devastating budget strains that have crippled the nation's cities. As Camden attempts to cut spending to compensate for diminished revenue, the city has begun to execute a plan, approved last month, to cut a fourth of the municipal workforce. Residents fear the cuts will deal a critical blow to the already struggling city.
About 335 municipal workers lost their jobs Tuesday, according to mayor Dana Redd. That includes about half of the police force, and a third of firefighters. Already, Camden is one of the nation's most dangerous cities: An analysis of recent FBI data ranks it number two.
Layoffs will turn Camden into a "living hell," according to a police union advertisement in a local paper, AP reports.
While Camden faces severe challenges, it's hardly alone. After the worst financial crisis since the Depression, the nation's cities have seen their revenue wither. As enormous pension obligations come due -- one estimate places the unfunded liabilities of city pension plans at $574 billion -- cities are having to make cuts that seemed unthinkable just half a decade ago.
As Camden lays off workers, nearby Newark is dealing with the effects of having fired more than 13 percent of its police force late last year. A recent spike in crime has left many Newark residents worried that the layoffs have made their city more dangerous. The city contends, though, that re-deployments have ensured that the same number of officers are patrolling Newark's streets.
Outside of New Jersey, other cities have also resorted to seemingly desperate measures. Prichard, Alabama, has illegally stopped paying its pensioners. Hamtramck, Mich., has repeatedly tried to enter bankruptcy. Detroit is considering a plan that would deprive a fifth of its city of basic municipal services, like trash collection and police protection.
As cities are forced to make tough choices, officials tend to cast public unions in a negative light. Redd, the Camden mayor, said public employe unions' refusal to accept a pay cut made layoffs necessary. But unions resist such talk.
"We get paid to do a service, and we do that service very well," Gregory Floyd, president of the New York City local division of the Teamsters union, told the Huffington Post. "We're not rich, we don't retire rich, and we don't have lucrative pensions."
Popular in the Community