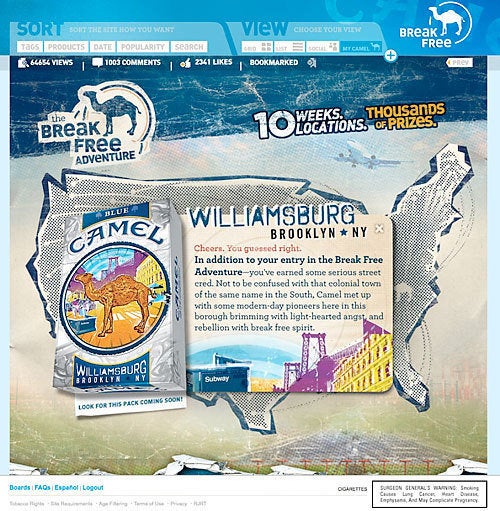 Hipsters are not a dying breed. To the contrary, they've become a cash crop, a catch word to mean whatever you want it to -- so much so that Camel is now using it in their new ad campaign.
Williamsburg is the latest "hip" location to be the subject of the "Camel Break Free" promotion that includes a new box design featuring a drawing of the neighborhood. "It's not about hip, it's about breaking free..It's about last call, a sloppy kiss goodbye and a solo saunter to a rock show in an abandoned building," or so says the promotional material obtained by The Brooklyn Paper.
When we attempted to check out the site we were met with an intense registration process that required a scanned drivers license or a phone call to a Camel representative. As non-smokers, we felt it best not to sign our life over to the Camel 'team'.
The Brooklyn Paper writes:
The marketing campaign promises its customers will earn "serious street cred" for trying the Williamsburg brand, and noted that Camel met with some "modern-day pioneers" with "lighthearted angst and rebellion" in the neighborhood to try the brand out.
In reaction to this latest campaign, Borough President Marty Markowitz wanted to clarify the exact way in which his borough is cool -- responsibly!
"As a former smoker, I know there is no way to responsibly use cigarettes. So when we say that Williamsburg and Brooklyn are smokin', we mean smokin' hot -- not smokin' cigarettes!"
Calling all HuffPost superfans!
Sign up for membership to become a founding member and help shape HuffPost's next chapter