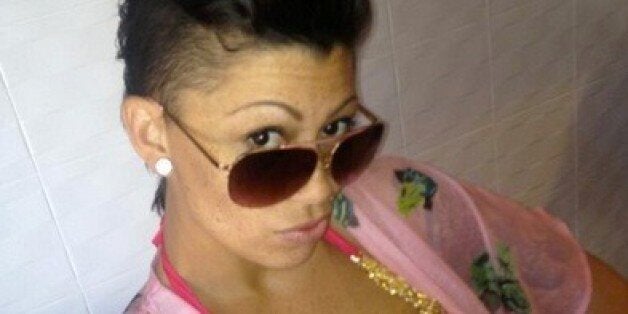 Owning nothing but a backpack full of clothes, Cameron Bay started working as an escort, hoping to rebuild her life. A few months ago, she performed in her first-ever porn scene -- an orgy with 10 people, she said. After just nine more scenes, she discovered she has HIV. Nobody's sure where or when she contracted it.
During her scenes, none of the male performers she had sex with ever used a condom, she said. One female performer told her, "Don't even bring it up because they have somebody waiting to replace you."
"I learned that there's always someone younger and sexier, willing to do something you're not. It's a dog-eat-dog world," Bay said in an exclusive interview with The Huffington Post. "I think we need more choices because of that. Condoms should be a choice."
Last November, LA voters passed a measure mandating condom use in porn, despite a large, coordinated campaign against it by the porn industry. But since then, industry insiders say there has been no enforcement of the new law.
After having sex with five men in her first porn scene, Bay got a kidney infection and was sick for weeks (photo). She shot all but one of her scenes in LA for Hustler, Zero Tolerance and 21st Sextury. The only scene not shot in LA was her last scene, shot on July 31 for Kink.com in San Francisco, where the company is based. It's also the only time she shot BDSM (Bondage, Domination, Sadism and Masochism) and anal sex.
Bay was told that condoms were optional on that final shoot. She told people on set that she would leave the choice up to her male scene partner. Bay said to HuffPost she didn't think she needed to ask for a condom because her male co-star had a negative STD test. Kink.com confirmed to HuffPost that Bay was offered a condom but it was not used.
During the scene, a male extra hit Bay too hard on set and badly injured her left-breast tissue. Kink.com paid for her hospital visit through workers compensation, and her doctor ordered her not to work for two weeks so that her breast could recover, Bay said. The surgery she needs on her breast, which is artificially enlarged, has now been postponed -- possibly permanently -- because she has HIV.
Kink.com confirmed to HuffPost that performers' injuries on set are covered by workers compensation but the company's HR department was not available for comment on Bay's injury.
In the same shoot, there was a separate incident when "really, really bad stuff" happened on set, Bay said. "Let's just say there was an incident, and we should have stopped shooting," she said, declining to give more details. "Very poor decisions by a few of us."
"I was new to the industry. When I was told that I was safe to shoot, I was like, 'OK, cool,'" she said. "I had no idea. I really didn't understand."
When Bay found out she had HIV on Aug. 21, a moratorium was placed on porn shooting in LA. Unlike her breast injury, her HIV contraction is impossible to definitely tie to any one shoot so she has to pay for her expensive medication on her own. Without health insurance, she's not sure how she's going to afford it. Most porn performers do not have benefits. The pills she needs to temper her HIV -- which already left her with severe flu-like symptoms for a week -- cost $2,000 for 30 days worth. "I spent more in one day on medical stuff than I did on rent for two months," she said. "I had a safety net of three months of not working and that cut into it a lot."
When she called a health insurance company inquiring about buying insurance, a case manager told her that she would not be able to get coverage for two years.
"She told me that if I survive two years, then I'm no longer as much of a risk and to call back then," Bay said.
And after being identified nationally as the HIV-positive patient zero that prompted a moratorium on porn, Bay doesn't expect to get gigs with other performers now. The porn industry is so small, she said, that she felt she had to go public with her HIV-positive test. Now, to make ends meet, she plans to solo perform via webcam from home.
Bay's last negative HIV test was on July 26, which cleared her to perform until Aug. 26. But she said she decided to get tested early on Aug. 19 because she heard a performer she had worked with had hepatitis C. That's when Bay was blindsided by the news that she had HIV.
"Thank God I went in when I did for hep C. I was scheduled to shoot," she said. "I could've been giving people HIV and had no idea."
That reality makes Bay believe that the system isn't working. Instead of being tested every 30 days, she said performers should be tested on set, before every shoot. Otherwise, she said, a performer could contract an STD after a negative test and still be good for 30 days.
Six days after Bay tested positive for HIV, the Free Speech Coalition, which oversees a database of all performers' STD tests, lifted the moratorium, saying that all performers who worked with Bay tested negative.
A week after the moratorium was lifted and porn shooting had resumed, Bay's boyfriend -- Rod Daily, a performer in gay porn -- announced that he also tested positive for HIV. Bay and Daily never performed on set together, but they have publicly been in a romantic relationship for two years. Neither of them can be sure how they contracted the virus. Two days after Daily said he was HIV-positive, a third performer tested positive on Friday, prompting the FSC to re-impose the moratorium. The fact that two performers tested positive after the moratorium was lifted led some -- including Bay -- to say that the moratorium should have been in place longer.
Bay said she hopes that more performers in the industry will become educated about the risks so they can make informed decisions. "Education is power. I've done more reading in the past couple weeks than I have since high school," she said.
She said that if she had done her research prior to going on set, she would have asked producers for a condom each time and walked off the set if she was refused.
"Because at the end of the day, it's about your safety. And a piece of paper that says you're clear to shoot doesn't mean anything."
Related
Before You Go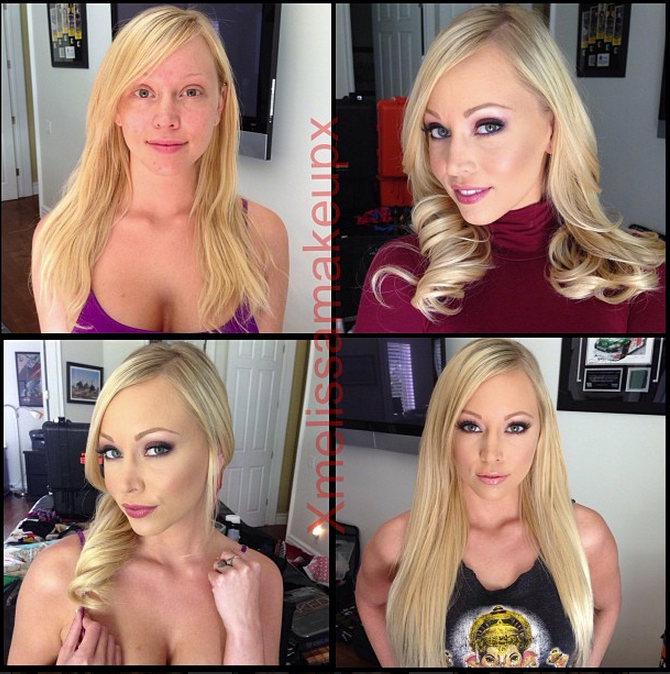 Porn Stars Without Makeup
Popular in the Community