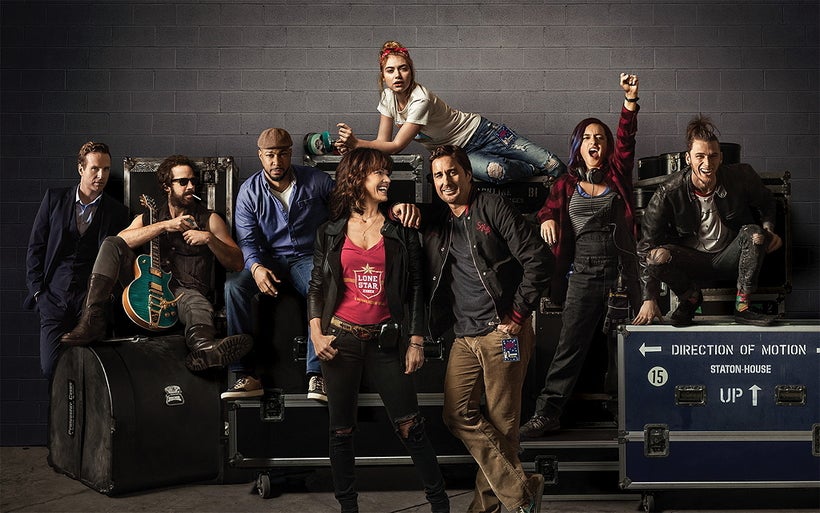 In this much-heralded era of Peak TV, with more than 500 scripted shows (to use a commonly cited figure) available for viewing, it's often thought that everything is competing with everything else. Some critics have grown fond of pronouncing one show or another the best drama (or what have you) on TV, as if that were what we're all seeking. But in truth, the proliferation of channels and the multiplication of scripted shows have made it easier for niche audiences to find something to suit their tastes. If you like rock music—if you've followed a band from one club to another, or had friends who took their act on the road, or merely tried to make music with a guitar—I've got a suggestion for you: Roadies, a comedy-drama that recently concluded a 10-episode season on Showtime.
The show was created by Cameron Crowe, whose love affair with music and early career as a music writer inspired Almost Famous, that valentine to touring rock acts and the big little world that surrounds them. In Roadies, perhaps indulging in a transposed form of personal nostalgia, Crowe again hypothesizes a touring band, this time shifting the focus to the crew that puts up the show at the start of the day, packs it up at the end of the night, puts up with the band's whimsies and peccadilloes, fends off interlopers, helps play up to the press, and basically holds everything together, meanwhile trying to figure out where their lives are going and whether this is really it or only an interlude. Tracking the roadies may sound like a bridge too far—it's not.
The characters in this easygoing show are a likable lot, drawn clearly enough and acted well enough that even the troublemakers have their appeal. The central figures are Bill, the tour manager (played by Luke Wilson); Shelli, the production manager (Carla Gugino); Kelly Ann, a rigger and an aspiring filmmaker (Imogen Poots); Wesley, her brother, who's good with guitars and espresso (Colson Baker); and Reg, a rather uptight type sent in to get a handle on the tour finances (Rafe Spall). Along with other crew members (notably the lovable-yet-irascible Phil, who's been in the business forever), there's also the Staton-House Band itself, often figuring into the story but seldom in the foreground for long; there's the woman who got away but occasioned the writing of the band's best-known song (Janine); there's a fanatical groupie (Natalie); there's a longtime admirer of the band, who runs the leading fan site and obsessively collects memorabilia; there's a self-important photographer, commissioned to shoot the band for a Vanity Fair cover (who I'm pretty sure is nothing like Annie Leibovitz except in terms of the respect with which she's regarded); there's a snooty, high-toned, dismissive critic. There are traditions (the morning circle) and superstitions (never mention the name of a certain city) and an elaborate ritual that must be performed in order to break a curse. There's meddling from afar, which I didn't care much about and never managed to get totally clear on. There are unlikely flirtations and dalliances and affairs, few of which are really surprising.
All of the episodes include a guest performance of some sort. In one case it's a lunatic affair involving a man who's been drugged. More often it's genuine musicians: real old-timers such as Lindsey Buckingham, veterans such as John Mellenkamp, and a number of more contemporary acts such as the Head and the Heart, Lucious, and Halsey. (The conceit is that this tour keeps losing its opening act and struggling to come up with a new one.) The stories aren't uneventful, but the drama is pretty low-key; similarly, there aren't a lot of depths and shadows in the characters. Roadies resembles Robert Altman's work in some of his less elaborate films, such as The Company. You sense that Crowe simply enjoys hanging around with these people, observing how they work, how they pass their time, how their lives go, and he hopes you'll feel the same. And always, there's the romance of music, the way a few men and women and their guitars and their voices can spread a spell, create a communion.
Roadies is almost entirely about white people, and if popular music has reached any kind of end or turning point, as Season One's final episode seemed inclined to suggest, it probably has to do with this: rock music, especially white rock music, isn't the main thing anymore. (It's kind of funny and kind of not that the show nods to Taylor Swift's stratospheric success.) If the color balance concerns you, maybe you should be watching Atlanta—see the Economist review here—which isn't about music but at least is about blacks. Regardless, there's that musical spell, which, if you're susceptible to it at all, the show casts reliably in every episode. And there's Imogen Poots. Does the writing of her character really have a somewhat piercing quality that the others lack, an embodiment of youthful aspiration and uncertainty that just gets you, or is it Poots's performance that makes her seem that way? More the latter than the former, I think. Poots is someone to watch. And how can you resist the name?
REAL LIFE. REAL NEWS. REAL VOICES.
Help us tell more of the stories that matter from voices that too often remain unheard.
This post was published on the now-closed HuffPost Contributor platform. Contributors control their own work and posted freely to our site. If you need to flag this entry as abusive,
send us an email
.