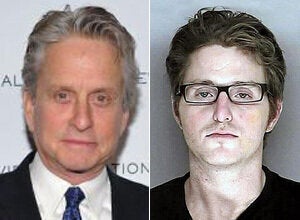 According to the NY Daily News, lawyers of Michael Douglas' son, Cameron, say that their client's drug problems stem from his upbringing by his famous father. They also say that to hear his lawyers tell it, "Cameron Douglas never had a chance growing up in the shadow of a rich, powerful, jet-setting dad."
Cameron has a serious heroin addiction and emotional problems that stem from "notoriety that is not due to any acts of his own but by dint of birth and a difficult upbringing," his defense lawyer Dan Gitner argued.
The judge did not buy the story and denied bail last week at his hearing. Cameron Douglas has to wait until April 14 when his sentencing hearing is scheduled to find out what his future holds for him. Cameron is facing a 10 year sentence for dealing methamphetamine.
In the April issue of Vanity Fair Magazine Michael Douglas admits that he put his own career over fathering his son Cameron. The piece goes on to say that though Douglas isn't one for public hand-wringing, he can't help but see his own role in Cameron's fate.
We may never know what caused Cameron's addiction. Maybe he did suffer because of a dysfunctional upbringing because of his father's fame, or maybe not? But one thing is for certain -- Cameron needs treatment not prison. It's a waste of tax dollars and human life to place non-violent drug addicted individuals like Cameron Douglas in prison.
Our 40-plus-year war on drugs has stifled the open debate this country should be having about addiction and how best to deal with it. Treatment is valid for fighting the demons of addiction. It is also an effective tool in overcoming the government's use of incarceration and punitive measures in response to nonviolent drug law offenses stemming from addiction.
Support HuffPost
The Stakes Have Never Been Higher
Popular in the Community