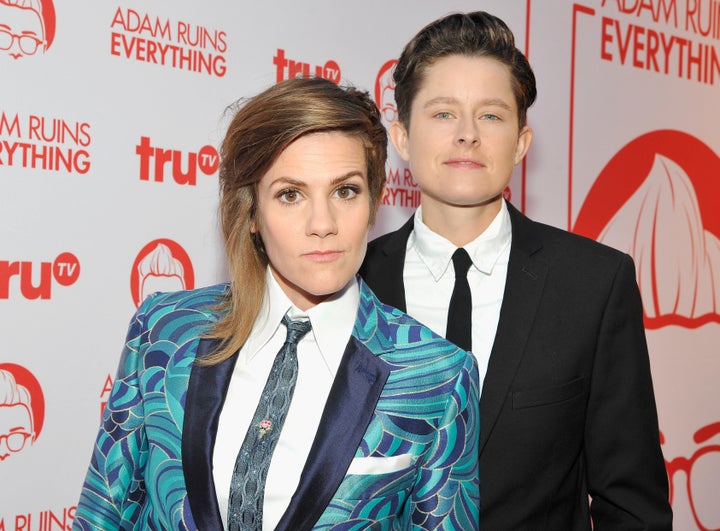 "Take My Wife," an autobiographical comedy from real-life married couple Cameron Esposito and Rhea Butcher, debuted in 2016. The show follows the romantic partners and professional funny people after they decide to team up and start a standup comedy showcase.
Aside from being hilarious, "Take My Wife" was praised early on for highlighting certain dynamics not often represented on TV elsewhere: What a loving, monogamous lesbian relationship looks like on lazy mornings, stressful late nights and everything in between. How living in a male-dominated world affects queer women's lives in big ways and small. How humor can help combat everything from toxic masculinity to inopportune awkwardness.
After Seeso made public its plans to close "later this year," Esposito took to Twitter to share just how much the show accomplished in its two-season life thus far, especially with regards to forming an inclusive creative environment that viewed straight, white, cis-male voices as neither neutral nor universal.
The "Take My Wife" cast and crew is one of the most inclusive on television. As Esposito noted, the show relied upon an all-women writers' room, made up of 43 percent women of color in Season 2. Queer people and people of color were prominently featured in both the cast and crew, and women served predominately as department heads, directors, producers and editors.
"Changing the power dynamics in television can be done," Esposito wrote on Wednesday. "With Seeso's help, strong guidance from Comedy Bang Bang (our production company) and a mandate between Rhea & I as showrunners that we came here to claim our space and make room for others, we did it."
The ongoing mission to diversify the array of people creating today's comedy and pop culture is a crucial one. Shows like "Take My Wife" do not depict queer narratives as one-dimensional punchlines, pitiful tragedies or token manifestations of difference. They portray real lives of real people, happy and boring and weird and hard.
As Esposito explained in an interview with Build Series, "Our viewpoint stands out in the comedy world because the majority viewpoint, which is straight, white male, is invisible. So it's like ― 'Ooh! They're so gay and they talk about being gay all the time!' No, we talk about our lives, and our lives are super gay."
Much of the plot of "Take My Wife" addresses the difficulty of working with someone you love in a field that often pits marginalized comedians against one another fighting for one spot in an otherwise homogenous lineup. "There is this idea that you can only have one [lesbian comic] on a show," Esposito continued.
"I know this is going to blow your mind, but lesbians actually can have different experiences from each other. Even lesbians that both have at least one short side of their hair."
Esposito's Wednesday tweet has received over 11,000 likes in the past two days, with thousands of fans retweeting the heartening statistics with pleas to save a rare show magnifying voices that are often pushed to the sidelines.
"I just wanted to watch a good show about comedians that didn't center a straight white cis dude for FUCKING ONCE," comedian Alice Wetterlund tweeted.
Musicians Tegan and Sara, who guest starred on an episode, also shared their love and support for the show, tweeting, "I wonder what my life would have looked like if I'd seen thoughtful + positive #LGBTQ representation on TV when I was young."
Other television shows including "Transparent," "I Love Dick," and "Orange is the New Black" are known for fostering inclusive practices that give minority voices platforms on which to tell their stories. However, while crews featuring women, people of color and LGBTQ people behind the scenes make headlines, male-dominated and all-male writers' rooms continue to be the unspoken norm.
Representatives for Esposito and Butcher did not immediately respond to HuffPost's request for comment on their show's future plans. To check out more of the support fans are spreading online, check out the hashtag #TakeMyWife.