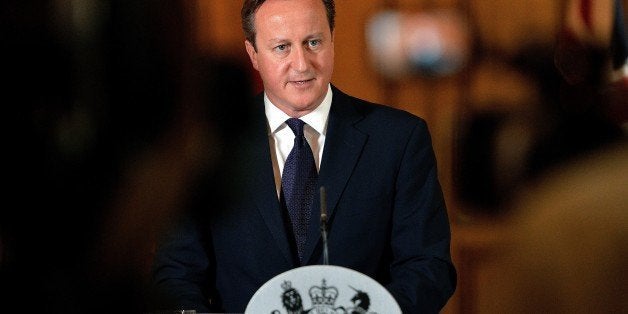 * Video showed beheading of British hostage
* Cameron under pressure to sanction air strikes
* UK leader lost vote on Syria military action last year
* Cameron is mindful of impact on Scottish breakaway vote (Adds international reaction, edits)
By Andrew Osborn and Guy Faulconbridge
LONDON/EDINBURGH, Sept 14 (Reuters) - Britain resisted pressure on Sunday to join the United States in announcing air strikes against Islamic State after the militant group beheaded David Haines, a British hostage, and threatened to kill another Briton.
Speaking after chairing a meeting of the government's COBR emergency-response committee in London, Prime Minister David Cameron said his government was battling IS on numerous fronts but made clear it was not, for now, launching air strikes.
"As this strategy intensifies, we are ready to take whatever steps are necessary to deal with this threat and keep our country safe," he said, describing an approach that blended diplomatic pressure, supporting U.S. action and helping Iraqi and local Kurdish authorities.
"Step by step, we must drive back, dismantle, and ultimately destroy ISIL (IS) and what it stands for. We will do so in a calm, deliberate way, but with an iron determination," he said in a TV statement from his offices.
Britain was quick to join U.S. military action in Afghanistan and Iraq. But a war-weary public and parliament's rejection last year of air strikes on Syria have made Cameron cautious. Complicating his decision are the sensitivities surrounding Scotland's independence referendum on Thursday.
U.S. Secretary of State John Kerry is expected to discuss the aid worker's beheading with British Foreign Secretary Philip Hammond at a meeting in Paris on Monday, one senior U.S. State Department official said in Paris on condition of anonymity.
Foreign leaders, including U.S. President Barack Obama, German Chancellor Angela Merkel, Italian President Giorgio Napolitano, and the office of French President Francois Hollande condemned the killing of Haines and expressed their condolences.
"The United States stands shoulder to shoulder tonight with our close friend and ally in grief and resolve," Obama said in a statement.
During his own statement, Cameron outlined no plans to recall parliament, which is in recess, to seek its authorisation for air strikes against IS. People familiar with his thinking say he has no immediate plans to do so.
His last attempt to get the British parliament to back such air strikes, against Syria last year, failed to win the support of lawmakers, an embarrassing setback.
Video footage of the murder of Haines by IS militants fighting in Iraq and Syria means Cameron is under pressure to get tougher with IS. At the same time, he trying to persuade Scotland to reject independence in Thursday's referendum.
He has said he is not ruling out any options to degrade IS, except deploying troops on the ground, and he is facing increasingly loud calls from some of his own Conservative lawmakers and from former military chiefs to join the United States in launching air strikes.
But Scotland is his domestic priority, and he is aware that Scots have often been more skeptical of British military action overseas. Proposing air strikes now could risk alienating them before the independence vote.
Cameron called the murder of Haines, a 44-year-old Scottish aid worker, callous and brutal, hailing him as a "British hero".
"We will hunt down those responsible and bring them to justice no matter how long it takes," he said, calling IS "the embodiment of evil". "They are not Muslims, they are monsters."
Britain's Foreign Office said the Haines video showed "all signs" of being genuine. Reuters could not immediately verify the footage, but the images were consistent with those of the filmed executions of two American journalists, James Foley and Steven Sotloff, in the past month.
Haines's murderer appears to be the same man who featured in videos with Foley and Sotloff. The man, nicknamed "Jihadi John" by Western media, seems to have a British accent.
At the end of the video, another hostage, identified as Alan Henning, was shown. The masked man said he too would be killed if Cameron continued to support the fight against IS.
A British security source speaking on condition of anonymity said an investigation was underway into the killings and that senior intelligence officials had attended the meeting of the emergency committee that Cameron chaired.
The source declined to go into detail about what, if any, progress the investigation had made.
Faced with the rise of IS, Britain has so far confined itself to delivering humanitarian aid, carrying out surveillance, arming Kurdish forces who are fighting IS militants, and promising training in Iraq.
On military action, London supports U.S. air strikes while keeping its own options open.
Sir Richard Dannatt, the former head of the British army, said on Sunday IS executions should not deter the government from taking military action against the militants.
"If we don't confront and destroy these Islamic State Jihadi fighters then their influence will grow, their confidence will grow and the problem will get bigger," he told Sky News.
Mike Haines, brother of the slain aid worker, said on Sunday that David had chosen humanitarian work in Syria only to be murdered in cold blood.
"He was and is loved by all his family and will be missed terribly," Mike Haines said in a statement. His brother left behind two daughters from two marriages, he said.
ACTED, Haines's employer, said he had been working on a humanitarian response for civilian Syrian populations in the Atmeh camp close to the Turkish border. His "horrible" murder would not stop it helping people in need, the organization said.
Alex Salmond, Scotland's First Minister, told BBC TV Haines's murder was an "unspeakable act of barbarism."
Asked in a BBC interview if an independent Scotland would be prepared to take military action against IS, he said any response must be under United Nations auspices, underlining Scottish anxiety about unilateral military action.
"There's an urgent requirement to get back to collective (action) under the United Nations," said Salmond.
Salmond has called the 2003 Iraq invasion illegal because it was not launched with U.N. approval.
Haines was remembered in prayers at the morning service in Edinburgh's St. Mary's Cathedral, where provost Graham Forbes praised him for his dedication to humanitarian work. (Additional reporting by Angus MacSwan, Jason Szep, John Irish, Erik Kirschbaum, Julia Fioretti, Henri-Pierre Andre; Editing by David Holmes/Ruth Pitchford/Larry King)
Calling all HuffPost superfans!
Sign up for membership to become a founding member and help shape HuffPost's next chapter
BEFORE YOU GO
PHOTO GALLERY
Syria War In September