Before Eric Garner and Michael Brown, before Freddie Gray and Walter Scott and Laquan McDonald, there was Cameron Massey.
"The same thing that happened all over the U.S. happened here, but no one came -- no one came to help us," said his mother, Jackie Massey, referring to the mass protests that broke out after more recent police killings of unarmed black men and all the media attention they received.
"My son's life mattered, just like in Chicago, Missouri, Baltimore ..."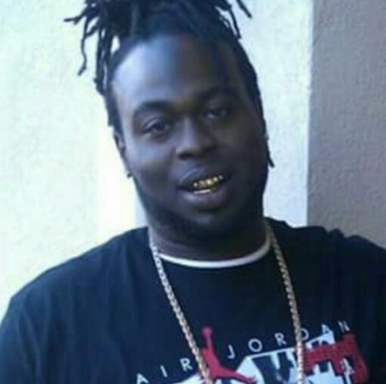 Last week, BuzzFeed published a video of two police officers in Eufaula, Alabama, shooting 26-year-old Cameron Massey five times in October 2013. He died.
Jackie Massey said she can't bring herself to watch the video. When one of her other sons saw it for the first time, he was rendered speechless, she said.
What she's heard from those who have watched the video -- including family members, local activists and her lawyer, Mario Williams -- is that the cops had absolutely no reason to open fire on her son.
She misses her son, whom she remembers as a "very loving" and "very respectful" person.
"It's a pain you can't rub," she said. "You can't soothe it."
But what she can do, Jackie Massey said, is fight for some justice. On Monday, she marched in Eufaula's Martin Luther King Jr. Day parade with members of a local activist group called The Ordinary People Society. She walked behind a giant white banner that read, "Justice for Cam."
"If [MLK] were alive today, he would've stood for justice for my baby," she said.
She and her supporters are calling on the U.S. Department of Justice to investigate the case and to do what a special prosecutor in Eufaula didn't: indict the police officers who killed her son.
On Oct. 15, 2013, Eufaula police officer John Phillips pulled over a black Infinity with an obscured Georgia Disabled Veterans tag. The vehicle had made an illegal lane change, Phillips later told the Alabama Bureau of Investigation, according to BuzzFeed. A confidential informant had also allegedly told cops that a vehicle fitting that description was carrying a shipment of marijuana.
After the car pulled into the gravel parking lot of an auto-body shop, the driver, 30-year-old Joshua Kelly, stepped out of the vehicle, according to Phillips' account. The officer told him to get back in. After Phillips called for backup, Kelly stepped out of the car again, this time demanding to know why he'd been stopped. Kelly became "loud, boisterous, and aggressive," Phillips later told Alabama investigators, so he put him in handcuffs.
"You can't justify lethal force if you have no facts that you were in danger."
Massey, meanwhile, was in the car's passenger seat. That's when Eufaula Police Chief Ralph Conner arrived on the scene. He was wearing a body camera.
The body camera footage shows Conner walking along the driver's side of the Infinity, while telling Massey to put his hands on the dashboard. As Conner passed in front of the car, he started yelling at Massey.
"On the dashboard!" Conner shouted. He later alleged he saw Massey reaching for the driver's side door, maybe in an attempt to escape. "On the dashboard! Put your hands on the dashboard!"
"Watch this guy -- he's getting out!" Conner, gun drawn, yelled to Phillips. "He's getting out!"
Phillips said later that he went to the driver's side door, reached inside the car and grabbed Massey, who allegedly put the car into drive and pressed the gas pedal with his hand.
As the car slowly moves forward, the video shows Conner firing once. As the car moves out of frame, the sound of Phillips firing four more shots is heard. The car then slowly crashed into another vehicle in the parking lot.
"Everything was so quick, so instantaneous," Phillips later told investigators, according to BuzzFeed. "At that time, I didn't know if [Massey] had shot and he's trying to stay down to keep from us returning fire."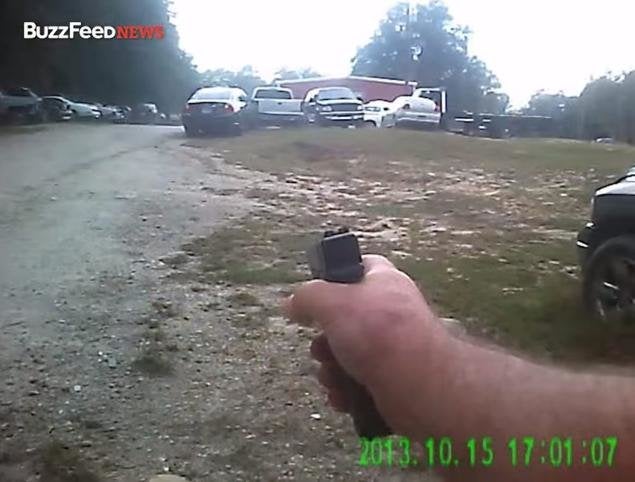 Both Conner and Phillips said they acted in self-defense, according to a city press statement reported in the Eufaula Tribune in April 2014. They were allegedly concerned that Massey either might have had a gun or could have dragged Phillips underneath the car as it moved.
But Massey didn't have a gun, and a court declaration from eyewitness Garick Hall, who worked at the auto-body shop, states that "Phillips had control of his body the entire time as the car was moving forward. At no time did I see Officer John Phillips fall to the ground or appear as if he was falling to the ground."
"You have a situation where two officers beside the vehicle, which was blocked in, there was just no danger to the officers or anyone there," Williams, the lawyer for the Massey family, told the New York Daily News.
"I believe officers' safety is a real issue, but you can't justify lethal force if you have no facts that you were in danger," Williams added.
Alabama Bureau of Investigations agents later said they found seven pounds of marijuana in the car -- although Williams has raised questions about that.
The Huffington Post was not able to reach either Phillips or Conner directly.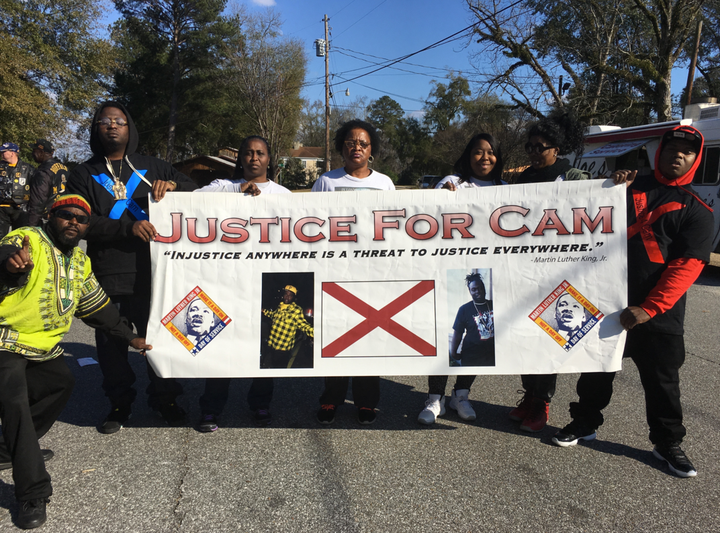 After Massey's death, it emerged that Chief Conner had shot another unarmed black man before. In 1983, when he was an officer in Montgomery, Alabama, Conner shot 22-year-old Bobby Joe Sales in the back while Sales was fleeing a police stop. Sales survived and Conner was re-assigned.
Donald Watkins, a prominent Alabama attorney who was a Montgomery city councilman in 1983, was assigned to investigate Sales' shooting at the time.
"My investigation of the shooting revealed the following: (a) the victim, Bobby Joe Sales, had committed no crime; (b) he was unarmed at the time of the shooting; (c) he was not threatening Connor [sic] in any way; and (d) he was shot in the back," Watkins said in a statement provided to HuffPost this weekend. "I reported to the City Council that Connor was a danger to himself and the citizens of Montgomery."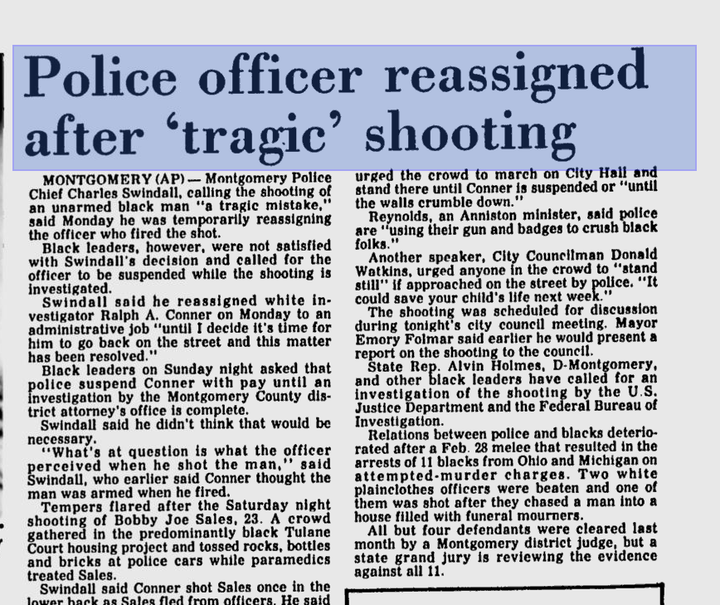 When Jackie Massey, who works as a nurse and has three other children, applied for state funding for her son's funeral, she was rejected. She said the state told her that her son wasn't a victim of a crime and therefore was ineligible for the aid. "They said he 'contributed to his own death,'" Massey recalled.
Massey said the Barbour County district attorney, Ben Reeves, told her that the officers' use of deadly force against her son appeared to be unjustified.
But citing a conflict of interest, Reeves removed himself from the case and turned it over to a special prosecutor named Boyd Whigham. Under Whigham's supervision -- and as with so many other police shootings across the U.S. -- the grand jury declined to indict the officers.
Neither Reeves nor Whigham replied to a request for comment on this story.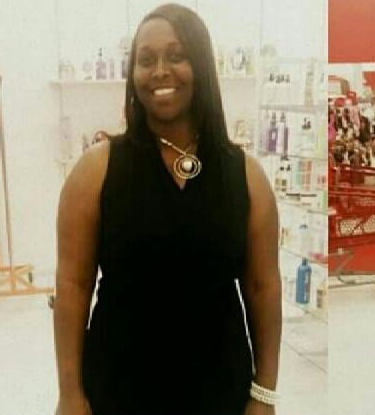 The Massey family has since filed a federal lawsuit against Conner, Phillips and the city of Eufaula seeking unspecified damages. Both police officers were placed on temporary administrative leave after the shooting, and Conner has since retired.
Kenneth Glasgow, who acts as spokesman for the Massey family, said the Department of Justice needs to step in.
"We definitely want an investigation by the DOJ and for them to look at Eufaula and their police department," Glasgow said. The U.S. Attorney's Office for the Middle District of Alabama, which includes Eufaula, didn't respond to a request for comment on Monday.
Cameron Massey's family is organizing another protest for March 3, on what would have been his 29th birthday.
For now, his mother said she has hope. "I believe in God," she said, "and God's gonna show 'em up."
Popular in the Community