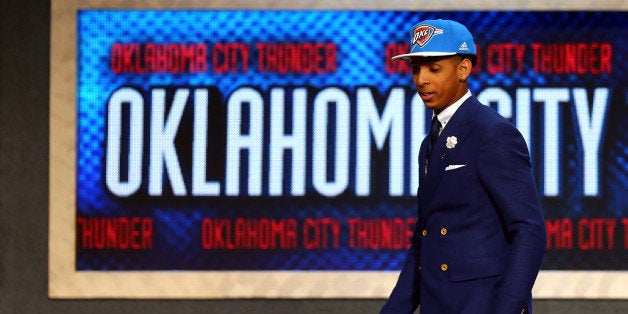 NEW YORK -- Quick flashes lit the hollow gray stairway when Cameron Payne walked through the door. He had already moved past the TMZ cameras outside. Now a few photographers wanted their shots.
Payne, in a black designer T-shirt and blue jeans, paused for a picture or two, then pushed by them and into the small Tribeca pop-up studio where a crowd of 50 or so had already assembled for a local fundraiser. In a room the size of a luxury Manhattan apartment, expensive paintings lined bleach-white walls, and guests sipped on Champagne and cocktails.
Two short years ago, Cameron Payne was a lightly recruited point guard who landed at mid-major Murray State University, a proud basketball program but one hardly known for sending players to the next level. Now, he was a highly touted NBA draft prospect, on the cusp of completing a rise not even those closest to him saw coming.
The night before he might realize his biggest dream, the most improbable of the 20 players invited to attend the draft spent a few hours looking at contemporary art.
Cool and collected, without a hint of unease about what lay ahead of him over the next 24 hours, Payne ambled through the room with friends, family and his agent in tow. A painting hanging in a corner opposite the most crowded part of the room caught Payne's eye.
"The Best Ever," its black paint screamed, the slogan surrounded by a dollar sign, a minimalist American flag, and other symbols. Black paint on a white canvas, its only splash of color came in the red gloves of the stick-figure boxer in the bottom right corner.
Payne, determined to prove he belonged at the draft and in the NBA, said later that he viewed the piece's simple message as "a way to get focused" on that goal.
Ten minutes after Payne first saw the painting, the event's host clinked two bottles of Champagne together to gather the crowd. He'd just made his first sale. Payne bought the painting that captured his attention, a Tonia Calderon piece listed for $250 as a print and $2,200 for the original. He wouldn't say how much he paid -- the proceeds of everything sold at the event went to help provide free dental care to low-income New Yorkers -- but it didn't count as Payne's first NBA purchase. "I ain't got none of that money yet," he said.
How does a 20-year-old NBA draft prospect whose life is about to change end up at an art show?
"I just like style," Payne said later. "I like the swag."
"He's a different kind of cat," his brother Tony Payne Jr. laughed.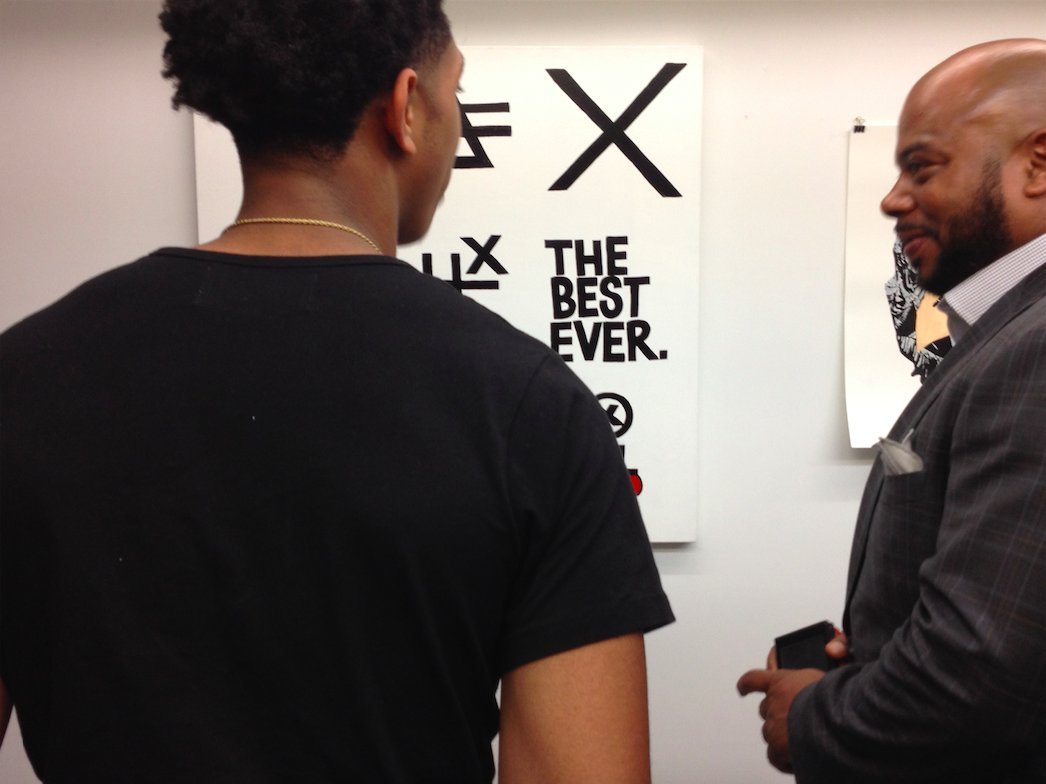 The frenzied few days leading up to the NBA draft are packed with photo shoots, autograph signings, and various appearances next to promoters and media personalities who want a small piece of the action. It culminates, for those players invited to attend, in a butterfly-inducing draft night spent sitting at a ritzy table in a flashy suit -- in Payne's case, a blue double-breasted jacket he kept hidden from his parents and friends until the big night -- waiting for NBA Commissioner Adam Silver to call your name. It is an evening when college athletes, forbidden from making money off their talents in the years before, take their first step toward becoming multimillionaires, a night when a team's fans start showering their newest faces with love or, for the unlucky soul selected by the Knicks, immediate disdain.
For those who starred on a collegiate powerhouse in front of fans obsessed with their teams -- like the Kentucky and Duke players in attendance this week -- the whole process may seem like an exaggerated extension of their previous lives. When you play ball in the Ohio Valley Conference, it seems inevitable that the attention will become overwhelming.
It didn't take long for Payne to notice the biggest difference between himself and the rest of the players invited to attend Thursday night's draft. Scouring the list of invitees, one name stood out.
Kentucky. Wisconsin. Duke. Arizona. Murray State.
"I'm the only one," Payne said, recalling the moment when he looked at his invitation for the first time. "All these guys who played for Final Four teams, and we didn't even make the tournament. I'm the only mid-major guy here."
Payne, a product of Memphis' Lausanne Collegiate School, hadn't received the glut of scholarship offers his fellow invitees had out of high school. Once at Murray State, the university tucked into the 22nd-largest city in Kentucky, he never received the nationwide media attention that awaited players at Duke, Kentucky or Wisconsin. Payne's parents figured he'd play four years for the Racers before he tried to latch on somewhere in the NBA. A tour of overseas leagues seemed more likely.
Instead, he took advantage of an injury to Murray State's starting point guard his freshman year and never looked back, averaging 18 points and 6 assists over two seasons. As a sophomore, he was one of just three players in the country to average 20 points and 5 assists per game, and his play during the Racers' 25-game winning streak this spring caught the attention of scouts and draft analysts alike. In mock drafts, his name started popping up in the first round.
It all came to a head Thursday night at the Barclay's Center, the Brooklyn arena where Payne and the others waited to learn their professional fates. Payne's draft week had gotten off to a shaky start. A delayed flight kept him in his native Memphis hours longer than expected, meaning his schedule upon landing in New York was even more condensed than planned. After weeks of hopscotching the country from workout to workout for various NBA teams, he crisscrossed Manhattan before the draft for photo shoots, media appearances and other NBA-mandated events.
Payne had never even been to New York. When he finally got to the Westin, the midtown hotel where the NBA housed players and their families for the week, autograph seekers swarmed his car. The first time he and his family drove through Times Square, Payne gawked at the huge video boards overhead and stared in amazement at the number of people lining the streets. When he got to media day, he faced the kind of attention players at programs like Murray State rarely get.
From the beginning, Payne dealt with the draft with a confidence and bombast his parents said was a natural element of his personality. He at times leaned on tired and clichéd talking points -- he'd be happy to go anywhere, of course. But once those were out of the way, he added his own flavor to the pre-draft process. With a touch of political flair, he referred to his journey to the draft, and the subsequent career he envisioned, by citing his nickname: "The Campaign."
In pre-draft interviews, Payne declared himself one of the draft's best guards, right up there with Ohio State's D'Angelo Russell, a projected top-three pick, and Emmanuel Mudiay, once the nation's top high school recruit. He spoke in the third person, making it known that "there is no ceiling for Cameron Payne." He said he wanted to follow in the footsteps of fellow mid-major guard Damian Lillard, who won Rookie of the Year after the Portland Trailblazers drafted him out of Weber State in 2012.
With its "Best Ever" scrawl, the painting he bought Wednesday was on message. If he wasn't supposed to be here, if he held any disbelief in his ability or his place among the players who'd made their names on much bigger collegiate stages, he didn't show it.
"If he's nervous, I can't tell," Tony Payne Jr., Cameron's older brother by four years, said on the eve of the draft. "It's crazy how he's taking the situation. He's happy, but he's kind of like, 'It's just the draft.'"
After the art show, more than 40 friends and family members gathered in the deepest of back rooms at Cove Lounge, a bar in Harlem. Payne lapped up the moment.
"In less than 24 hours," he yelled into the bright lights of the NBA TV documentary crew that had followed him all day, "I'll know my team."
The room erupted in cheers. Payne started to dance.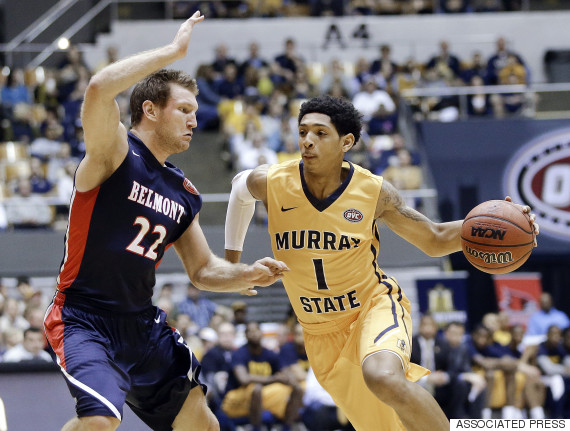 At Cove, Payne snagged a seat -- and as much solitude as was available at a 40-person party -- at the end of the bar. The day had started more than 14 hours before and still had a few hours of partying to go. The TVs above him blasted non-stop draft coverage. He sliced off small pieces of the steak in front of him and never looked up. It was after 10 o'clock, and this was his first meal of the day.
A few minutes later, he dipped into a hallway lit with neon blue lights, and the guard came down, if only for a minute. Payne used to tell his parents and his brother that he'd be here, like this, after just two years of college. He never quite believed it.
"I was planning on going to school four years, getting my degree, trying to play overseas, try to get a coaching job," he said. "It wasn't nothing like, 'I'm gonna play two years and go to the NBA.'"
Still, the two-year prediction wasn't just "something crazy" he'd come up with.
"It was a goal," he said.
Memphis high schools have produced numerous talented point guards, and Tony Payne Sr., who played the point himself, can rattle off the names: Larry Finch, Andre Turner, Penny Hardaway, all of whom stayed home to play their college ball at the University of Memphis. But even after winning a state title and a Mr. Basketball award as a senior, Cameron Payne never earned much attention from the Tigers.
When he broke out in college two years later, he did it at Murray State, in the statewide and national shadows of a Kentucky team pursuing season-long perfection. An upset loss in the OVC tournament final cost the Racers an NCAA Tournament berth, robbing Payne of his chance to prove himself on college basketball's biggest stage.
Payne has "been doubted his whole life," at every level of basketball, his brother said, and the slights, both real and perceived, popped up in conversation. Upon his return to Memphis after weeks of pre-draft workouts, Payne remembered, he received interview requests from local news stations that had paid him no attention before. The delayed flight stung because he knew he wasn't going to get "the same love as those big-time guys" in New York, and being late might only make it worse.
The Campaign grew out of others' constant doubt that he belonged, out of the desperation for a chance to prove he actually did. It isn't anywhere near its end.
"I'm going to have something to prove until I'm 90 years old. I mean, God bless me, if I become a 16-time All-Star, they're bringing in some rookie trying to take my spot, just like I am now," he said. "There's never going to be a point where I don't need to get better. I'm never going to find my ceiling."
Now, Payne was on the brink, and over eight weeks of workouts and the last 48 hours of travel and pre-draft euphoria, he hadn't had time to get nervous. He figured he'd maybe get a few hours of sleep Wednesday night. (His agent, Travis King, laughed at that notion: "None of them can sleep.") But even if he was doing his best to obscure it, nerves were there.
"I don't know anybody who'll say they're not nervous," Payne said. "If there's anybody who says they're not nervous, they're the most nervous."
He had an idea of where he'd go -- somewhere between the sixth and 14th picks was his best guess -- but admitted that he'd start freaking out a bit if other names kept rolling off the board.
"Once you get to nine, 10, you start thinking," he said, staring at the ceiling. "That's when I'm going to get anxious."
"I just want to put on that hat."
When Thursday night finally arrived, Cameron Payne sat on the floor of the Barclay's Center in a bright blue double-breasted suit jacket as those names began rolling off the board: Karl Anthony Towns, D'Angelo Russell, Jahlil Okafor. The hometown crowd booed when the Knicks took Latvia's Kristaps Porzingis. Nothing out of the ordinary.
Pick six, the first in Payne's range, sent Kentucky's Willie Cauley-Stein to Sacramento. Denver used the seventh on another point guard, Emmanuel Mudiay. Eight, nine, and 10 passed. Indiana had hinted at a need for a more athletic point guard, but used the 11th pick on Texas big man Myles Turner. Two more came and went.
Then, at 9:10 p.m. Thursday night, Cameron Payne got his hat.
"With the 14th pick in the 2015 NBA Draft," NBA Commissioner Adam Silver announced, "the Oklahoma City Thunder select Cameron Payne, Murray State University."
Payne sprung from his chair and wrapped his arms around his mother, Leshawn, first and then Tony Sr. After an elaborate handshake with Tony Jr., who had already made plans to follow Cameron to his new city -- wherever that would be -- he waltzed up onto the platform.
He slid the hat on. The Campaign was underway.
Calling all HuffPost superfans!
Sign up for membership to become a founding member and help shape HuffPost's next chapter