A few years ago, men's high fashion began to parallel the state of women's fashion featuring sunken-chested pre-pubescent boy models strutting down the catwalk in clothing paying an odd homage to Pee Wee Herman. It was deemed "fresh" by fashion journalists and suddenly en vogue for grown men to dress like registrants at a N.A.M.B.L.A. convention. It requires a diet of baby food.
It's ironic that men's and women's clothing is getting smaller while we as a nation get bigger...and not in the athletic sense. The majority of Americans are now obese, but given the offerings at any high-end department store, one would never know. Simultaneously, we are bombarded with images of super athletic He-men with six-pack abs, and barrel-chests on the cover of magazines. Fitness is pushed down our throats as almost every other info-mercial on TV seems to hock the latest at-home gym equipment.
So what's a fashion-loving lad to do? Go the man-orexic route and do your best Pete Doherty impersonation? Or, work out and forgo designer duds in favor of Abercrombie and Fitch get-ups?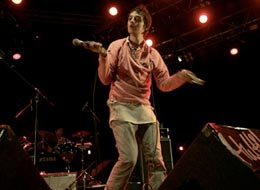 Pete Doherty (AP)
This was the challenge that befell me when I offered to take my good friend Brian shopping in NYC. For the last few years, he had complained that he can't get a jacket to fit him. He's a young mid 40s, six-foot, 175 pounds, and works out 5 days a week. He is not a "steroid queen" and looks perfectly normal and healthy in his clothes. "I am in the best shape of my life, but the last couple of years, nothing has fit," Brian confessed. "I can't find clothes." So after teasing him about why I always seem to see him in the same clothing, he challenged me to find him a cool blazer that would fit. It seemed easy enough, but I had no idea that Brian's enviable physique is freakish when it comes to Gucci velvet jackets or a Balenciaga navy blazer.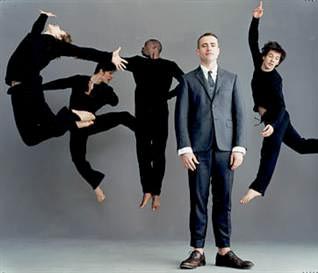 Thom Browne (MSN.com)
Our first stop was Barneys on Madison Avenue. I pulled a European size 50 jacket and he could barely fit his arm through the sleeve. A slew of 52 options were so narrow in the shoulder that I feared he would blow-out the seams. At this point, a sales associate intervened and Brian explained his "disability." After waiting twenty-minutes, the sales associate returned with a cornucopia of jackets apparently discovered in the depths of the store and whisked Brian to an alcove with a three-way mirror. Jacket after jacket looked like a wet-suit on Brian. The only options were size 54 and required the type of alterations that required the trained hands of a plastic surgeon.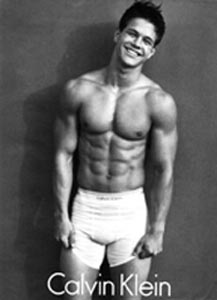 Marky Mark (From markrobertwahlberg.com)
It dawned on me that we should go next store to Calvin Klein. After all, it was Klein who promoted a healthy muscular body with his famous Mark Wahlberg and Michael Bergin advertising campaigns. Surely, Calvin Klein would make a jacket to fit my apparent plus-size friend. Distracted by the sculptural Donald Judd furniture, we eventually zeroed in on a black silk velvet two-button jacket. It was sleek, minimal, and classic Calvin Klein, but it was cut for the under-nourished. The sales person was sympathetic and explained, "It's just not your fashion moment."

Fearing failure, it seemed that Bergdorf Goodman, the ultimate NY purveyor of sartorial elegance for the well-heeled gentleman, would provide a resolution to Brian's wardrobe malfunction. We perused each floor and I suggested a quick gander through more classic suiting, but this didn't interest Brian. After all, he is a Freelance Creative Director and a former Features Editor at W Magazine, so the guy wanted something a bit more hip than Hickey-Freeman.
Arriving on the designer floor, we searched rack after rack. We noticed the more zeros on the price tag, the least amount of cloth on the jacket. Were we in the children's department? Several jackets hovered at around $5000 and were beautifully made, but looked more appropriate for a tween's first cotillion circa 1960, rather than a man's night out on the town in the 21st Century. Finally, in the Dolce & Gabanna section, a very charming young woman encouraged Brian to try on a silver velvet jacket. Resistant at first, Brian accepted the challenge and, low and behold, the jacket fit. There was a moment of silence. "You should get this. It fits," I suggested. However, Brian felt like a Russian mob boss in it. I guess there's a reason why Dolce & Gabanna posted sales over a billion dollars last year: they make clothes that fit men with money.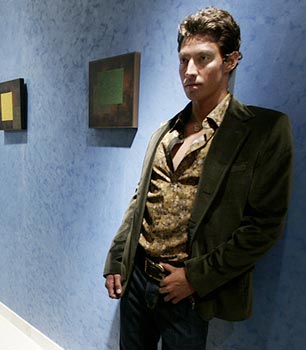 Dolce & Gabbana jacket (starbulletin.com)

After forty attempted jacket purchases, and with only one option being a bold silver velvet blazer, we called it quits. I told my ideally-proportioned friend Brian that he was a "fatty" and a freak of nature. We couldn't figure out why the designers behind men's high fashion have such a disdain for, well, a man's body? Where once the model of the male form was Michelangelo's David, it seems David has been stripped of everything that made his body masculine and our new "fit model" doesn't appear to look that different than his female counterpart: androgynous, lanky, emaciated, and with a reedy chest. In fashion now, it's hard to tell the difference between the boys and the girls. Perhaps, high fashion is a rare business that has brought equality to both sexes by turning them into one and the same.