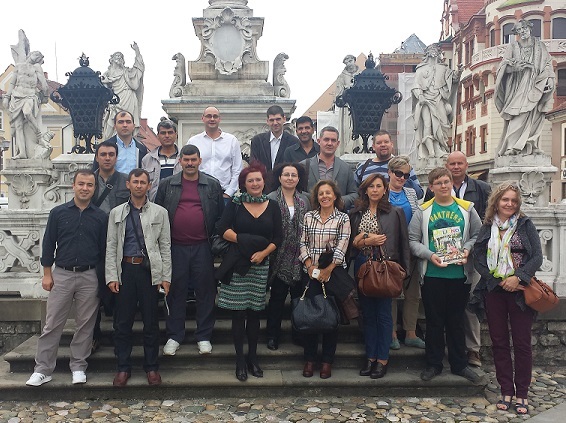 ROTIVE delegates in Glavni Square, Maribor (Slovenia) at the project's third transnational meeting
Successive advances in information technology within many industries have clearly meant that corresponding business sectors have less recourse these days to that cognitive contribution from 'individual originality' with which only a university preparation was once assumed to equip graduates. Consequently, even a cursory glance at those careers for which personal talent is still encouraged reveals how tolerance parameters for human error begin to be significantly restricted now by contesting computerized systems brandishing mathematical precision. Some observers, 'standardization-phobic' or otherwise, dub this phenomenon digital taylorism, given that a dystopian picture risks emerging here of workforces comprising living automatons intellectually cowed beneath a 'digital diktat'. Conversely, one may just as well argue for an empowering development which places the challenge of our destiny as creative human subjects (as well as productive agents) squarely within our present 'historical moment' of innovation - rendered inescapably, and by definition, digital.
For the discerning job seeker today, this latter reflection might well translate into an option for a technical qualification which precludes an undergraduate degree course, especially given the increasing number of graduates settling for lower paid jobs owing either to lessening demand or to greater competition for the kind of work tailored to that accreditation in which they had invested so much time and effort over years of costly tertiary education - a trend in downward occupational mobility also noted by Holmes and Mayhew (2012). Against that digital backdrop this is regularly put down to an entirely predictable reconfiguring of the labour market : highly dependant upon the professional sector under exam and altogether lacking in any one size fits all scenario catering to every industry. Earlier research by Alison Wolf underscored a rise in credentialism (2011), by which recruitment agencies frequently consider qualifications only as a means of screening an applicant's presumed performance credibility instead of as a reliable yardstick for properly gauging the requisite skill set to match the vacancy on offer. So we see that for an increasing number of courses it is a technical education which can afford greater wiggle room in that potentially cramped work space squeeze.
Verifying these and analogous reports in different regional economic contexts was among the primary empirical objectives of surveys conducted by five institutes involved in technical learning from Slovenia, Poland, the UK, Turkey and Portugal respectively. Their joint investigation with both staff and students and their families at various campuses in these countries included questions as to their expectations and aspirations treating of existing curricula on offer as well as how they are perceived as expendable on the labour market in practical terms. Analysis was also carried out into the possibilities for brokering more concerted synergies among enterprises, civic organizations, NGOs, local authorities, universities and centres of professional learning. Piloted by Turkish technical and industrial vocational high school Turgay Ciner, the five partner institutions have shared and collated their results over the past two years in transnational meetings of the consortium held in Afşin, Lousado, Maribor and Łódź as well as in bilateral meetings convened both in London and Maribor between the British and Slovenian partners.
For more information, visit the ROTIVE website. EU Project Code : 2013-1-TR1-LEO 044788. 
Calling all HuffPost superfans!
Sign up for membership to become a founding member and help shape HuffPost's next chapter