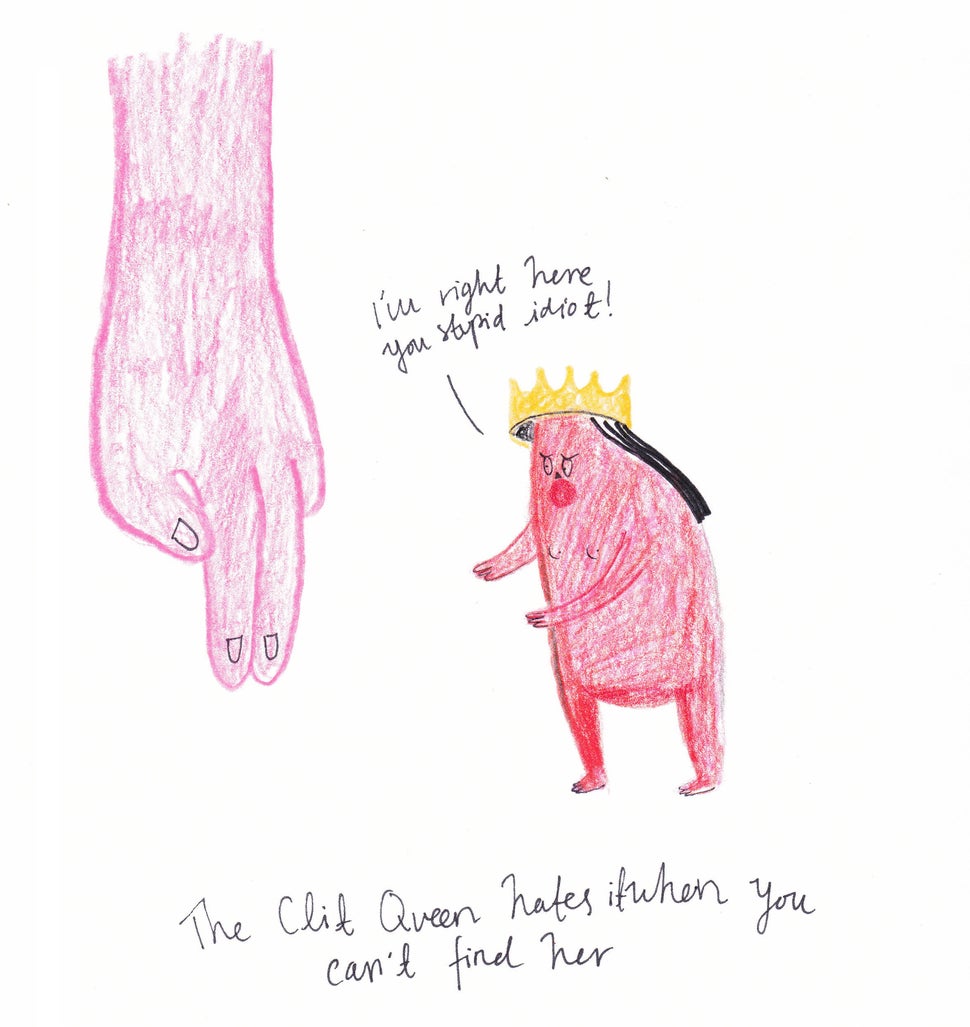 When a clitoris is crowned queen, her demeanor changes in various ways. For one, she starts to wear a crown ― obviously. She also becomes more steadfast in her desires, knowing just what turns her on and how to get it. She's emboldened to speak her mind, in whatever language clits speak in these days, and not afraid to bring the sass when necessary. 
This wealth of clitoral knowledge comes from the drawings of Sweden-born, Brooklyn-based artist Camilla Engstrom. The Clit Queen is but one of her playful, body-centric cartoon characters that transform feminine ideals and the anxieties they induce into drawings of anthropomorphized private parts. 
"It was triggered by all the bad sex I've had in my life," Engstrom told The Huffington Post, describing the Clit Queen's origin story. "But instead of making some sad cartoons, I wanted them to be funny."
The Queen ― through simple instructions like "I'm right here you stupid idiot!" (delivered to a wayward finger) and "You kindly wait for your turn!" (to an impetuous penis) ― demands her sexual needs be met. As any queen should. Engstrom hopes the drawings inspire women to follow in the clit's footsteps and discover their own inner queen ― in other words, raise their standards when it comes to good sex. 
Engstrom has been drawing since she was a kid. Though she remembers acknowledging her talent at a young age, she was hesitant to leap into a creative field as an adult. She ended up pursuing fashion, thinking it a way to combine her artistic impulses with the steady structure of a 9-to-5 job. While working as a fashion assistant, though, Engstrom realized she was far from happy.
So she started to channel her frustrations with the field ― specifically, frustrations with the kinds of judgment and ill treatment of women she experienced ― into her drawings, carving out a space where women outside the restrictive norms that governed the fashion industry could run wild and free. And, mostly, naked. 
"I wanted to draw something that looked like the opposite of a fashion figure," Engstrom said. "It started with a stiff, but plump figure without a face. Then it turned in to a more cartoon-looking character. I started to share the images on Instagram. People's positive responses gave me the confidence to share more of my work."
Before long, Engstrom quit fashion and was drawing full time. Her most prevalent character is a woman named Husa, which means housemaid in Swedish, though Engstrom insists she was drawn to the name's sound alone. The artist calls Husa her alter ego. "She represents the weirdo in me," she explained in an interview with Lisa Says Gah. The pillowy, pink lady is all soft bulges and big smiles ― a striking emblem of feminine self-love.
Husa, like many young women in 2016, is obsessed with Kim Kardashian. In Engstrom's drawings, Husa can be seen recreating Kardashian's photo shoots. The artist often uploads split images to her Instagram account, juxtaposing paparazzi pics or selfies with line drawings of Husa assuming the same pose. "I don't know what it is about Kim," Engstrom mused. "I think I'm obsessed with celebrities in general. Maybe my obsession with her is about me wanting a piece of her fame. I also love her body. I love drawing her figure, especially her butt. "
Engstrom's newest fixation ― straying not too far from the Clit Queen's kingdom ― are penises. Her newest series of black-and-white drawings features playful dick pics that would blow any middle school doodler away. Mermaids sprout phallic heads in lieu of their own, penises grow like daisies in a fertile field, sexy appendages grow in women's bellies where whole babies should be.
Men are often pretty serious about whatever they're packing below the belt, preferring that their members be treated with the utmost respect. Engstrom, on the other hand, is a bit more playful. She allows her little guys to run free, indulge in their fantasies, be soft and gentle. The surrealist drawings are sure to bring a smile to your face, and perhaps to your other body parts as well.
Whether making a clit, a dick, or a Kim K, Engstrom imbues her work with both a feminist agenda and a dirty mind, exploring the amusing connection between the two. In a simple and addicting visual language, the artist encourages viewers to tap into their inner Husa. 
Calling all HuffPost superfans!
Sign up for membership to become a founding member and help shape HuffPost's next chapter
BEFORE YOU GO
PHOTO GALLERY
Art History's Most Erotic Artworks