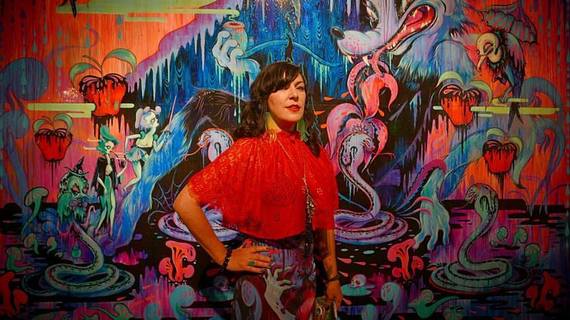 Camille Rose Garcia is acclaimed for her fairy tale inspired artwork and illustrated children's books. Her eclectic mix of '60s psychedelic color, re-imagined vintage Disney imagery and creepy revamping of Max Fleischer's charming cartoon-like characters is used for political critiques of capitalist greed. Garcia draws further influence from politically conscious bands like The Clash and The Dead Kennedys, giving her dark, satirical tales a "lowbrow" appeal. This has drawn an underground following, since her work has appeared in mass cultural magazines like Juxtapoz, Rolling Stone, Flaunt and Paper. At the same time, the aesthetic complexity of Garcia's work is also recognized as museum quality "high art," as her artwork is in collections at LACMA, The Resnick Collection and San Jose Museum - the latter of which featured a solo museum exhibition of her work in 2007. Garcia has had several exhibitions at Merry Kanowsky Gallery from 2000 to 2010 and Kohn Gallery in 2011. Her illustrated version of Alice's Adventures in Wonderland (published by HarperCollins in 2010) is a New York Times best seller.
Garcia's pop surrealist works at Corey Helford Gallery include paintings, drawings, prints and site specific sculpture. This new work develops from her earlier political concerns into a more personal exploration of the three stages of a woman's life. She explores the way the power of feminine beauty fades and metamorphoses into inner power, then finally wisdom: from seductresses to powerful queens to wise old crones.
Her early reliance on her imaginative sources has matured into heartfelt, personal interpretations of feminine archetypes. Garcia says the idea of "more layered symbolism" came from watching Alejandro Jodorowsky's films, so she made a "card system" of symbols she loved from childhood to use as "touchstones." This led to a deeper understanding of the personal significance of universal symbols that recur in her work: such as the spider, cobweb, snake, moose, vulture, swan, spider pussy, flowers, mushrooms, candy sticks, decaying teeth, seductresses, queens and witches.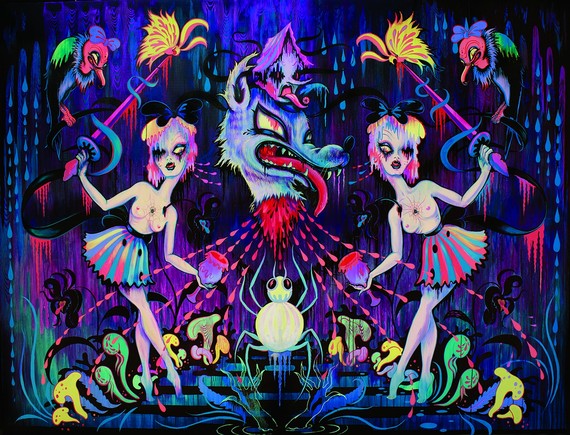 Garcia says that she "faces her demons and ghosts" in this new series of larger works, because she explores the way women must overcome their childhood fears to create beauty in life. She draws upon Jung's idea that women develop their "animus" (masculine ego, creativity and eroticism) through "transcendental tasks" - illustrated by Psyche's symbolic tests by jealous Aphrodite. Garcia obviously identifies with the Psyche archetype who uses her masculine "animus" side for guidance (symbolized by Eros) to transform into Psyche-Aphrodite. Phantasmacabre could be viewed as a contemporary analog to an mythic rite of passage for women.
Fairy tales not only open the imagination of children, they are also vehicles of self-expression for artists who can add their own personal twist to create new variant of a tale type - demonstrated by avant-garde filmmakers who make fairy tales into movies (Jean Cocteau, Terry Gilliam, Nietzchka Keene, Stephen Sondheim, Jim Henson - and of course, Walt Disney), or fiction writers who reinterpret fairy tales (Angela Carter, Anne Sexton, James Thurber, Roald Dahl, Margaret Atwood). Even Shakespeare based most of his plays on fairy tales because these are universal stories which are always psychologically relevant and open for re-interpretation. For example, there are 900 variants of the Beauty and the Beast tale type (which originates from Psyche & Eros) in addition to many films: King Kong, The Hunchback of Notre Dame, Shallow Hal, and even Shrek.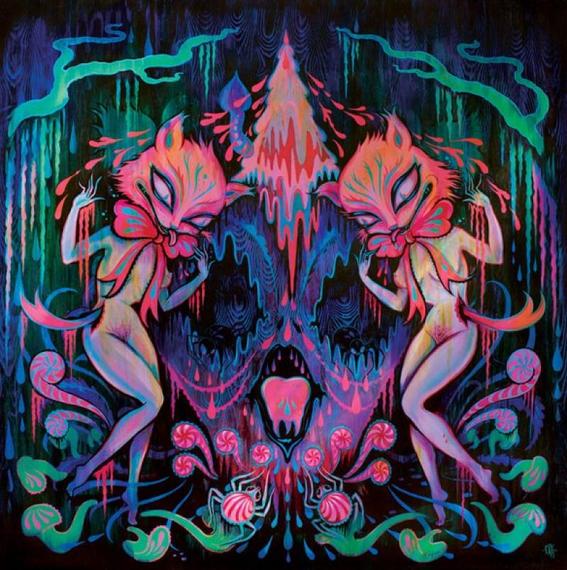 Joseph Campbell argues that a masculine "hero with a thousand faces" reappears in mythology - from ancient Greek myths to George Lucas' Star Wars. I argue, after teaching university courses on feminist analysis of fairy tales for decades, that a heroine with a thousand faces also reappears in variants of fairy tales - from the ancient Greek tale of Psyche & Eros to Guillermo del Toro's Pan's Labyrinth. The difference is that the masculine hero's journey always ends with the same final fate, whereas the final fate of the feminine heroine changes dramatically - with the times and the gender politics of the writer. I believe myths are masculine and fairy tales are feminine because, whereas myths remain stable, fairy tales are always evolving. Today, the mythic heroine has evolved from a frightened little girl into a self-empowered survivor. The rape victim who is killed in Charles Perrault's Little Red Riding Hood avenges her sexual predator in James Thurber's version - strutting home as a fashionista in a new wolf coat.
The three part structure of all exemplary and cautionary fairy tales (the challenge or warning, followed by the test of character, to the final consequence) can be fractured to reflect changes in gender politics, making them the perfect vehicle for post-feminist reinterpretation. Throughout Phantasmacabre, Garcia uses recurring symbolism from the ancient tales of the young Psyche, Little Red Riding Hood and Snow White, all of whom she eroticizes as seductive Lolitas. Her sexy punk heroines are persecuted by male sexual predators and tested by jealous witch-bitches and must find their inner power - like Pysche's tests for a transformation into an immortal Aphrodite. But Garcia's macabre fantasy graphics show that the final fate of naive girls or jealous witch-bitches who fail to learn survival or values is a form of death (physically or psychologically).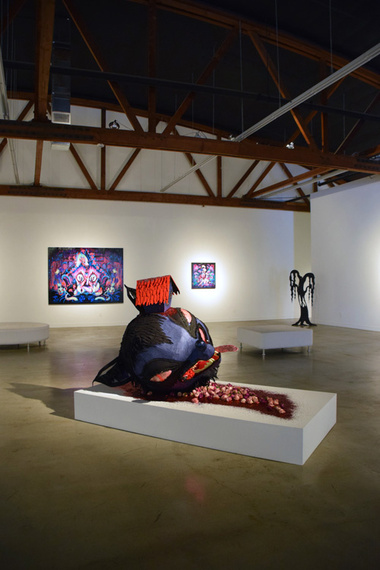 Garcia's personalized archetypal symbolism explores the psychosexual dimensions of this female survivor battle. Garcia decapitates her big bad wolf in a centerpiece sculpture - but roses, candy and glitter emerge from his head instead of blood. This piece is inspired by Mexican folk art - and the idea that beauty emerges from a destructive act - which is another subtext in Garcia's complex work. Garcia's father was a Mexican activist filmmaker and her mother was a muralist painter, with whom she apprenticed from the age of 14. Serendipitously, they lived near Disneyland, from where Garcia drew further inspiration.
Garcia uses her trademark psychedelic colors to alter perception and create a sense of different co-existing realities: in dreams and consciousness. She refers to her paintings as "psychedelic gardens" because she begins her painting much like she would plant a garden, with flowers, plants and mushrooms, yet "keeping the center open until it evolves." She uses a saturated palette, glazes and glitter to "make colors vibrate."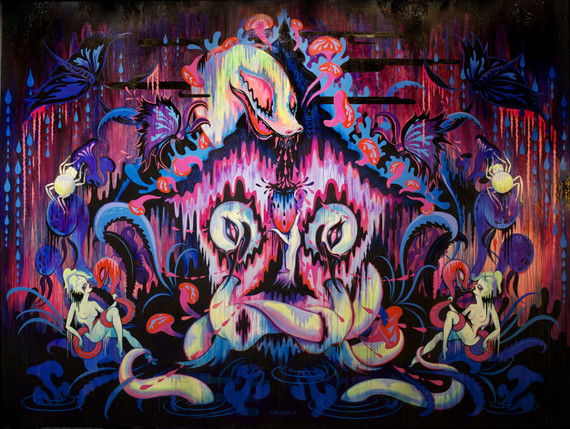 Garcia explores female desire in these erotic paintings. In House of Psyche, Garcia explores the wounding and sacrifice of romantic love. As she says, "to feel something, we have to potentially sacrifice something else." The swans (symbols of love) are pierced by snakes, and the female figures are wrapped in snakes. In the center, Pysche's hands hold the cup of immortality she earned by completing Aphrodite's tasks. Hands explores the dreamlike memory of the feeling of lover's hands. Spider Pussy figures also explore the taste of desire with unabashed eroticism.
Garcia seldom shows men except in relation to their effect on female psychology, in a spectacle dominated by feminine characters. But she includes an homage to the late David Bowie as an Orpheus character, because he epitomizes a more androgynous male who tapped his feminine "anima" (feminine soul, in Jungian psychology). Today, Bowie would be called "genderqueer, "gender fluid," or "gender expansive" which makes his presence in this predominately feminine exhibition apposite.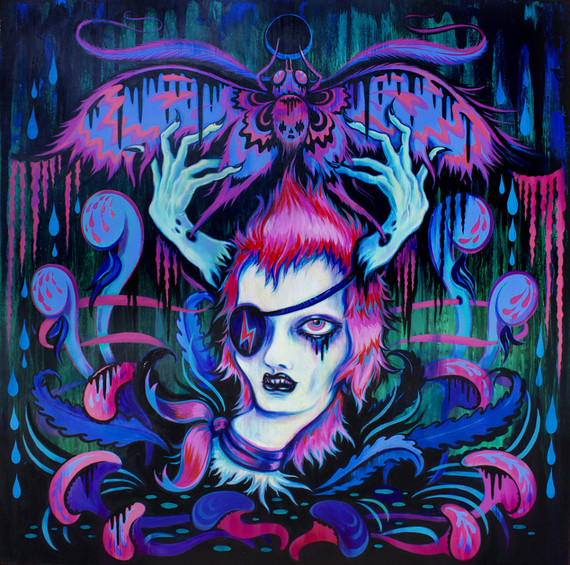 Sigmund Freud famously asked what women "want," which Jacques Lacan then argued they cannot answer because male-centric language excludes women from a speaking position. Poststructrual feminist theory developed as a way to address this exclusion by finding ways for women to speak through the cracks of masculine language. Feminist psychologist Dr. Polly Young-Eisendrath argues that women are unconsciously driven to be objects of someone else's desire, rather than the subject or author of their own desire. She argues that feminism requires more fairy tales in which heroines make their own choices. Garcia's layered feminist fairy tale symbolism is a visual antidote to this dilemma, demonstrating that spunky women of today want to be self-empowered survivors who own their sexuality and follow their own desires.
When and Where
July 16 through August 20, 2016
Corey Helford Gallery
571 S. Anderson St, Los Angeles, CA 90033
REAL LIFE. REAL NEWS. REAL VOICES.
Help us tell more of the stories that matter from voices that too often remain unheard.