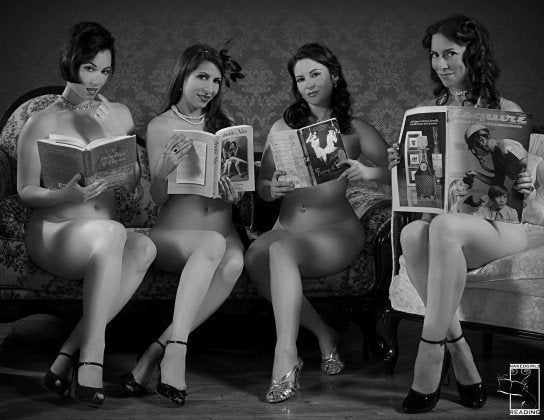 While there were many moments in Goodman Theatre's deeply disturbing and immensely fascinating production of Tennessee Williams' Camino Real that flew over my head, one thing certainly didn't: a large chunk of stale bread tossed into the audience by an actor, which navigated right to my forehead, ricocheted off it and landed square onto my theatre companion's chest.
This is just a minor example of Calixto Bieito and Marc Rosich's daringly (and sometimes literally) in-your-face adaptation of Williams' rarely produced work. Sure, Williams is well-known for his psychological dramas where characters escape into dream-like worlds that eventually crash in around them, but Camino Real takes it to a whole 'nother level.
A trapped colony of people, made up of both fictional societal archetypes and real-life literary figures (including Mr. Williams himself), pathetically scratch and claw to get out of Camino Real, but fear exists of what lies beyond the high steel gates where "the spring of humanity has gone dry." So, instead, they wile away the time drinking, corrupting, sexing, fighting, begging, atoning, and singing.
Our all-American hero for the evening is Kilroy (Antwayn Hopper), a prize-fighter with a "heart as big as a baby's head" who suddenly finds himself among the ruins of this ultimate dead end. As much as he attempts to overcome the suffocating realities of Camino Real, even Kilroy's virtuosic soul becomes consumed. His inevitable downfall serves as the moral spine for this episodic experiment of a play.
The Barcelona-based Bieito, who's also directed the piece, fills the stage with American excess and corruption. Disco balls, American flags, neon signs -- it's a sensory overload of societal excrement.
Stylistically, this production reminded me of an unforgettable production of the avant-garde opera La Grand Macabre, which I saw in Germany a decade ago. Camino set designer Rebecca Ringst designed a production of that opera in Germany, so perhaps this is where the similarity comes from? Those Germans certainly don't shy away from visual shock and awe when it comes to their theatre, and Goodman's Camino Real is rich with disturbing stage pictures.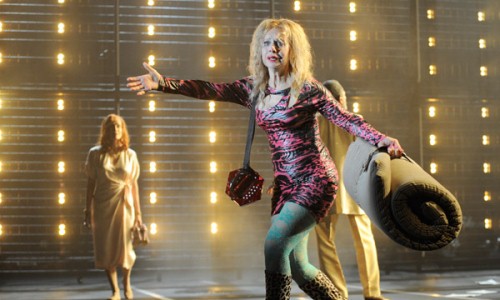 Barbara Robertson in Goodman Theatre's Camino Real.
Flash and spectacle aside, I had a great time watching this fearless ensemble draw us into their twisted world. One of my favorite Chicago actresses, Barbara Robertson, throws herself into the role of a burned out hooker, complete with leopard print boots, a dirty blonde shock wig and pink thong, which she presents to us with ferocious abandon. Marilyn Dodds Frank plays a lady of class and means who believes money will buy her way out of this hot mess. That is until she realizes her purse and travel papers have gone missing! As Romantic poet Lord Byron, Mark L. Montgomery brings passion and anger, eventually making the bold move to move on. And André DeShields minces around the sage with panther-like intensity as he cruises for a trick. The rest of this diverse cast fills this nightmare town with danger and color.
But perhaps the boldest move in Bieito's vision is having the entire thing framed as a nightmare by Mr. Williams. As "The Dreamer," Michael Medeiros channels Williams' wistful Southern accent and legendary substance abuse addiction. And Medeiros' final monologue hones in on the trappings of being an on-demand writer (such as Williams was when he wrote this play) and the yearning for freedom from the suffocating expectations such success brings.
I've heard rumbles about the numerous walkouts in Goodman's production -- which doesn't surprise me given the immensely abstract nature of the piece (not to mention an aggressive anal sex scene. Leave the kids at home people). My suggestion? Do your homework before visiting Camino Real, or simply come with an open mind.
Popular in the Community