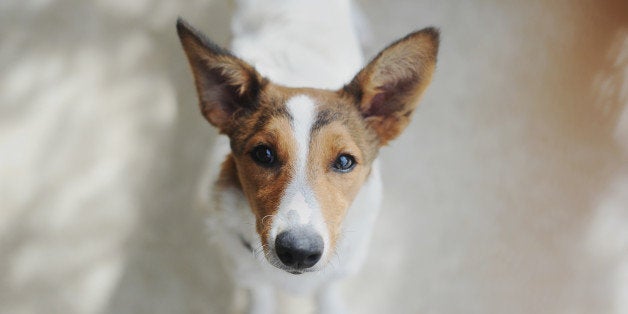 So if the guy making your tuna sandwich has to sign a noncompete, then why not the guy looking after your golden retriever for the weekend?
Camp Bow Wow is a doggy day care franchise. The company has more than 100 North American locations where pets board overnight, and it also offers in-home pet-sitting services. Camp Bow Wow workers look after dogs. But before they can do that, they apparently have to sign strict noncompete contracts similar to the ones used by Jimmy John's.
According to a Camp Bow Wow "employee confidentiality and non-compete agreement" obtained by HuffPost, by signing the contract employees agree not to work for a competing business within 25 miles of their Camp Bow Wow location's "franchise territory" for a period of two years following the contract's termination. (Each pet care location is surrounded by its own designated territory, meaning that the actual distance within which employees are barred from working may exceed 25 miles.) The definition of a "competitive business" is vague yet broad: "any business operating in competition with, or similar to, [Camp Bow Wow's] business."
In other words, if you leave Camp Bow Wow and want to continue caring for dogs, this contract, if successfully enforced, would leave you with two equally unattractive options: You could either move to another city, or wait two whole years before seeking your new dog-sitting gig.
What's more, Camp Bow Wow asserts the rights to any invention its workers come up with during their employment. The contract says, "Employee acknowledges that all Inventions are the sole property of D.O.G.," which is short for D.O.G. Development LLC, the corporate name under which Camp Bow Wow franchised its locations until recently. That means if a Camp Bow Wow dog sitter comes up with, say, a neat idea for a new dog harness, the company could lay claim to it.
To be clear: HuffPost knows of no instances in which Camp Bow Wow tried to legally enforce this contract. A spokeswoman for Camp Bow Wow said the company would not comment on the noncompete, saying it is "corporate policy for Camp Bow Wow to not discuss its procedures and guidelines in public." The company's founder, Heidi Ganahl, and her booker for speaking appearances did not return phone calls seeking requests for comment.
It's worth noting that as a franchiser, Camp Bow Wow does not even technically employ the workers in question -- its franchisees do. Indeed, the International Franchise Association, a lobby group of which Camp Bow Wow is a member, likes to say that franchisees are independent business owners who exercise full control over their workforces -- an interpretation that helps insulate big franchisers from liabilities.
Yet in this noncompete agreement, Camp Bow Wow seems to be trying to dictate the employment terms between its franchisees and their workers. And according to the company's franchise disclosure documents, the franchisees who run individual Camp Bow Wow locations are required by contract to make workers sign the noncompete. The franchise agreement states:
"You must maintain the confidentiality of our confidential information and trade secrets and adopt reasonable procedures to prevent unauthorized disclosure of our trade secrets and confidential information, including without limitation the obligation to require that all of your Personnel execute our nondisclosure and non-competition form."

Noncompetes have typically been reserved for high-ranking executives or employees with access to sensitive business information, though they're becoming increasingly common in various fields of work, including low-wage ones. Business owners argue that they're merely protecting their investments, while critics say the restrictions laid out can be unfair and unreasonable.
The revelation of Jimmy John's noncompete agreement brought widespread mockery upon the Illinois-based sandwich chain, as well as demands for an investigation from dozens of members of Congress. As those lawmakers wrote in a letter to the Labor Department and the Federal Trade Commission, "there is no justifiable business interest" in imposing a noncompete on workers who earn little more than the minimum wage and "are not privy to any of the company's proprietary information."
It isn't clear what necessitates such an agreement at Camp Bow Wow, either. Rank-and-file workers at the doggy day care company are known as camp "counselors." According to the company website, counselors "are the ones who 'tidy' each cabin, fluff the fleeces on the Kuranda Cots for the overnite Campers and tuck each camper into their own spacious, comfy and clean Camp Bow Wow cabin."
Several workers on review websites described the pay at Camp Bow Wow as low-wage. Glassdoor.com pegged the average hourly pay for a camp counselor at $8.89 per hour, which is barely above the minimum wage in many states.
According to a Wall Street Journal report from August, company founder Ganahl previously had a career in pharmaceutical sales, a field in which firms frequently use noncompetes to discourage workers from jumping ship with company information and clients. The Journal reported that Ganahl recently agreed to sell Camp Bow Wow to VCA, the pet health care company, for an undisclosed sum, though she will remain the company's chief executive.
Related
Popular in the Community