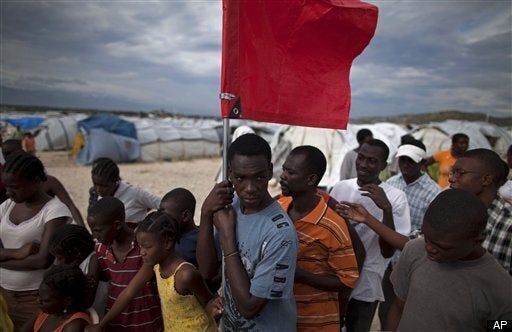 "Beyond the mountains, more mountains" - Haitian proverb
NEW YORK -- The largest refugee camp in Haiti, Corail-Cesselesse, epitomizes all the promise and the peril of Haiti's future.
Before a few thousand homeless Haitians were relocated there in April from the flood-prone areas near Port-au-Prince following last year's devastating earthquake, this 18,000-acre expanse of arid land nine miles from the city was desolate and barren, dotted with skinny saguaro cactus. The Haitian government and the United Nations made bold promises that the site would provide health care and specialized services for children, including a learning area, and developers touted deals with international companies to build garment factories, which Haiti President Rene Preval said would deliver 30,000 jobs.
Today, hundreds of tents sit neatly side by side at the camp, surrounded by foothills swarming with makeshift shelters and tarp-covered shacks built by an estimated 100,000 squatters drawn by the promises of work and services. This massive tent city stretches the resources of the relief groups that provide drinking water and schooling, the risk of cholera remains an ever-present threat, and residents feel isolated since they are far from food markets and possible jobs. And though a South Korean apparel company recently signed a deal to bring an estimated 20,000 jobs to the country, their factories have yet to arrive. What remain ever-present are allegations of disaster profiteering and corruption by powerful Haitian developers.
"It's hot and flat and dry -- there was no water on the site, there are no obvious development opportunities and thousands and thousands of squatters keep moving in," Michelle Rice, a spokeswoman for World Vision, which has been providing services at the camp since May, tells The Huffington Post. "What we really need is for people to have certainty about their future, infrastructure development, a plan for economic development. People here want jobs and what we're doing is holding things together."
Others criticize the timing of the plan. "It's not such a bad idea to have people living near factories where they can work, it's good to be out of the cities," says Melinda Montas, the founder of Konpay, a nonprofit group that provides emergency assistance to human-rights groups in Haiti. "But you can't move people out there and then build the factory later."
Corail-Cesselesse is considered far more well-equipped and organized than other camps in the country, but it is not immune to the forces of nature. Summer storms ripped through hundreds of tents and sent streetlights crashing to the ground, plunging the camp into darkness. Though it sits higher than other camps, it is considered vulnerable to flooding since there are no trees and it backs up against desolate mountains.
"Why did they choose that land, isolated as it is, dry as it is, where people don't have access to economic activity without traveling a long distance?" asks Oxfam's Julia Schindall, citing an investigative piece by the Associated Press that raised questions about the role of one of Haiti's biggest developers, who stepped down from his post on the country's relocation commission when it was revealed that his company owned the land occupied by the camp. "Was that land chosen because some owner of [Haitian development company] Nabatec was involved?"
The developer, Gerard-Emile "Aby" Brun, who heads the nation's largest construction company, defended himself in a phone interview, emphasizing that he did not choose the location for the camp, which was seized by eminent domain, though he took part in commission meetings with Preval at which the decision was made. "I'm known for facilitating things and I was called upon as part of the reconstruction," Brun says. "This was the only area where you can plan a new city, industrial parks, hospitals - it was a natural choice. But we did not select the land." He says that he was at the meeting where the decision was made but "the president made the decision," adding "What I proposed was to have them identify land they could take."
Brun says that Nabatec -- which is run by some of Haiti's most powerful businessmen, including Gregory Mevs, the CEO of the Win Group -- owns about 10 percent of the land, which he claims is worth about $20 million, money that the Haitian government owes his company. "We have submitted a claim on that land and we have not heard anything at all," he says. "We did not bring any speculative concern to the land."
The developer denies reports that he was forced to step down when reports emerged about his role since he was never formally appointed to the commission. "I did not resign formally," he says, "I just told them that to avoid problems, [since] this could lead to some conflict of interest, I told them I can give them advice but I'm not going to sit and preside over any more meetings."
Last week, South Korea's Sae-A-Trading Company signed a deal after negotiations handled by Brun to bring $78 million in equipment to train and employ thousands of garment workers near the camp. Meanwhile, the U.S. government promised to spend $170 million to build a power plant and an industrial park and to improve the port of Cap Haitien.
And Brun says that his company and the government are close to signing deals with South Korean, U.S. and French companies that will occupy massive industrial parks near Camp Coreil. He won't name the companies, although he says that they include one of the largest developers in Florida. A major reason for the delay in these development deals is due to the influx of squatters. "Until they have evidence that the land can be cleared, they say they cannot come in and invest for the time being," Brun says.
The developer warns that the instability of Haiti's government after a disputed election has also complicated the situation, endangering the future of the camp. "If we are not careful," he says, "Corail could be a slum."
Popular in the Community