Rosanna Powers' fiancé and brother died within 30 hours of each other in Iraq in 2004. Now, just over a decade after their deaths, she sees both of them in her 11-year-old son -- a comforting but difficult reality.
"It's a blessing in disguise," Powers, a Marine veteran who lives in Florida, told The Huffington Post of spotting those similarities. "[My son has] always helped me get through it all." And now as her son, Brody, is growing older, she's ensuring he has the chance to deal with his grief in a healthy way.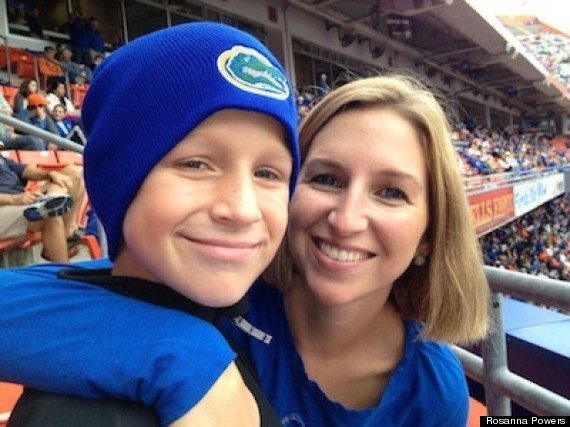 Rosanna Powers and her son, Brody, at a sporting event. (Photo: Rosanna Powers)
Brody is one of roughly 2 million children who have experienced a parent's deployment to Iraq or Afghanistan, according to the National Center for Children in Poverty. The organization notes that about 2,200 children have lost a parent in those wars.
While U.S. troop involvement has dwindled in Iraq and Afghanistan, many of these children are just beginning to face the psychological effects of life after war. Some post-9/11 military kids are living with increased levels of anxiety or secondary traumatic stress, which occurs after someone learns about or is exposed to the firsthand trauma experienced by another.
But for many kids, like Brody, simply integrating with children who have faced similar struggles is a big step in the healing process.
For the past two years, Brody has attended Camp Corral, a week-long summer experience for children of wounded, disabled or fallen military members. The camp, which is free of charge, expanded from one pilot location in 2011 to serving 3,200 children at 20 locations across the country in 2014.
Executive director Betsey Fortlouis said the camp's rapid growth reflects the high demand for military kids to find comfort among others with similar family backgrounds and access resources that help to heal.
The opportunity has been particularly helpful for Brody considering that he and his mother live in rural Florida, where "nobody really knows too many people in the military," according to Powers.
"He absolutely loves it," Powers told HuffPost, noting the activities, like bicycling, canoeing, archery and swimming that Brody has participated in at camp. "Every time he goes, he comes back with a million best friends."
Camp Corral -- a nonprofit operating largely on the generosity of private donors -- focuses on giving 8- to 15-year-olds the chance to simply "be kids," according to Fortlouis. Their time at camp separates them from the stresses that affect many military children, like feeling different among peers who aren't from military families or helping to raise their younger siblings out of necessity.
While having fun is a top priority at Camp Corral, the nonprofit staffs at least two military family life counselors at each location throughout the summer. There are no scheduled counseling sessions within a child's time at Camp Corral, but the counselors are on-hand to assist with any issues -- from homesickness to secondary traumatic stress -- should they arise.
Dr. Catherine Mogil, director of training and intervention development for Project FOCUS -- an initiative aiming to help families cope with the deployment of a parent -- has researched how military life can affect family dynamics. Military kids can certainly be affected by the "cascading" affects of their parents' deployment, she said, though it is difficult to diagnose.
Stressors that can occur after a military member returns -- surgeries, moving or even mood swings -- may have negative effects on the mental health of the whole family, including the kids.
"It's not every military child," Mogil told HuffPost of the prevalence of anxiety in military children. "But there's just a higher level of risk there."
Powers is well-aware of the effects her fiancé's death had on Brody. She told HuffPost that as her son grew older, the topic could be confusing for a child who doesn't understand war.
"[Brody would say], 'Well, you were a Marine, mom -- how come you're alive and my dad's not?'" Powers said, noting she would have to explain that "not every Marine dies," and some jobs in the military are riskier than others.
Although counseling services are a vital aspect of Camp Corral, Fortlouis believes the most powerful part of the camp experience lies in uniting people who can relate to one another -- a difficult challenge to make happen for the 82 percent of all campers who come from families of veterans. Fortlouis told HuffPost there are many more benefits available to connect and support families of active duty military members, but those resources "dry up really quickly" once those members' statuses transition to veteran. And that makes experiences like Camp Corral all the more important.
"We've been able to connect these families that didn't even know there was a family like them -- maybe even in the same town," Fortlouis said. "Or maybe sometimes even in the same neighborhood."
While Brody's neighborhood may be lacking of kids who can relate to his own experience, Powers said one week of fun makes a difference long after her son comes home.
"He'll tell me stories all the time about something cool he did at Camp Corral," she said. "And we do fun stuff at our house all the time, but Camp Corral is Sunday through Friday, all day, from the very minute you get there until the time you leave, just fun."
To learn more and support Camp Corral, visit the organization's website.
Related
Before You Go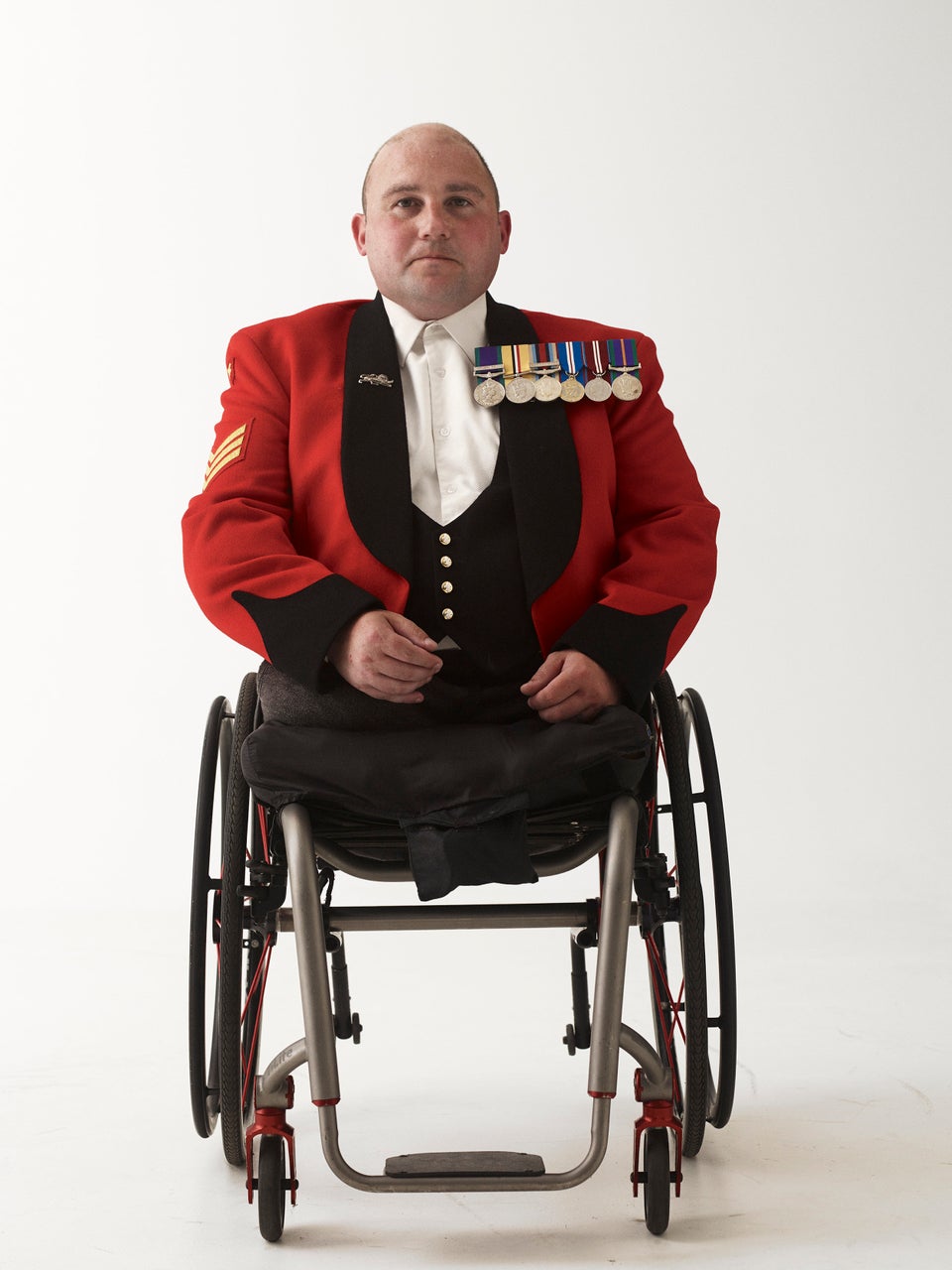 Bryan Adams' Stunning Vet Photo Series