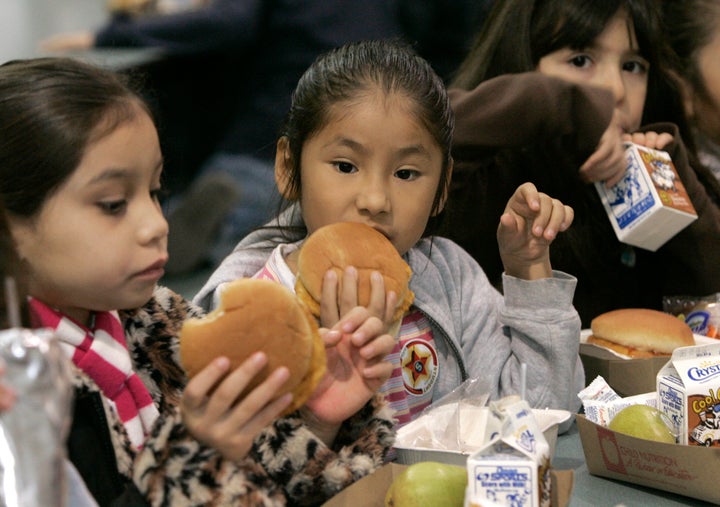 This piece is part of a series of blogs by leading NGOs to call attention to a range of issues that should be raised at the G8 summit at Camp David in rural Maryland from May 18-19.

In just over a week, President Obama will host G8 leaders at Camp David. In addition to the usual global security and financial issues, they'll talk about a crisis that affects more than a billion people on the planet: global hunger.

And it's a good thing they've put hunger on their agenda. In the past year, we've seen a famine in the Horn of Africa, and now 13.4 million people in the Sahel region of West Africa are facing hunger. In the Gambia alone, spiraling food prices mean an estimated 700,000 people are going hungry. Food prices are back on the rise across the globe. G8 action to fight global hunger couldn't be more urgent and timely.

Three years ago at the G8 summit in Italy, when faced with a similar global food crisis, President Obama led the G8 to launch the L'Aquila Food Security Initiative (AFSI), which committed donors to invest $22 billion over three years to support country-owned agricultural development plans. They also promised to focus that support on helping women smallholder farmers -- who are key to ending hunger -- to become more productive. But the L'Aquila G8 hunger pledge expires next month.

With such urgent global needs and an expiring pledge, the conditions are ripe for the Camp David G8 to be something historic. It could be remembered as a moment when world leaders finally took the bold steps needed to partner with developing nations to place the world on an irrevocable trajectory towards a hunger-free world.
Or, it could be remembered as just another summit filled with warm words and conventional wisdom that failed to deliver the change we need.

President Obama deserves credit for making food security the signature development issue of his administration. The Obama administration has spearheaded the Feed the Future program, led efforts to launch and sustain the innovative Global Agriculture Food Security Program (GAFSP), and made the case to Congress for important increases in aid to support smallholder farmers in Africa.

There is no lack of motivation to address global hunger at this summit, but it is how they are going about it that is causing concern. The Obama administration is working on a plan that focuses on providing incentives to get the private sector more involved in food production in poor countries. The private sector - especially small businesses in Africa -- is key to agricultural development. But it's also clear that the administration's private sector focus is more about leaders' fear of asking for new aid to agriculture in a tough political and fiscal climate than about what's most urgently needed to achieve a hunger-free world.
And to be blunt, what we've seen of the administration's private sector approach looks like it could be more of the same approach that hasn't worked. It's about creating "enabling environments" to entice the private sector to invest in African agricultural development -- changing trade policies, opening up markets for seeds and technology, changing regulations on land tenure. More fundamentally, the administration's proposal relies on a flawed assumption that increased private sector engagement will in turn lead to increased economic growth, which will in turn increase incomes and food security. But this isn't automatically the case -- investments have to be carefully planned and inclusively implemented if they are to reach the poorest of the poor, improve nutrition and reach smallholders. This is not an historic strong suit of the private sector.

So if these are the problems, what can be done to ensure Camp David is remembered as an historic summit in the fight against hunger?
Be accountable and learn lessons. Three years ago at the L'Aquila G8 summit, leaders promised billions to back developing countries that create viable agricultural development plans through the Comprehensive Africa Agriculture Development Program (CAADP) and similar efforts in Asia and the Americas. But ActionAid's recent research found that L'Aquila donors are channeling less than 25 percent of their aid to agriculture behind country-owned plans. The G8 should keep their promises and back country plans. African countries are keeping their promises, the G8 should do the same.
Sustain public investment in agriculture. The private sector is not a silver bullet. Private sector actors will invest in firms and projects that are most economically viable. But there's just no incentive for companies to reach the most marginalized farmers, who are most critical to ending hunger in Africa. The G8 should, at a minimum, ensure a balanced approach and also commit to sustain and expand public investments for another 3 years.
Listen to and engage smallholder farmers in plans. The real innovators in African agriculture aren't DuPont, Pepsi, or Monsanto. They're (largely women) smallholder farmers who work hard every day to feed their families and communities, with few resources and little support to draw on. The G8 should tap more of their wisdom in developing and implementing plans.
Support what works. One of the best outcomes of the L'Aquila summit three years ago was the creation of the Global Agriculture and Food Security Program (GAFSP), an innovative multi-donor trust fund that backs country plans and engages farmers and civil society in decision making and implementation. It's already making a huge difference in 12 countries, but it's vastly underfunded. G8 leaders can put their money where their money is and pledge to the GAFSP Public Sector Window at Camp David.
The pessimist in me worries Camp David will be more of the same -- another summit in a long line of them. The optimist in me is hopeful that President Obama and other G8 leaders will rise to the occasion and do what it takes to make this G8 one that set the world on an irrevocable path to zero hunger. Let's hope the optimist is right.
Popular in the Community