PARADISE, Calif. ― It has been more than three months since California's deadliest wildfire burned the rural town of Paradise to the ground, but in many ways, it looks as though it happened just yesterday. Miles of houses are gone, trees blackened and bare standing over gray heaps of rubble and ash, the occasional scorched car frame or chimney popping through.
And of the tens of thousands of people who lost their homes last November, many are still desperately searching for a permanent place to live.
"I've never been like this before," Robert Chavez, 37, said of staying in the Torres homeless shelter in Chico, a 20-minute drive south of Paradise. "I've been living on my own since I was 16."
"I'm just keeping my distance from a lot of people right now. I don't like to be vulnerable," added Chavez, a broad-shouldered, deep-voiced mechanic and father of three boys, ages 3, 7 and 11. "My family doesn't even know I'm here. … I can't have my kids here. I just can't."
After seeing flames engulf the three-bedroom house he rented in Paradise, Chavez fled in a neighbor's car, first ending up at an emergency shelter, then at a hotel with his dad, whose home insurance covered it for a month. But after his dad moved to Washington to get away and be near his brother, Chavez was left sleeping in his car and, for the past couple of weeks, the Torres shelter.
He applied for aid from the Federal Emergency Management Agency but got denied "for whatever reason," he said, and hasn't had the confidence to reapply. He has struggled to find housing in Chico, a college town where rents are much higher than in rural Paradise.
His kids, meanwhile, are staying at their grandparents' place in nearby Magalia, squeezed in with more than a dozen family members in a three-bedroom house, since their mom and uncle also lost their homes.
"I haven't really seen them very much since the fire," he said.
Plagued by Northern California's affordable-housing crisis, Butte County's vacancy rate for rentals was low before the fire, about 1 to 2 percent.
Now, after the most destructive fire in the state's recorded history killed 85 people and burned nearly 14,000 homes to the ground, the crisis has only deepened, making it feel nearly impossible for many who lost their homes to find an affordable place nearby. Some have left the area or even the state, but for many, like Chavez, Paradise has always been home. They can't imagine leaving.
As of mid-February, there were about 220 FEMA trailers and manufactured housing units being used by Camp fire survivors, an agency spokesperson said. That figure is not nearly enough to meet the needs of the thousands who lost homes.
"We don't have enough housing, period, for the people relocated because of the Camp fire," said Chico City Councilwoman Ann Schwab. "We don't have enough temporary housing, permanent housing. People are sleeping in their cars, in motorhomes. They are sharing bedrooms with friends and relatives."
"It was a bad situation before," she added. "Now it's overwhelming."
HuffPost spoke to four families whose lives ― and what they used to call home ― were upended by the Camp fire. Here are their stories.
She lost her home to a wildfire in 2008, and 10 years later, her home burned again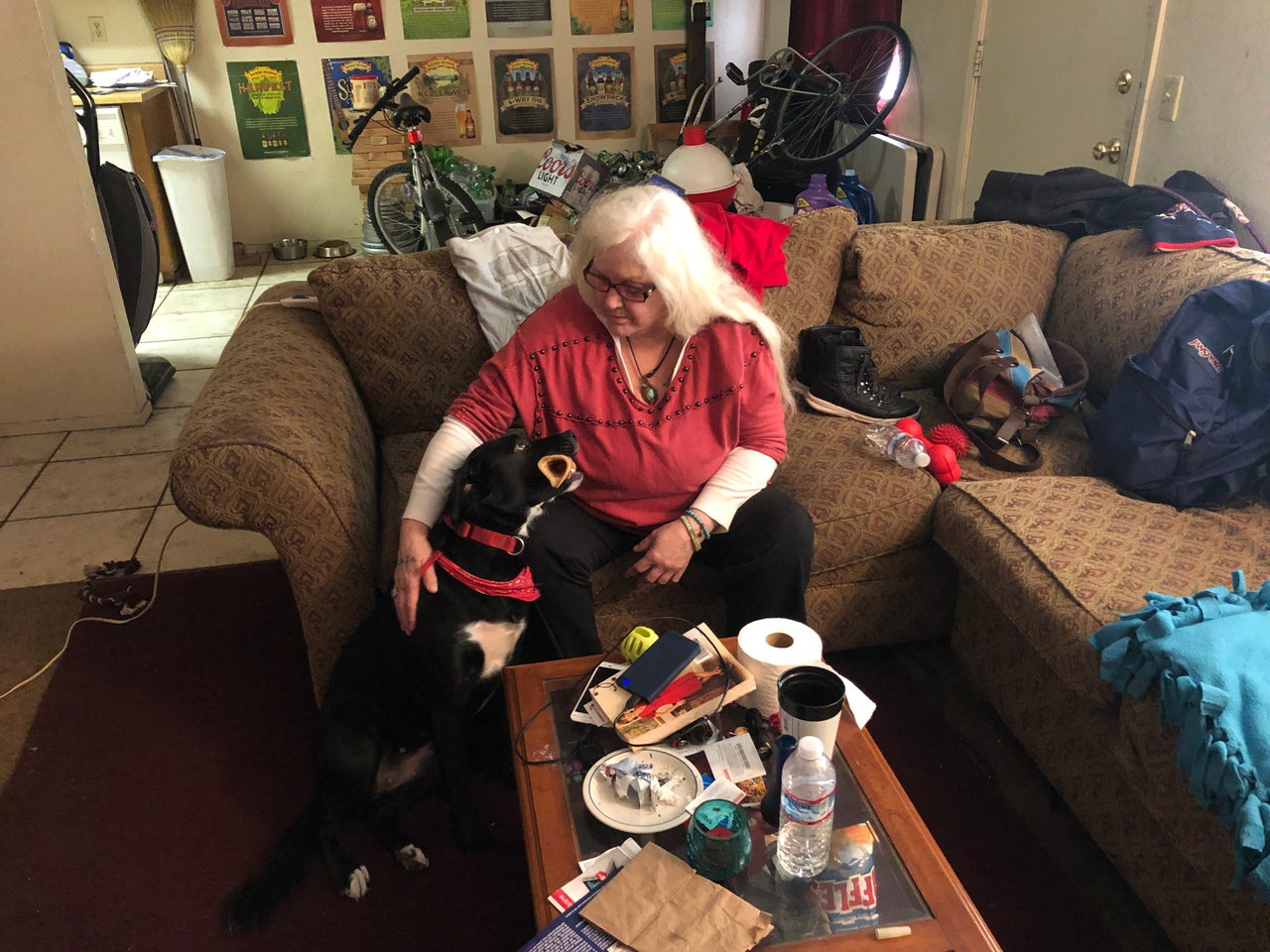 On the morning of the fire, Jill David, 63, woke up to a sky turned orange. She knew what it was; she survived one before. The 2008 fire that tore through Paradise and Concow, where she lived with her husband at the time, burned through their two trailers and three cars.
"I moved to Paradise because I couldn't live [in Concow] anymore — just too many bad memories," she said. In the aftermath of the 2008 fire, she and her husband split up. "That's why I moved to Paradise. I figured I'd be safe there. But you're not safe anywhere."
"No one should have to go through this twice," she added, patting her 2-year-old black rescue dog, Ivy, lying at her feet on a chilly evening in February. She was sitting on the couch where she now sleeps, in her 40-year-old son's apartment, which he shares with three roommates in Chico. The brown sofa was darker in parts from wear. The section she sleeps on is three cushions long.
"That's why I moved to Paradise. I figured I'd be safe there. But you're not safe anywhere."
On the morning of the blaze last November, she quickly packed up what she could ― a backpack, some clothes, her dog ― and left her trailer behind, getting a ride in her neighbor's car. What would normally have been a 20-minute ride to Chico took over two hours as all the town's residents crowded onto the same few roads trying to get out. As the sky slowly turned from orange to black and ash started falling, David held Ivy tight in the back seat.
"That was 9:30 a.m. You couldn't even see outside. It was [like] nighttime," she recalled, tucking her long white hair behind her ears. "That was the weirdest feeling ― it's black outside, and you know it's 10 a.m."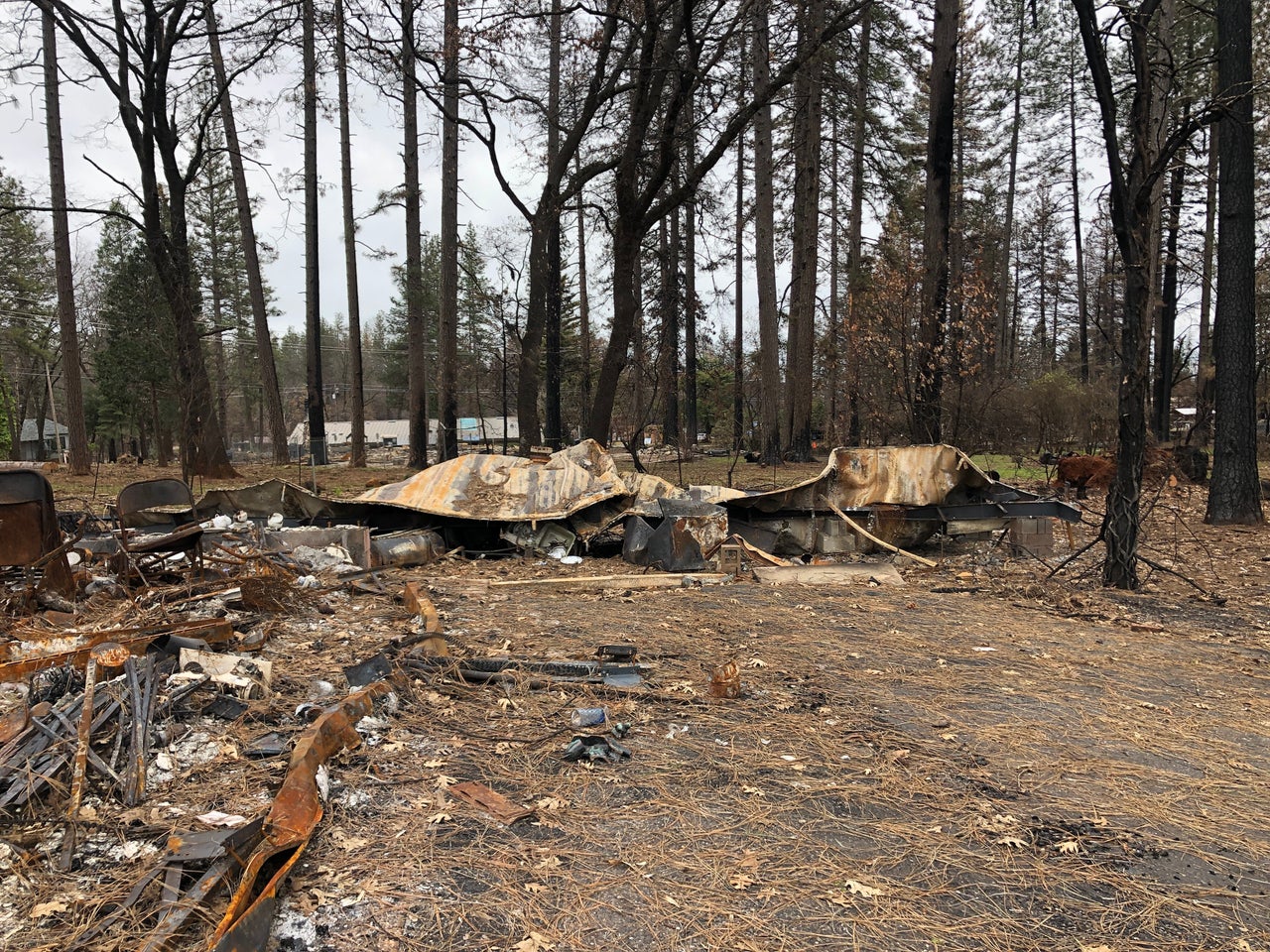 First, she stayed at her daughter-in-law's, then at her son's, where she has been the past three months. The sofa isn't exactly comfortable to sleep on: Her arthritis has been flaring up, and she has neck pains. And she has been having panic attacks.
"But I'm dealing with it," she said, unrolling some toilet paper and lifting her glasses to dab the corners of her eyes. "I'm lucky to have what I have."
With so many people in a desperate search for housing in the area, she hasn't been able to find anything that's not only affordable but also open to dogs. She has gotten some aid from FEMA in the wake of the fire and has been getting by on her monthly $900 from Social Security. In Paradise she paid about $525 a month in rent, but in Chico, she hasn't seen anything under $700. She can't fathom moving farther away, since her two sons and six grandkids are there.
"Thousands of people are looking for homes, and they just don't exist," said Greg Shafer, a behavioral health counselor with Butte County who worked at post-fire evacuation shelters. "It doesn't matter how much money you have. Finding where to go is a challenge."
David lost not just her home in the fire. She also lost her best friend, David Young, 69, who perished in a car crash during the blaze. And she lost Paradise, a "perfect little town," as she put it.
"Everything's hard. I wake up every morning and wonder what I'm going to do," she said. "Everything ripped up from underneath you. It's terrible. I don't wish it on anybody. But I'll survive. I survived the first one, I'll survive this one."
"She'll help me," she added, patting Ivy, who had rotated to lie belly up at her feet.
They went from a three-bedroom house to a trailer in her parents' yard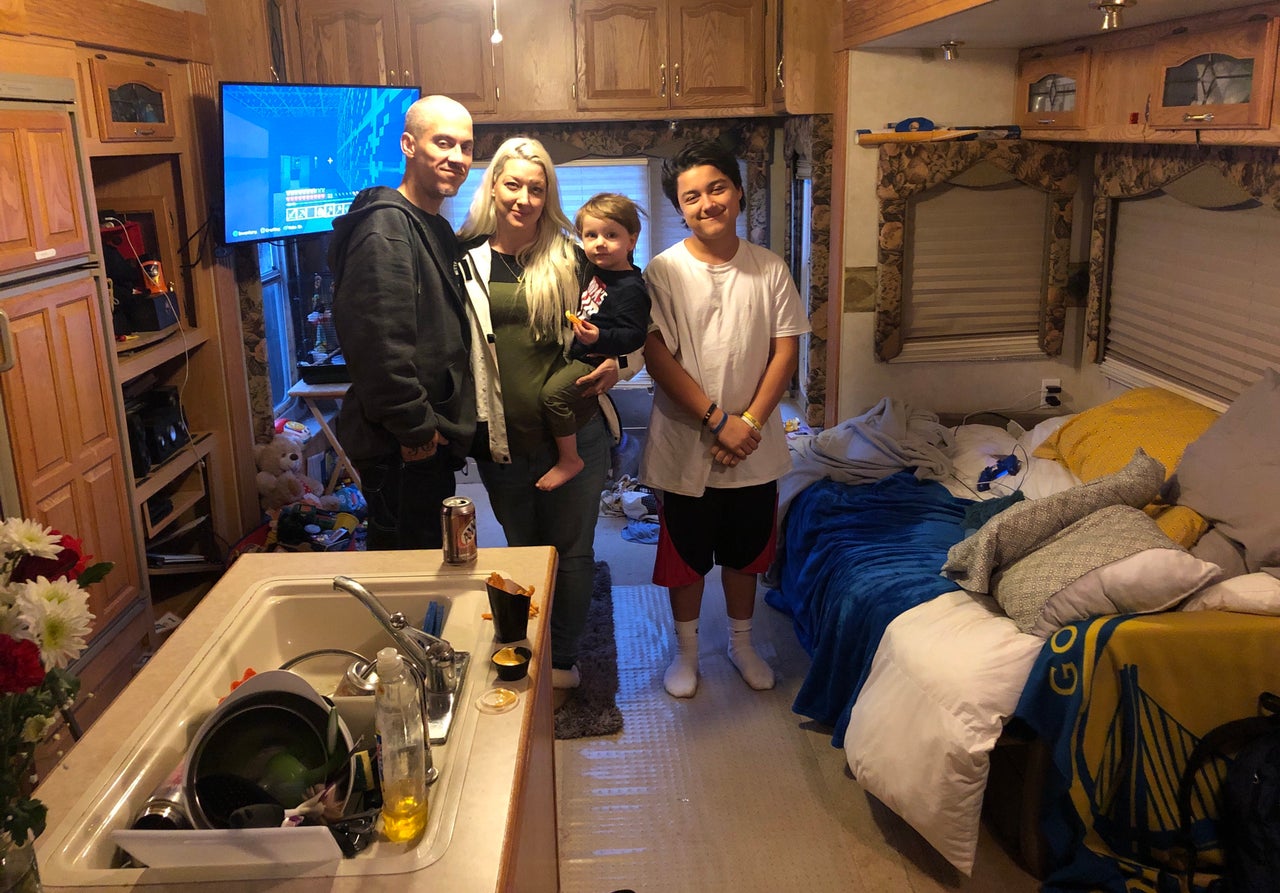 Kristine and Jeremy Alaways owned a one-story, three-bedroom, two-bathroom house on half an acre in Paradise. It had a two-door garage, a patio, a yard for the dogs and a hammock.
"It was good," Kristine Alaways, 34, said in February, sitting at the small kitchen table in the dimly lit trailer she now lives in on her parents' back lot. Her house burned in the fire, along with the town she was born in and had lived in with her family for the past eight years.
Now she, her husband and their sons — Ethan, 13, and Hayden, 2 — as well as their three dogs (they lost one, a sweet pit bull–greyhound mix named Apollo, in the fire) are crammed into a trailer in Oroville, a 25-minute drive from Paradise.
"You don't have any privacy. You sneeze, it rocks. You feel like you're in a can."
The Alaways plan to rebuild, but it may take a while, and it's going cost them. They didn't have insurance on the house, and the costs of moving back onto their property are adding up. First, they have to wait for their land to be cleared of the ash, rubble and debris from the fire. Then there's the cost of a new foundation, an estimated $2,000. And they have to pay for someone to look at the septic system and write a certificate of health. Plus there will likely be fees for the town to perform inspections and provide permits. "And that's just what we know of right now," she said, adding that they will need a loan from the bank to finance a new home.
They don't earn much: She works as a teacher's aide for special-needs elementary school students in Magalia, and Jeremy Alaways stays home with their toddler. The little help they've received from FEMA is "definitely not enough," she said, in a "dog eat dog" environment of people competing for housing ― especially against those who have insurance cash. But she can't imagine relocating anywhere else.
"I can't lose everything I have and my family that's here. We're from here," she said.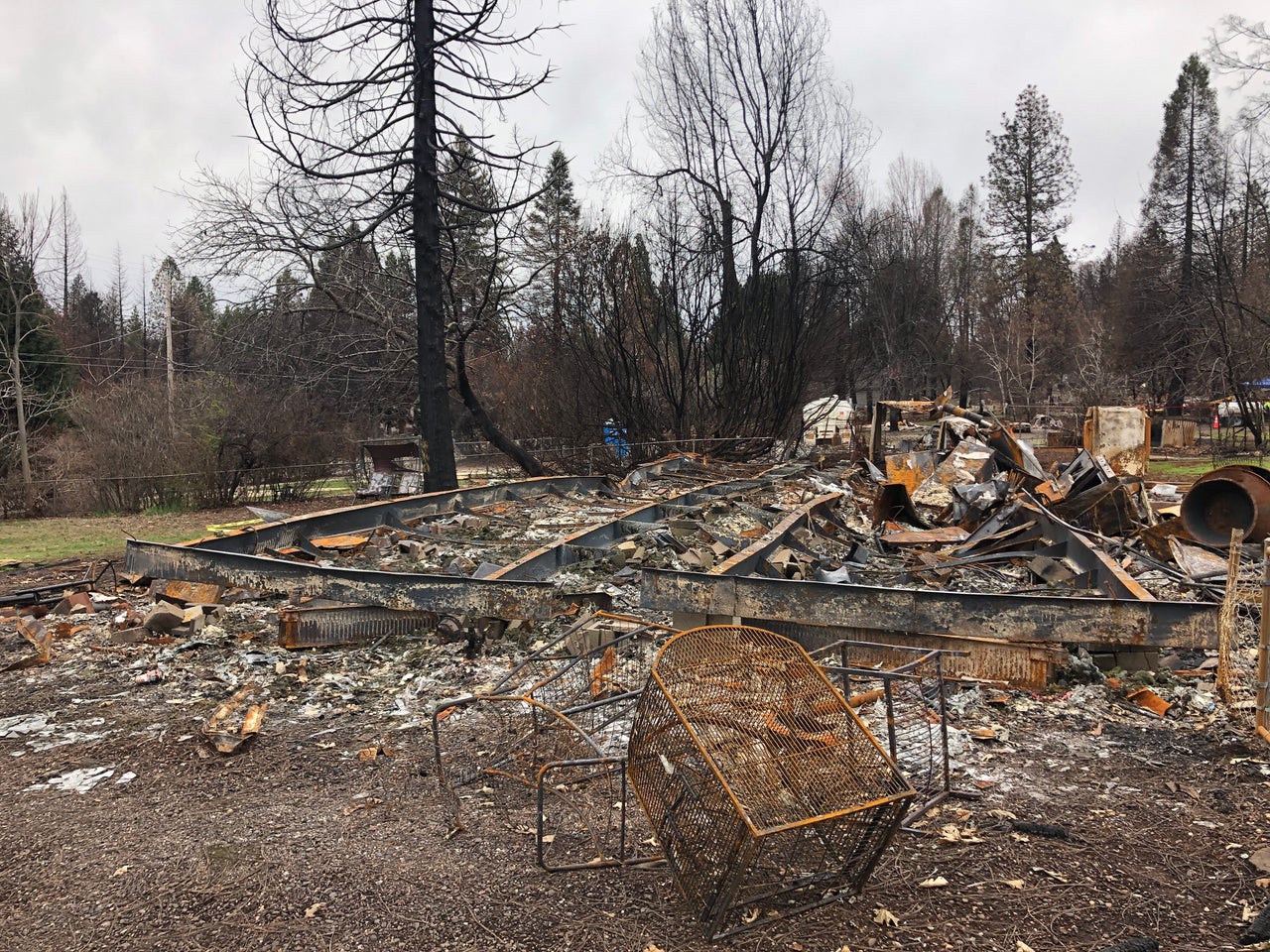 Now she wakes up in the mornings in the trailer and tries to quietly navigate the small space while her elder son sleeps on the twin in the living room and her husband and 2-year-old doze on the queen bed, which takes up almost the entire bedroom.
"The sleeping is hardest ― and privacy," she said, sitting at the table, inches from her son playing video games on his bed, which also serves as the family couch. "I miss —"
"Space," Jeremy Alaways filled in, emerging from the dark bedroom, a sleepy Hayden in his arms, head tucked shyly into his shoulder. Hayden's bare feet tickled a counter in the kitchen, where the sink was piled high with dishes.
"You don't have any privacy," Kristine Alaways said. "You sneeze, it rocks. You feel like you're in a can."
"The bathroom," Ethan chimed in. The shower is behind glass panes on the way to the bedroom, with no curtain or door. The toilet has a door but only about two feet of space around it.
Ethan misses his basketball trophies. He also lost a $200 Pokémon card, basketball star Steph Curry's rookie card and a stuffed animal German shepherd he got from his uncle.
"It's really hard," Kristine said. "It's like going on a trip ― not a fun one ― and never going back home. You know when you're done, you want to go home, smell your house, touch your stuff? And it's just not happening."
They 'got lucky' and found a rental, but they're still struggling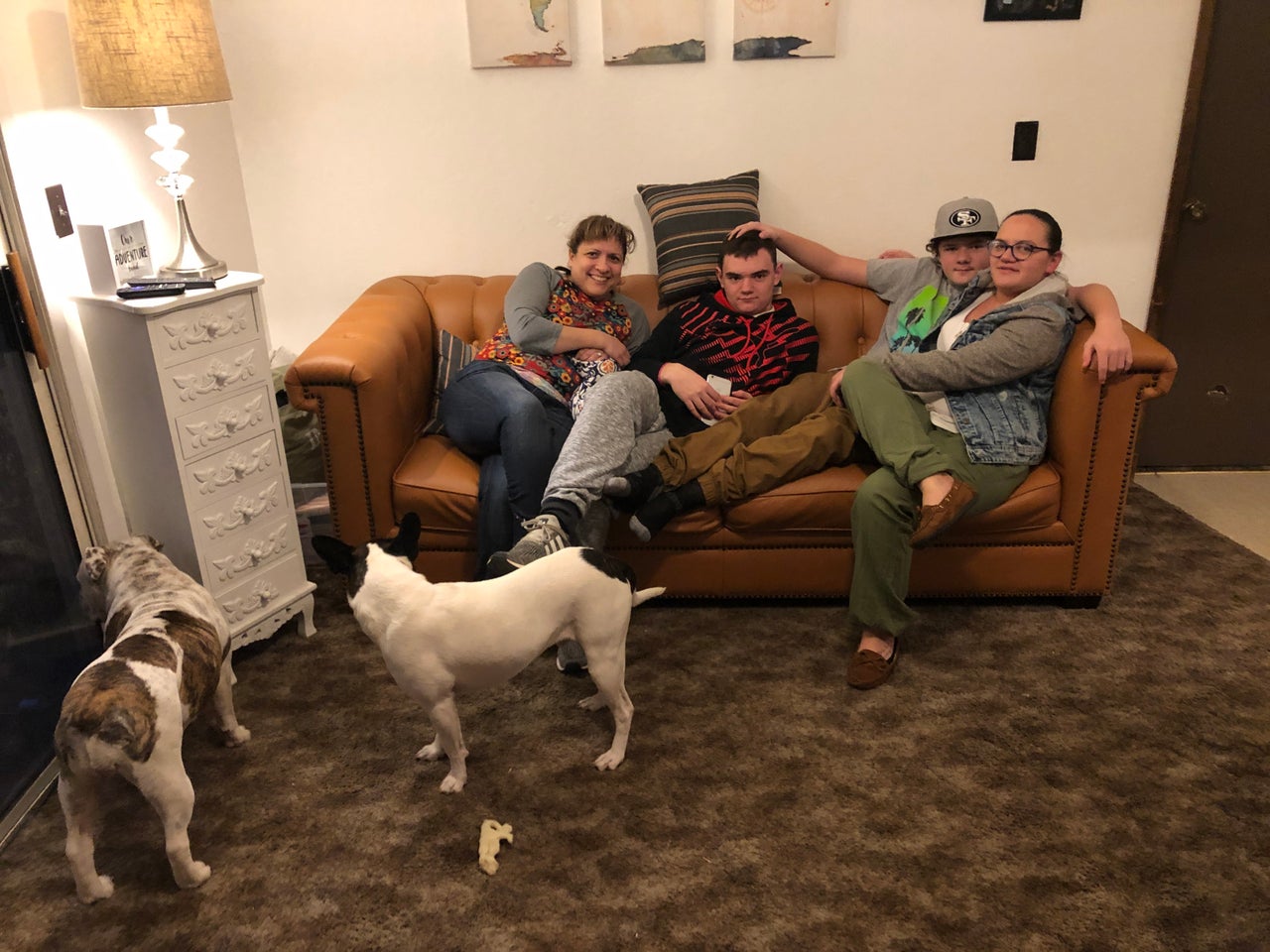 On the surface, Pamela Howell, 37, her partner, Stacy Hawley, 42, and their boys — Dexter, 14; Braxton, 13 (Howell's with her ex-husband); and Zevin, 11 (Hawley's with her ex) — seem to be doing OK. After losing the house they rented in Paradise, they "got lucky," Howell said, and through a co-worker were able to find a two-story apartment to rent in Chico. The women and their boys live there with their two dogs. Howell goes to work at a nursing home, her job spared from the fire because it was in Chico. But they're not OK.
"We did see things that people should never have to see in a lifetime," Howell said. As they fled the blaze in bumper-to-bumper traffic, the boys sitting in the back saw other vehicles catch on fire. Under a sky filled with pitch black smoke, Howell could hear the bangs of propane tanks exploding in the heat. She saw some people jump from broken-down cars into any stranger's vehicle nearby in the rush to escape.
"We are expected to carry on with life as normal ... to function like my life has not been completely devastated ― even in the days that I just don't want to get out of bed.""
The boys lost two homes that day: their moms' place and their dad's. Howell's sons, who were born and raised in Paradise, are now splitting their time between their moms in Chico and their dad, who is living in an RV in his boss' driveway.
"We are expected to carry on with life as normal," Howell said. "I should be grateful I still have a job, which I am, but I have to go there every day and function like my life has not been completely devastated ― even in the days that I just don't want to get out of bed. It's just hard sometimes."
Hawley, who is a nurse and was on leave before the fire because of anxiety and stress, has seen her mental health issues only worsen. She gets nightmares and at times cries in her sleep.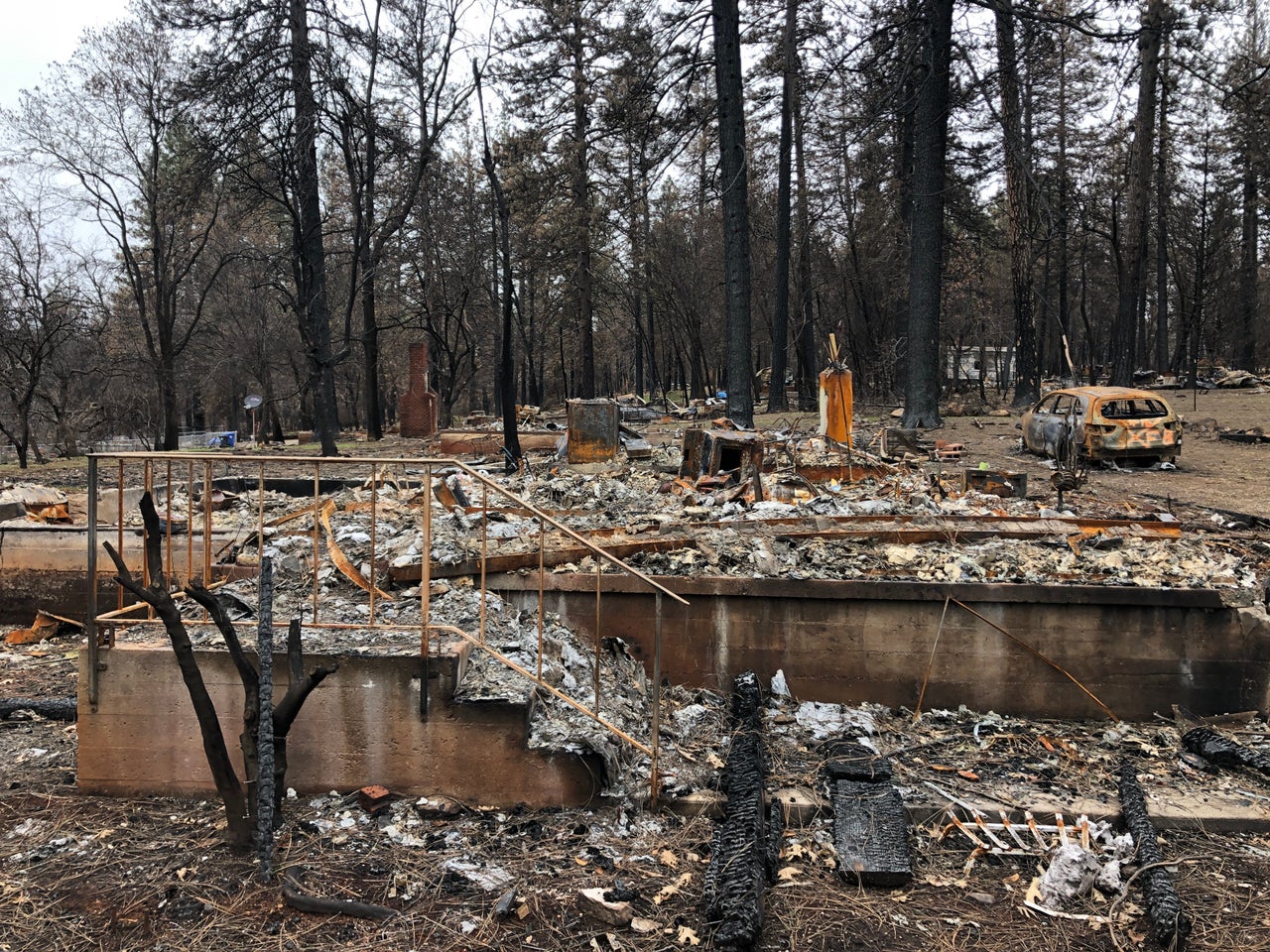 The boys, meanwhile, lost close friends whose families left the area after the fire and didn't get a chance to say goodbye.

Out of about 3,400 students in the Paradise school district before the fire, there were just over 1,700 in January, said Superintendent Michelle John. Over 250 are now in Chico schools, and many more left the region.
Because several Paradise school district buildings burned down and others were damaged, students have had to share campuses with other schools and conduct classes in an old hardware store building and a former office space by the airport. Many parents now have to drive farther to get their kids to the new locations. It takes Hawley over an hour to take the boys to their schools, as traffic has spiked in the Chico area amid the influx of Paradise evacuees.
Since the fire, teachers have seen students "acting out, crying, frightened, kids running to a corner or under a desk," John said. "A lot of the classes are feeling out 'How are you feeling now?' and we're getting a lot of 'Afraid.'"
For Howell and Hawley, the cost to replace what their family lost in the fire is "astronomical ― we lost everything we own," Howell said. They've received some rental assistance from FEMA and are reapplying for the coming months, but she said she's not sure they'll qualify. Since Hawley's doctor closed his practice after losing it to the fire, she has been unable to find another to sign off on further leave, and the income from her current leave ends next month.
"Just know that the hype at the moment of it may all be gone, but we're still living with it," Howell said. "We're still hurting from it financially, emotionally. When we say we're OK, that may not be reality. That's just how we make it through each day."
She was homeless living in the woods, then the fire came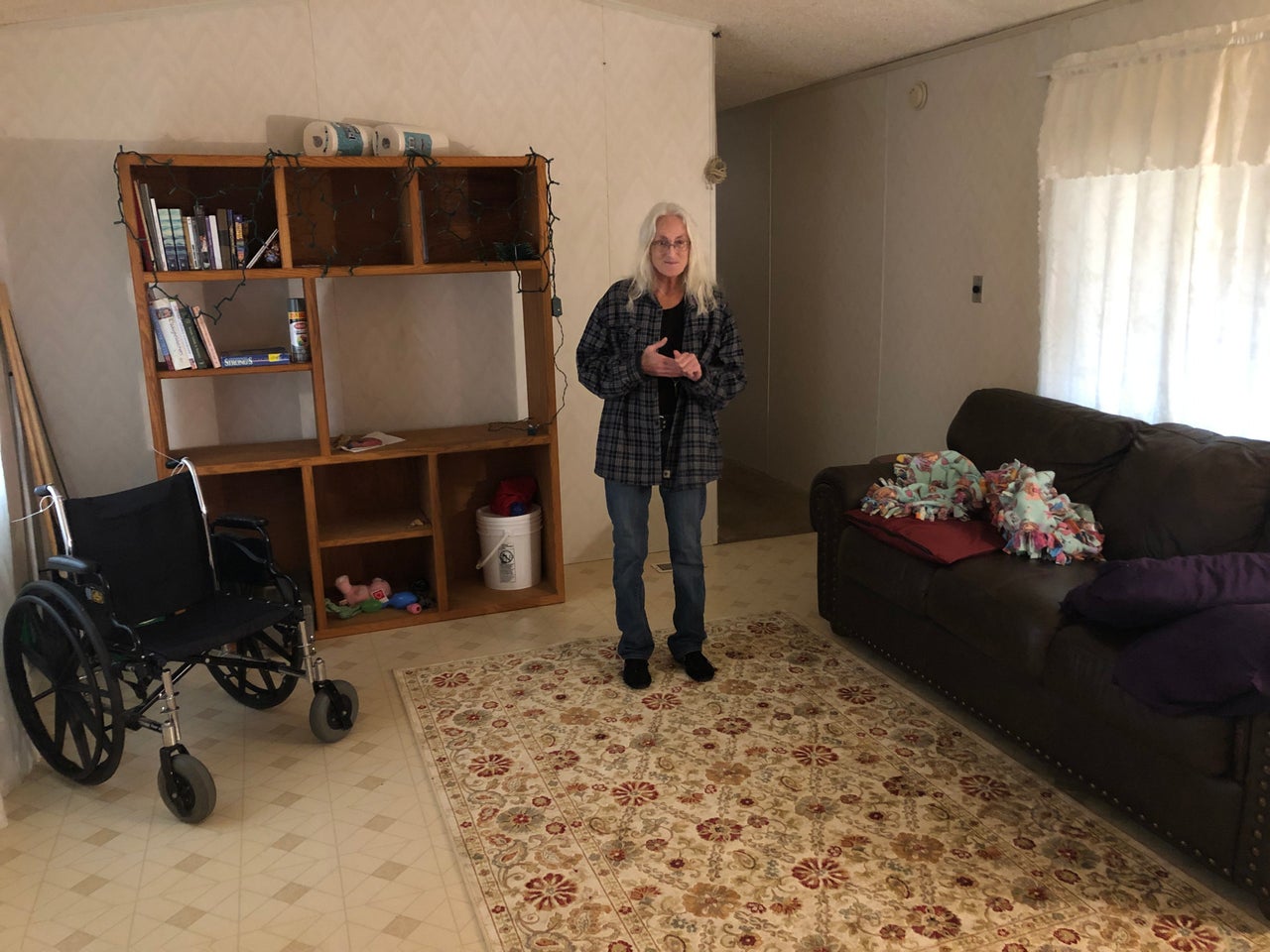 Julia Cheek, 55, was living in a tent in the woods with her friend Jonathan Lee Hatch, 42, between Paradise and Magalia when the fire came.
They saw the blaze coming up over a ridge. They grabbed what they could take on their backs and fled on foot, leaving behind most of their things. They ran toward nearby Magalia and hunkered down in a church there for two nights.
Now they're staying in an empty mobile home in the mountain community of Forbestown, about an hour's drive from Paradise, up a winding road where the temperature drops as you climb, the forest floor fills with snow and cellphone service disappears. A staffer from a Paradise homeless-services group connected them with the mobile home's owner, who opened it up to them, but it was meant to be for only a couple of months, and now the owner is asking for money for utilities, Cheek said.
"Go back to a tent? I'd fight tooth and nail not to," she said. "The weather is bad." In the sparsely furnished living room, there's only a bookcase, a wheelchair ― for Hatch, who walks with a limp and carries a cane ― and a sofa, where her small 13-year-old dog naps on a blanket.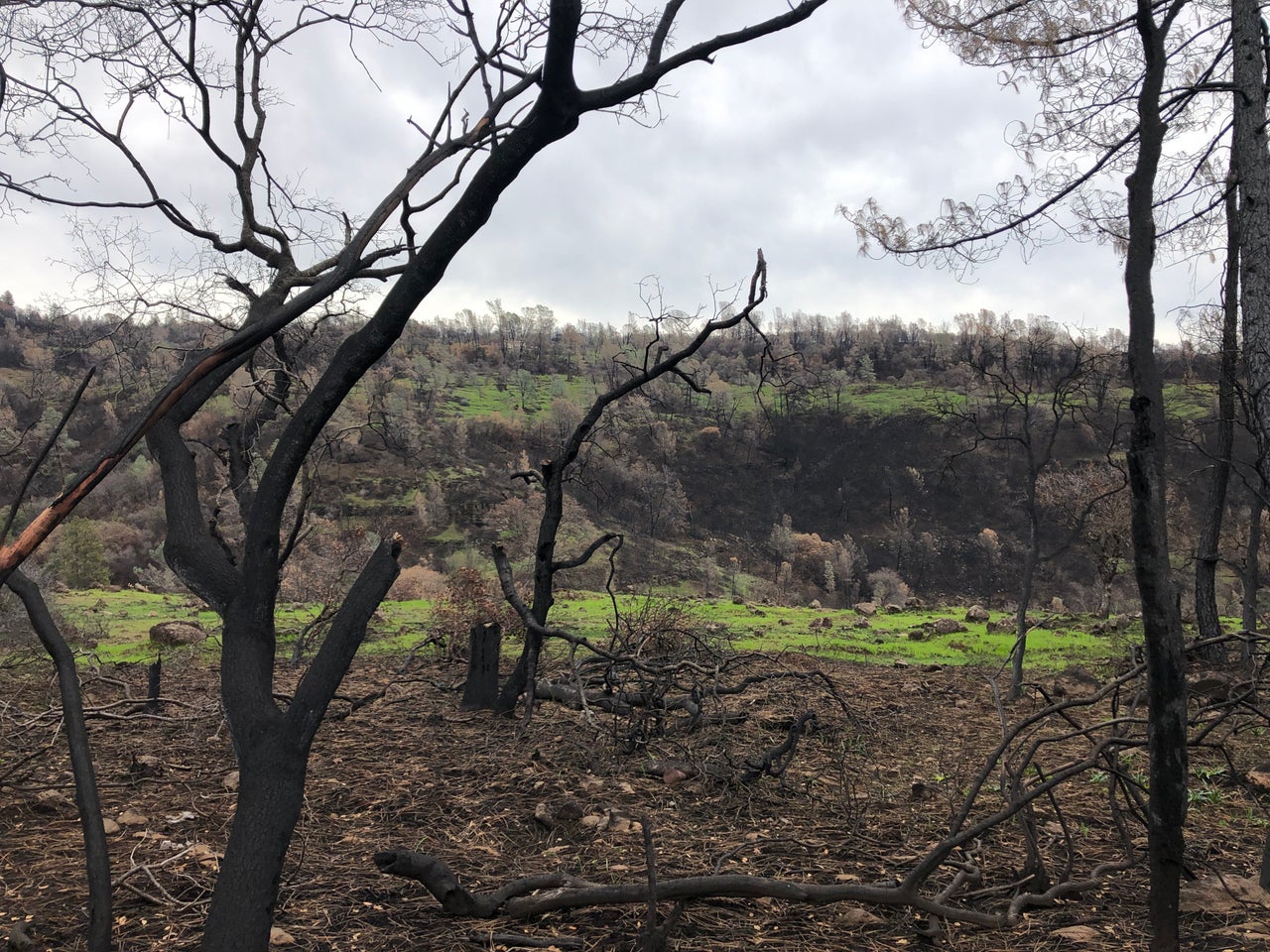 Cheek had been living in the Paradise area for over a year, after coming from Ohio with the promise of a medical supervisor job that never materialized. She has been homeless since.
She estimated she sent out over 100 resumes for jobs in the past year, but she hasn't had much luck. Before the fire, she interned as a volunteer at Sojourner House on the Ridge, a homeless-services nonprofit in Paradise, but that building was destroyed in the blaze too.
Meanwhile, the Torres homeless shelter in Chico has been bracing for an influx of people needing beds, as temporary housing options many found in the wake of the fire ― on a family member's couch, like David, or in a vehicle, like Chavez ― come to an end.
"A lot of them are losing hope," Joy Amaro, who runs the shelter, said of its clients, who now face a daunting, tight housing market. "Even the people that potentially could have been housed before the fire, now they're like, how?"
"Go back to a tent? I'd fight tooth and nail not to."
Butte County has a serious homelessness crisis, with nearly 2,000 people counted as homeless in 2017, according to a report from the county's Homeless Continuum of Care ― which named the lack of affordable housing the "number one barrier" to ending homelessness there.
Cheek said she is worried about her homeless neighbors who didn't have connections as she did, who are "going to fall in between the cracks." For many living in the woods, it took a lot of trust to even go to Sojourner House to seek services. Now that's gone, too.
And in the wake of the fires, some people have been treating those previously homeless as "less than" those who lost their homes in the blaze, she said.
"I don't care if it's the Camp fire or you were previously homeless. … Everybody deserves basic food, shelter," Cheek said. "Everybody deserves it."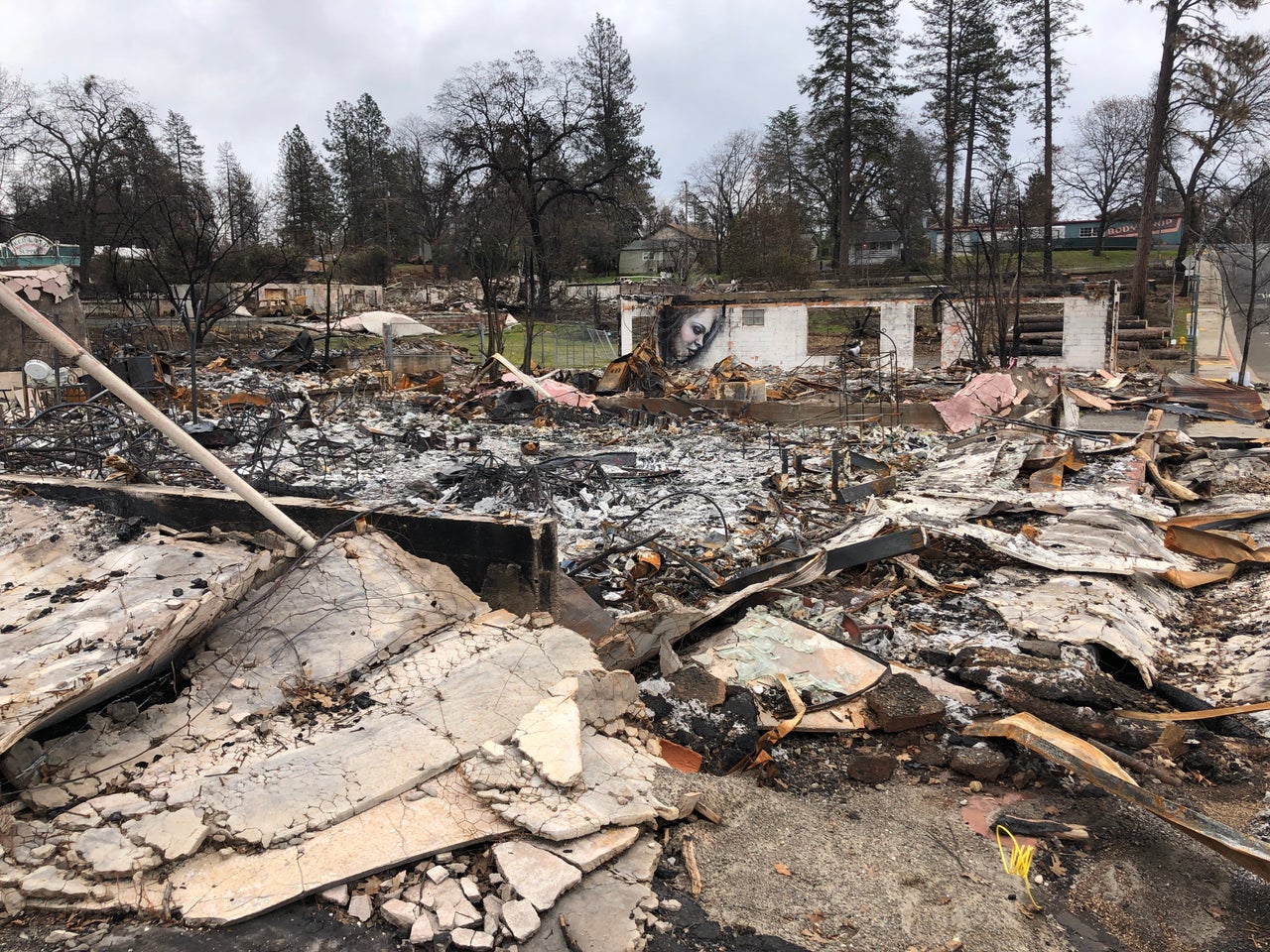 Editor's note: Shafer is dating a HuffPost reporter who was not involved in the reporting or editing of this story.
Popular in the Community