A porn actor and two former Marines, one of whom was recently discharged from the service after being exposed as a white supremacist, were arrested on federal weapons charges last week, although federal officials are keeping many of the details under wraps.
HuffPost first found the cases in federal court records after Alicia Garza, one of the co-founders of the Black Lives Matter movement, tweeted on Friday that the FBI had visited her home. She said agents had told her the FBI found her name on a list in the Idaho home of a man they'd arrested on weapons charges and suspected of associating with white supremacist groups.
Authorities have kept some court records sealed to date, so details about whether any of the defendants had a list that included Garza's name are not available. Several similarities exist, however, between these cases and the one Garza mentioned: Both involve white men, recently arrested by federal authorities on weapons charges in Idaho, at least one of whom has confirmed white supremacist ties.
In an unusual move, federal prosecutors unsealed the charge against one of the defendants but kept an underlying affidavit written by a special agent with Naval Criminal Investigative Service under seal. The U.S. Attorney's Office for the Eastern District of North Carolina did not respond to HuffPost's question about why that affidavit, which would have revealed much more about how authorities came to investigate the defendants, remained under seal.
The defendants include Paul Kryscuk, 35, as well as two former Marines previously assigned to Camp Lejeune in Jacksonville, North Carolina: Liam Collins, 21, and Jordan Duncan, 25.
Kryscuk, according to an indictment, used the alias "Shaun Corcoran" to mail a pistol and suppressor to Jacksonville, where former Marine Lance Corporal Collins was residing at the time. The pair, according to the indictment, entered into a conspiracy to "unlawfully enrich themselves and others, by among other things, manufacturing and selling hard to obtain firearms and firearm parts in a manner that the 'government would not know' the purchasers had them."
Kryscuk was a porn actor who went by the name of "Pauly Harker," and has appeared in adult films that degrade Black women, according to websites that track abusive porn.
Collins was among a group of U.S. servicemen exposed in 2019 as frequent posters to an infamous neo-Nazi message board, leading the Marines Corps to launch an investigation into his extremist ties.
On Tuesday, a spokesperson for the Marines confirmed that Collins, a lance corporal most recently assigned to Camp Lejeune, left the service last month after only three years in the service. "Collins' premature discharge is indicative of the fact that the character of his service was incongruent with Marine Corps' expectations and standards," the spokesperson said. "Due to the associated administrative processes, further details are not releasable."
Duncan served in the Marines for five years, the spokesperson said, leaving the service in 2018 as a corporal. He had worked as a cryptologic language analyst.
All three men were taken into custody in Idaho, where Kryscuk had an address. Collins waived a detention hearing and was committed to the custody of the Eastern District of North Carolina. Duncan and Kryscuk both had detention hearings set for Tuesday, and Kryscuk has asserted his Fifth and Sixth Amendment Rights. Both waived detention hearings and will be transferred to North Carolina by the U.S. Marshals Service.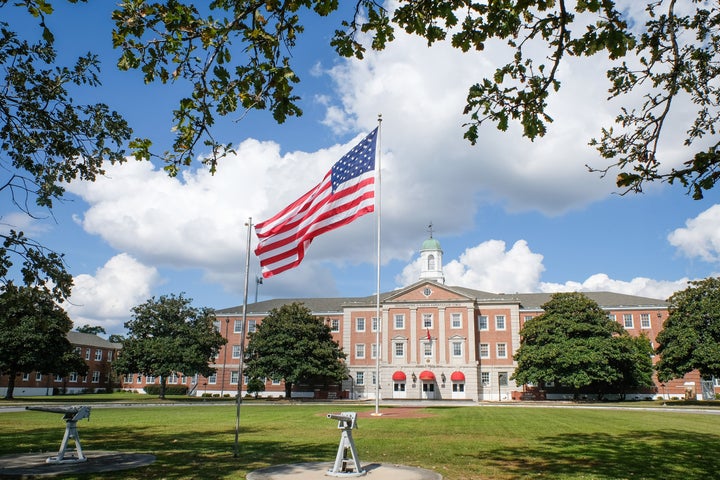 Initially, the U.S. Attorney's Office for the Eastern District of North Carolina declined to comment on any of the cases, and several attorneys for the defendants did not respond to requests for comment. But the Justice Department revealed some additional details about the men in a press release on Tuesday when Duncan and Kryscuk appeared in virtual court hearings.
Collins and Kryscuk were indicted by a grand jury, while Duncan was charged via criminal complaint by a special agent with Naval Criminal Investigative Service. Authorities kept the affidavit against Duncan under seal, and U.S. District Judge Ronald E. Bush did not allow it to be read during Duncan's hearing, as Assistant U.S. Attorney Barbara Kocher, the federal prosecutor in North Carolina who is handling the case, made a motion to "retain the supporting affidavit under seal at this time" last week.
The press release from the U.S. Attorney's Office, run by Trump appointee U.S. Attorney Robert Higdon, does not directly reveal any information about the underlying ideology associated with the defendants. Higdon, who one former federal prosecutor described to Talking Points Memo as a "diehard, unapologetic conservative Republican," has taken an aggressive posture toward voting cases, prosecuting legal immigrants who voted by mistake. Higdon was not quoted in a press release announcing the charges against the three defendants.
Trump and the Justice Department have played up the threats by anti-racist protesters while downplaying the threats posed by white supremacists. Garza said in a tweet last week that Trump "is so dangerous" because he's "stoking fires he has no intention of controlling."
The indictment against Collins and Kryscuk lays out some basic details. On April 24, Collins, the indictment said, "accepted $1,500 transferred to his personal account in payment for a 9 mm pistol and suppressor" which Kryscuk was going to manufacture. Kryscuk then received $1,500 into his Venmo account, transferred the money to his personal bank account, and made "purchases from vendors known to sell solvent traps."
On Sept. 11, the indictment stated, Collins and Kryscuk "knowingly transported and delivered" a firearm "from Idaho to Pennsylvania." The indictment states that a 9mm pistol and suppressor, which were not serialized, were seized on June 18 from an individual identified as "JH." September was the same month that Collins left the Marines.
Collins was among a trio of U.S. servicemen in 2019 who were found to have posted on the infamous Iron March message board, which the Southern Poverty Law Center describes as an "influential online gathering place for young neo-Nazis and neo-fascists."
According to Newsweek, a username associated with Collins' IP address posted multiple racist messages on Iron March.
"I have a lot of Fascist friends in the Army," Collins allegedly wrote. "They say there are a lot of "Red-pilled" Soldiers due to the fact that major bases like Fort Bragg are infested with N****rs."
In another conversation with a fellow fascist poster, Collins said he planned on working as a private military contractor or "creating a Paramilitary" after his time in the Marines.
Extremists and far-right actors have confronted or violently attacked anti-racist protesters throughout 2020.
In the three months after Minneapolis cops killed George Floyd — which set off a wave of historic uprisings against police brutality — right-wingers confronted Black Lives Matter protesters about 500 times, according to data collected by Alexander Reid Ross, a doctoral fellow at the Center for Analysis of the Radical Right.
These confrontations included multiple shootings.
A U.S. Army sergeant, who had previously posted statements online targeting Black Lives Matter activists, shot and killed a protester in Austin, Texas. A white man opened fire on Black Lives Matter protesters marching through a rural part of Bedford County, Pennsylvania, striking one demonstrator in the face. And a member of a right-wing paramilitary group in New Mexico shot an anti-racist protester in Albuquerque.
Federal authorities also arrested three men in Nevada earlier this summer who were allegedly planning on using explosives to cause chaos at an anti-racist demonstration in Las Vegas. The men were part of the right-wing Boogaloo movement.
Military investigators were involved with a prior major investigation involving a white supremacist. Former Coast Guard Lt. Christopher Hasson was sentenced earlier this year to 13 years in federal prison on weapons charges. Federal prosecutors called him a domestic terrorist and said he had a long list of journalists and prominent Democrats he wanted to murder.
Popular in the Community