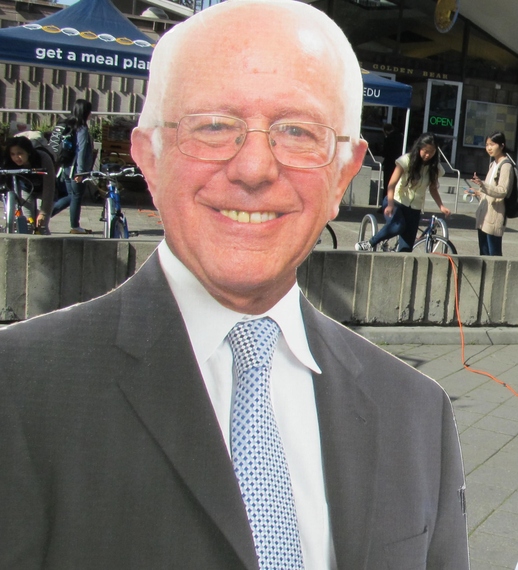 A life-size cut-out of Bernie Sanders on the campus of the University of California at Bernie (I mean, Berkeley!), February 23, 2016. [photo by Paul Iorio]
In Berkeley, California, ground zero for liberalism in America, it's raining Bernie.
Bernie t-shirts, Bernie bumper stickers, Bernie buttons, a life-size cut-out of Bernie on the campus of the University of California, Bernie placards in windows and signs on strollers.
Based on the visible evidence, if the California primary were being held today, Bernie Sanders would win by a landslide in this area.
Conversely, one would need a microscope to find evidence of support for Hillary Clinton in the Bay Area. Based on what I've seen -- and I've been walking the streets of Berkeley looking for political signs for months (and in every election cycle since '02) -- there are actually more leftover Clinton/Gore bumper stickers (one) than Hillary ones (zero).
It wasn't always this way. Back in July, at the dawn of Clinton's campaign, there were plenty of "I'm Ready for Hillary" stickers, mostly in the more affluent neighborhoods. But those have completely disappeared. (One Hillary sticker was even covered over with another one reading "Don't Believe Everything You Think.")
And Bernie campaign workers are relatively ubiquitous, too.
At Sproul Plaza on the Cal campus on February 23rd, a steady stream of students signed up to support Sanders and take some campaign swag. And when a breeze blew down that cardboard replica of Sanders, students rushed in to rescue him and set him back on his feet!
In front of a Berkeley grocery store on February 17th, a Sanders supporter was handing out flyers in advance of the Nevada caucus.
"We're driving to Reno on Friday for Bernie," he says. "Wanna join us?"
I say thanks but I have other plans. When I offer to buy a bumper sticker and button, the guy says, "I accept no money" and hands me free ones. "Make a contribution to Bernie online instead," he says. [For the record, I am not a contributor to or a public supporter of any presidential candidate.]
To be sure, in the past, there was an equal or greater level of enthusiasm in town for previous liberal presidential candidates like Howard Dean, Dennis Kucinich and Barack Obama.
But Dean stickers in 2004 were on mostly high-end cars, while Kucinich's over-the-top support that same year was seen mostly on signs displayed in homes. (One west Berkeley house had every window covered with Kucinich signs.)
Sanders' support in this college town, by contrast, is amongst both townies and gownies. (Obama's support here in '08 was in a category all its own in terms of unanimity and extravagance.)
Here's a gallery of photographs I shot over the past several months of the campaign landscape in Berkeley (and in the Bay Area), along with a few pics of the town during previous presidential election years.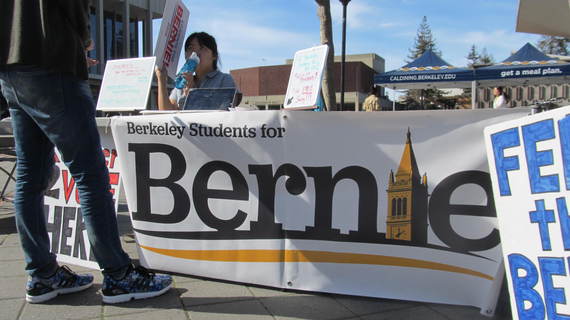 University of California students gather on Sproul Plaza for Sanders on Feb. 23rd. [photo by Paul Iorio]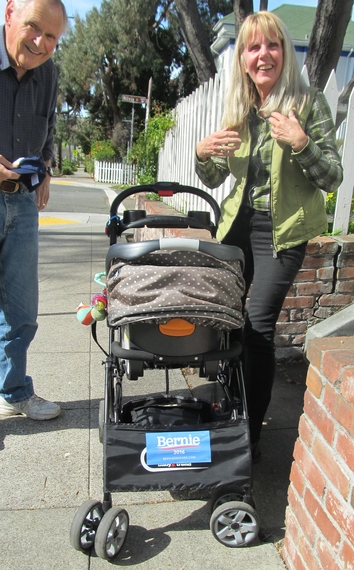 Right around the corner from the house where Allen Ginsberg wrote part of "Howl," a woman pushes a Bernie stroller. [photo by Paul Iorio]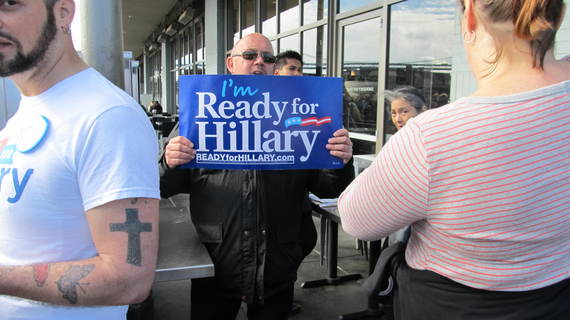 The support shown for Clinton at her appearance at Book Passage in San Francisco last June 26th seems to have completely disappeared in the Bay Area. [photo by Paul Iorio]


The Hillary bumper stickers that cropped up in Berkeley last summer have vanished, replaced in some cases this way. [photo by Paul Iorio]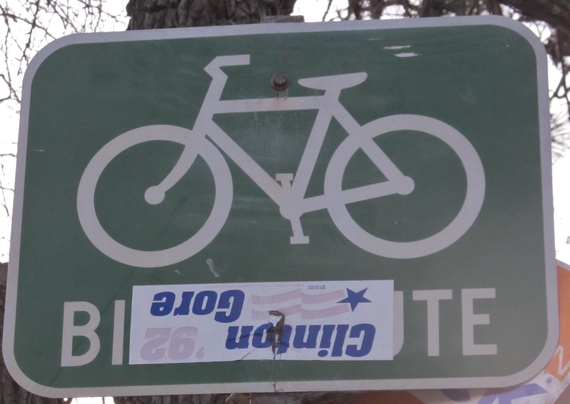 The only Clinton bumper sticker I saw on my January and February walks through Berkeley was this leftover Clinton/Gore sticker from '92. [photo by Paul Iorio]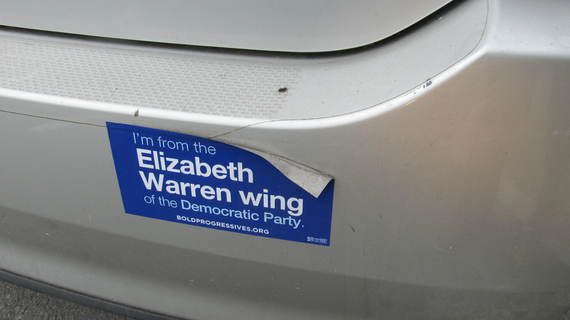 As might be expected, there's more enthusiasm here for non-candidate Elizabeth Warren than for Hillary. [photo by Paul Iorio]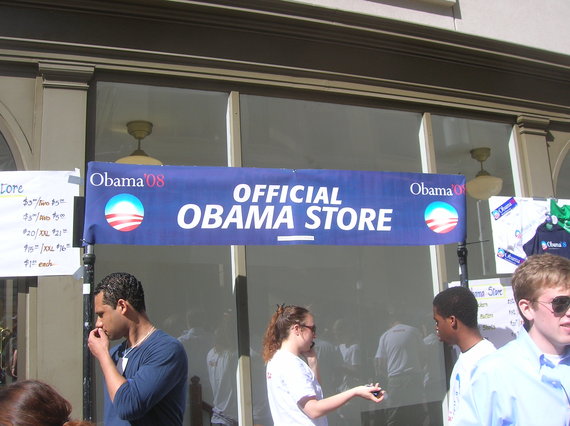 Support for Obama in the '08 cycle was wildly over-the-top. Here's an "Obama Store" set up outside his appearance in Oakland on February 17, 2007. [photo by Paul Iorio]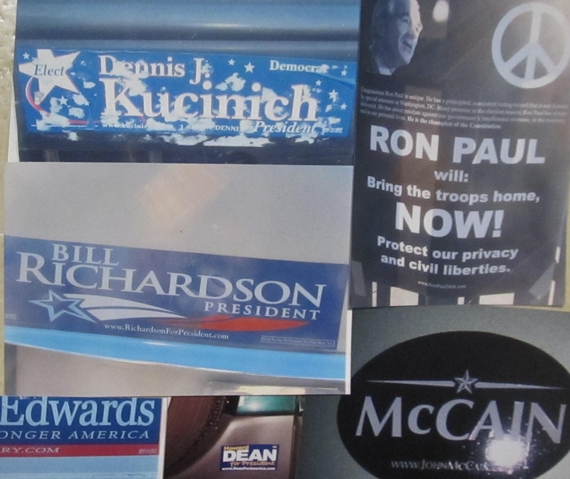 A photograph I took of various pictures that I shot of campaign signs over the years. [photo by Paul Iorio]
Calling all HuffPost superfans!
Sign up for membership to become a founding member and help shape HuffPost's next chapter