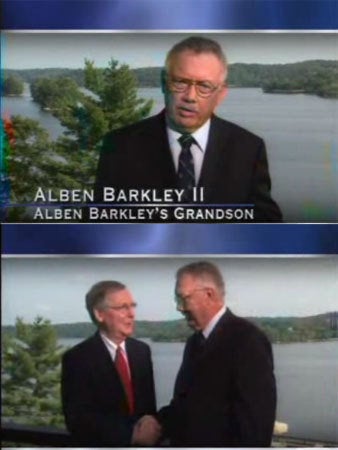 The past month has not been a good one for Senate Minority Leader Mitch McConnell. The candidate he endorsed in Kentucky's gubernatorial election was trounced by his Democratic challenger. McConnell himself is embroiled in a possible ethics scandal involving a $25 million earmark he secured for a British defense contractor under investigation by the U.S. Justice Department. And the Democratic Senatorial Campaign Committee is openly targeting his seat in 2008.
With polls showing his support dipping in Kentucky, McConnell this week became the first Senate Republican to launch an in-state ad campaign. But now even that is proving troublesome.
In a 60-second clip running in the Lexington market, McConnell is endorsed by Alben Barkley II, the grandson of the one-time Kentucky senator and Truman Vice President Alben Barkley.
"As Majority Leader of the Senate, my grandfather had a tremendous amount of influence and could get a lot of legislation passed which was of benefit to Kentucky," Barkley II says in the advertisement. "Sen. McConnell is a very powerful man in the Senate today. When one is in a position like that they can do great things for their state."
The message: McConnell is, like the elder Barkley, a true Kentucky leader.
The problem: Barley II is not world's best spokesperson.
Back in 1981, the Barkley grandson was convicted of sexually harassing a young secretary. According to an April 7 UPI article from that year:
"Alben W. Barkley II, [then] 36, asked his secretary, Ann Hester, to be his lover, asked to look down her dress on several occasions, once hugged her, and commented she looked 'sexy.''"
At the time Barkely was serving as the state's Agriculture Commissioner. Because he was an elected official, the Kentucky Personnel Board personnel board said it did not have the authority to punish him. The secretary said the incidents "forced her to seek a transfer to another state department."
McConnell's office did not return requests for comment.
Popular in the Community