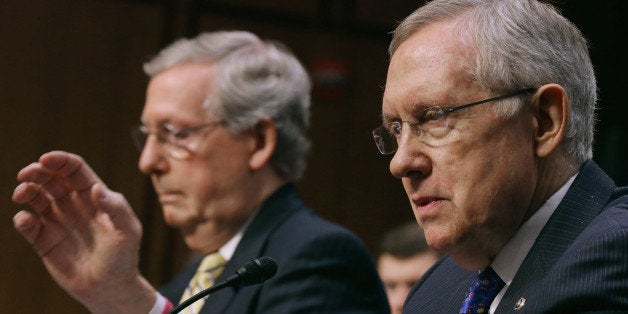 WASHINGTON -- Democrats and Republicans' opposing views on money in politics came into sharp focus Tuesday during a Senate Judiciary Committee hearing convened to consider a constitutional amendment to restore Congress' power to regulate campaign finance.
Democrats argued for the amendment introduced by Sen. Tom Udall (D-N.M.), contending that it was needed to overturn recent Supreme Court decisions unraveling reasonable restrictions on campaign fundraising. Republicans countered that the measure would be a dangerous amending of the Bill of Rights and an assault on free speech that could lead to the banning of books and the imprisoning of political enemies.
The two top senators, Majority Leader Harry Reid (D-Nev.) and Minority Leader Mitch McConnell (R-Ky.), both testified during the first half of the hearing -- an unprecedented side-by-side showing.
Their dueling appearances not only heightened the drama of the hearing, but also highlighted the election year dynamics of the issue. Reid and fellow Democrats have repeatedly focused on McConnell's support for more money in politics as he fights a heated challenge from Democrat Alison Lundergan Grimes in his reelection bid.
In his opening statement, Reid discussed his own experience running for office and accused McConnell of hypocrisy on the issue. He hit McConnell for supporting a constitutional amendment to limit campaign fundraising and spending back in 1987 and now deriding the proposed amendment as an attempt to silence opponents.
"Although he opposed billionaires using their own money to run for office, Senator McConnell now supports billionaires' ability to fund today's campaigns and independent expenditures," Reid said. "In fact, Senator McConnell even declares that, 'In our society, spending is speech.' How could everyday working American families afford to make their voices heard if money equals free speech?"
Reid then turned to his favorite target of late, the Koch brothers and their "phantom" political organizations. The billionaire industrialists have been attacked by Reid for months as Democrats have sought to highlight how Republican Party policies benefit the wealthy funders of GOP campaigns and thus to goad Republicans into defending the Kochs.
McConnell, who deftly refuses to utter the name of the billionaire brothers, followed Reid by declaring the entire committee hearing a political farce.
"The goal here is to stir up one party's political base so they'll show up in November, and it's to do it by complaining loudly about certain Americans exercising their free speech and associational rights, while being perfectly happy that other Americans -- those who agree with the sponsors of this amendment -- are doing the same thing," McConnell said.
As Reid had pointed to McConnell's past support for a similar amendment, McConnell similarly raised the previous opposition to such a measure from the late Sen. Ted Kennedy (D-Mass.) and former Sen. Russ Feingold (D-Wis.).
"Our colleagues who voted against those proposals were right then," McConnell said. "And I respectfully submit that they would be wrong now to support the latest proposal to weaken the First Amendment."
Opposition to the measure was echoed by Republicans on the Judiciary Committee. Sen. Chuck Grassley of Iowa, the ranking Republican on the committee, declared, "It's outrageous to say that limiting speech is necessary for democracy."
"It would make America no longer America," Grassley said.
The most bombastic of all was Sen. Ted Cruz (R-Texas). Cruz blasted the proposed amendment as an all-out assault on free speech that would allow the government to "muzzle" any group it pleased and to ban books and movies it deemed inappropriate.
Instead, Cruz announced that he would introduce two bills -- one to end all campaign contribution limits and the other to require that any restriction on speech enacted by Congress must also apply to media corporations.
After the partisan back-and-forth, the second panel of witnesses offered a sober discussion on the merits of the constitutional amendment. North Carolina state Sen. Floyd McKissick (D) and Maryland state Sen. Jamie Raskin (D) spoke in support of the measure, while noted First Amendment lawyer Floyd Abrams testified in opposition.
McKissick and Raskin argued that the current influence of money in politics, especially following the Supreme Court's 2010 Citizens United decision, undermines American democracy by erecting an additional barrier to citizens' entry into the political process.
"[O]ur campaign finance practices should reflect the values not of a 1 percent court setting up an exclusionary 'wealth primary,' but a democratic republic dedicated to the proposition that all of us are created equal -- billionaires and bus drivers alike -- and that we should be able to participate in politics as relative equals," said Raskin, a constitutional law expert.
McKissick drew on North Carolina's recent experience as a real-life experiment in post-Citizens United electioneering. Following the decision that allowed corporations and unions (and ultimately individuals) to spend unlimited sums on independent political efforts, the multimillionaire Art Pope, an ally of the Koch brothers, pumped large sums of money into helping Republicans win both the state legislature and the governor's mansion. He was rewarded in 2012 with an appointment by Gov.-elect Pat McCrory (R) as the state budget director.
"There are winners and losers in every budget. And in the budget he produced, it's undeniable that Mr. Pope won big," McKissick said. "Our state slashed corporate income taxes and lowered the share paid by the state's wealthiest people."
Voting rights advances that had helped African-American, low-income and young people to register and to vote were also rolled back in North Carolina. Public financing of judicial elections, a major target of Pope's, was eliminated. And safety net programs like Medicaid and unemployment benefits were cut dramatically.
"I cannot think of a more vicious cycle than taking a little more power from the voters and handing it to the spenders," McKissick said. "But once big money got into our elections, that's exactly what happened."
Abrams, famed for his defense of the media's right to criticize public officials in the Supreme Court case of New York Times v. Sullivan, argued that there must be no compromising of freedom of speech and that the proposed amendment would "irrevocably" change the meaning of the First Amendment.
"The proposed amendment you meet today to consider deals with nothing but political campaign speech," Abrams said. "It does not deal with money that is spent for any purpose other than persuading the public who to vote for or against and why. As such, it would limit speech that is at the heart of the First Amendment."
He further argued that since political actors need money to reach voters, "a denunciation of money in politics is a denunciation of politics itself."
The Senate hearing was the first in more than a decade on a proposed constitutional amendment aimed at money in politics. As McConnell mentioned in his testimony, the most recent vote on an amendment came in 2001 when a bill proposed by then-Sen. Fritz Hollings (D-S.C.) failed by a vote of 40-56. In 1998, a similar amendment proposed by Hollings failed 38-61. The first constitutional amendment on this topic was proposed in 1982 by then-Rep. Henry Reuss (D-Wis.) to allow Congress to impose spending limits on campaigns.
Unlike today, the debate on the two Hollings amendments crossed partisan lines, with some Democrats voting against and some Republicans voting for them. In 1998, Republican Sens. Thad Cochran (Miss.), Jim Jeffords (Vt.), William Roth (Del.) and Arlen Specter (Pa.) voted for the amendment. In 2001, Republican Sens. Cochran, Specter, John McCain (Ariz.) and Ted Stevens (Alaska) voted in support.
There was also much more Democratic opposition in the past. Twelve Democrats opposed the amendment in 2001, and 11 did so in 1998.
The current proposal has 42 Senate co-sponsors, all Democrats or independents caucusing with the Democrats. This is the highest number of co-sponsors for a money-in-politics constitutional amendment ever recorded in the Senate. That support is largely a product of a grassroots organizing effort launched immediately after the Citizens United decision. On Tuesday, activists delivered 2 million letters in support of the amendment to the Senate.
Calling all HuffPost superfans!
Sign up for membership to become a founding member and help shape HuffPost's next chapter
BEFORE YOU GO
PHOTO GALLERY
2014 Election: $500,000-Plus Super PAC Donors