 WASHINGTON -- Outside of the Tampa Bay Times Forum, where the Republican convention is taking place, independent conservative groups huddle in strategy sessions and hold laudatory events for some of their mega-donors, at least those who are willing to disclose their names. But those not willing to be named are the real story. Secret donors and the groups that accept their money have become central to the Republican Party's plan to win the White House and take full control over Congress.
With GOP candidates relying on this flood of undisclosed money, something had to give: The party's longtime support for campaign finance disclosure laws has begun to erode.
The numbers are astounding: Groups that don't disclose their donors have spent more than $216 million in the 2012 election so far. (A previous Huffington Post report found that undisclosed cash, also known as "dark money," had reached $172 million by the end of July.) Almost 90 percent of this money has gone to help Republicans. The dark-money groups have helped to fill airtime over the summer while Republican presidential nominee Mitt Romney built his war chest, have pummeled vulnerable Democratic senators with negative ads and will likely provide huge support for freshmen Republican legislators defending their seats between now and November.
As these groups, empowered by the Supreme Court's 2010 Citizens United decision and other court rulings, have become a vital weapon in the Republican Party's arsenal, the GOP has evolved its views on campaign finance disclosure.
On Tuesday, the party officially reversed course from previous party platforms and statements by enshrining its opposition to revealing secret donors in its 2012 platform. The party's guiding document opposes disclosure legislation "designed to vitiate the Supreme Court's recent decisions protecting political speech in Wisconsin Right to Life v. Federal Election Commission and Citizens United v. Federal Election Commission."
In addition, the platform calls for full repeal of the McCain-Feingold campaign finance law, which would not just reintroduce "soft money" to the political parties, but would also roll back rules mandating that independent groups make disclosures when they spend money attacking or supporting candidates through TV ads or phone banks.
The GOP platforms in 1996, 2000 and 2004 had urged greater disclosure, echoing the longtime position of Republican Party leaders that a proper campaign finance regulatory system should combine maximum disclosure with limited or no restrictions on contributing and spending. In 2008, the party nominated for president Arizona Sen. John McCain, co-author of McCain-Feingold and one of the nation's most prominent supporters of campaign finance reform.
"The current positions that the current Republican Party in Congress have taken vis-à-vis disclosure is a radical departure from the positions that they previously held -- not just in previous party platforms, but going back for decades," observed Adam Skaggs, senior counsel to the Brennan Center for Justice.
Those attitudes changed after court decisions opened the door to unlimited donations from corporations, unions and individuals to independent political groups. The ruling also fully freed nonprofits, which are not required to disclose their donors, to spend money on elections in ways and amounts they never could before.
"The Citizens United case has clearly changed the fundamentals of the amount of money that large entities, including wealthy individuals and corporations and unions, can contribute to candidates and parties," said former Republican congressman and Delaware governor Mike Castle, a longtime supporter of campaign finance laws.
But he also acknowledged, "The Republican Party has some advantage ... and, as a result, there is a greater reluctance to be supportive of greater disclosure where there's a political advantage."
That advantage is stark. The top two political nonprofits -- Americans for Prosperity, funded by the energy titan Koch brothers, and the Karl Rove-founded Crossroads GPS -- are both conservative; neither one discloses its donors; and they have spent more money on advertising than all super PACs combined.
Recent efforts to pass new disclosure rules for these electorally focused nonprofits, pushed by Democrats and a shrinking group of Republicans (who once included Castle), have been met with outright refusal from the majority of congressional Republicans, most of whom had supported disclosure for both candidates and outside groups in the past.
Leading the way is Senate Republican Leader Mitch McConnell (Ky.), who has called the push to require nonprofits to disclose their donors "an effort by the government itself to expose its critics to harassment and intimidation." In votes held over the summer, the latest disclosure bill received the support of exactly one Republican lawmaker. Republican members of the FEC, who were handpicked by McConnell, routinely work to undermine disclosure laws. And Romney has become the first presidential candidate since 1996 to refuse to disclose the names of his campaign bundlers.
The GOP's position that disclosure will lead to harassment, intimidation and the silencing of donors' speech has helped assure that the 2012 election will be awash in secret money.
"Ads are being run and there's been very little disclosure about who is giving and even who the entities are, and I don't think that that's fair to the American populace," Castle said.
While the anti-disclosure stance aids Republicans now, it's not a position with long-term staying power, at least not if one reads the legal tea leaves.
In fact, the chief culprit in stymieing conservative efforts to rollback disclosure laws at both the state and federal levels is the Citizens United decision. Justice Anthony Kennedy, writing for the Supreme Court majority, issued the court's strongest endorsement of campaign finance disclosure. "With the advent of the Internet, prompt disclosure of expenditures can provide shareholders and citizens with the information needed to hold corporations and elected officials accountable for their positions and supporters," he wrote.
Kennedy's statement has proved influential in subsequent court cases. Of particular note is Doe v. Reed, in which an organization opposing gay marriage in Washington state sought to keep secret the names of those who had signed petitions to put the issue on the ballot. The group argued that the signatories, if named, would be harassed, intimidated and generally suffer retribution for their views. The Supreme Court disagreed.
Several months after the Citizens United decision came down, the court ruled 8-1 supporting disclosure of the signature lists, with Justice Antonin Scalia blasting those fears of harassment and criticism. "Requiring people to stand up in public for their political acts fosters civic courage, without which democracy is doomed," Scalia wrote. "For my part, I do not look forward to a society which, thanks to the Supreme Court, campaigns anonymously and even exercises the direct democracy of initiative and referendum hidden from public scrutiny and protected from the accountability of criticism."
A lower court ruling this spring has also moved the ball toward more disclosure by dark-money nonprofits. In Van Hollen v. FEC, the U.S. District Court for the District of Columbia found that an FEC rule failed to require disclosure of all donors to groups running "electioneering" ads and therefore was not in keeping with the intent of Congress when it passed McCain-Feingold, the law that the rule interpreted. This has driven dark-money groups to run different types of ads, which may soon face a similar lawsuit from the same plaintiff, Rep. Chris Van Hollen (D-Md.).
Before that happens though, Castle warned not to get one's hopes up about a real change in federal policy. "You're not going to see any changes anytime soon," he said. "Unless the public opinion on this becomes so strong that the parties have to capitulate on this."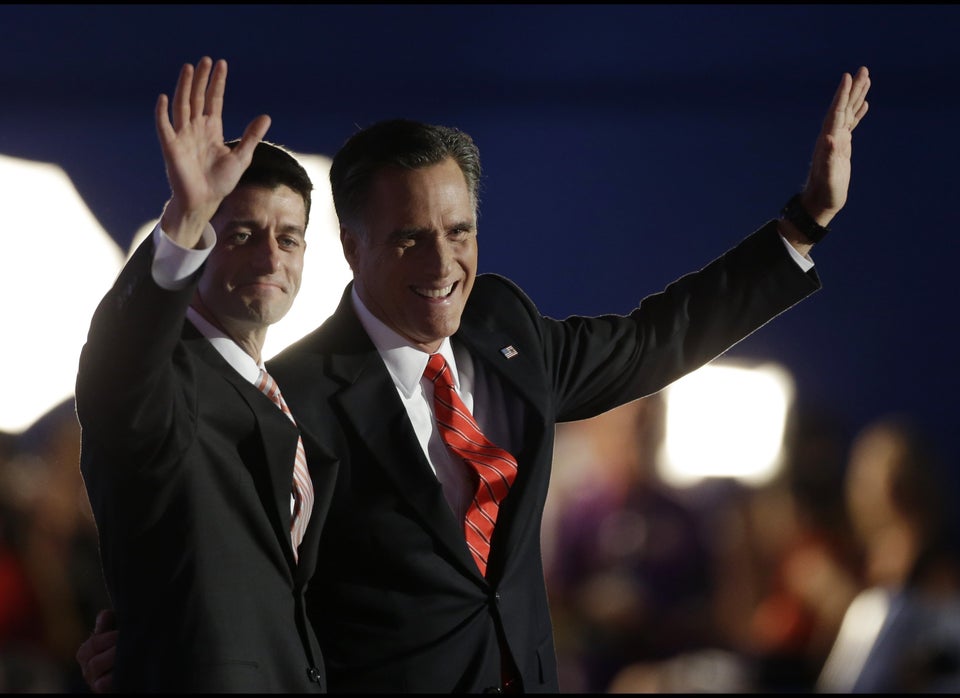 Republican National Convention 2012
Popular in the Community