 Most Americans support campaign finance laws limiting both donations to individual candidates and the total amount one person can donate to candidates, according to a new HuffPost/YouGov poll conducted after the Supreme Court struck down limits on total donations last week.
By a 54 percent to 32 percent margin, most Americans in the new poll said they support limits on the total amount any individual can donate to federal political campaigns and political parties. The Supreme Court ruled last week in McCutcheon v. Federal Election Commission that those limits, which for the 2014 election cycle had been set at $123,200 total and $48,600 for individual candidates, are unconstitutional.
By a 60 percent to 28 percent margin, however, most Americans support having limits on the amount anyone can give to a single candidate's campaign. The Supreme Court left those limits in place, at least for now, though Justice Clarence Thomas wrote in his concurring opinion that he would have struck down those limits as well.
Respondents across the political spectrum supported donation limits, but Democrats were more likely to support them than Republicans. Sixty-four percent of Democrats, 51 percent of independents and a 46 percent plurality of Republicans supported overall contribution limits, while 68 percent of Democrats, 58 percent of independents and 52 percent of Republicans supported limits on contributions to individual candidates.
Despite their support for donation limits, Americans don't necessarily think they help prevent corruption, the poll shows. About a third of respondents said each type of limit decreases corruption in politics, while a quarter said the limits have no effect on corruption and another quarter said they increase corruption.
However, another recent poll showed Americans do think politicians are corrupted by donations. A Reason-Rupe poll released by the libertarian news organization last week found Americans think about 75 percent of all politicians are "corrupted by campaign donations and lobbyists" and that 70 percent of politicians "use their political power to help their friends and hurt their enemies."
And despite Americans' skepticism that donation caps can actually reduce that corruption, a majority in the HuffPost/YouGov poll disagreed with the idea that limits on campaign donations hamper free speech, by a 59 percent to 34 percent margin for donations to individual candidates and by a 58 percent to 23 percent margin for total limits.
More than 7 in 10 Democrats, a majority of independents and a plurality of Republicans rejected the argument that either kind of donation limit is a violation of free speech rights.
The idea that money is speech, and that limits on money in politics therefore violate Americans' right to free speech, has underpinned a series of Supreme Court cases that have rolled back campaign finance regulations put in place by Congress, including Buckley v. Valeo, Citizens United v. FEC and, now, McCutcheon v. FEC.
The HuffPost/YouGov poll was conducted April 3-4 among 1,000 U.S. adults using a sample selected from YouGov's opt-in online panel to match the demographics and other characteristics of the adult U.S. population. Factors considered include age, race, gender, education, employment, income, marital status, number of children, voter registration, time and location of Internet access, interest in politics, religion and church attendance.
The Huffington Post has teamed up with YouGov to conduct daily opinion polls. You can learn more about this project and take part in YouGov's nationally representative opinion polling.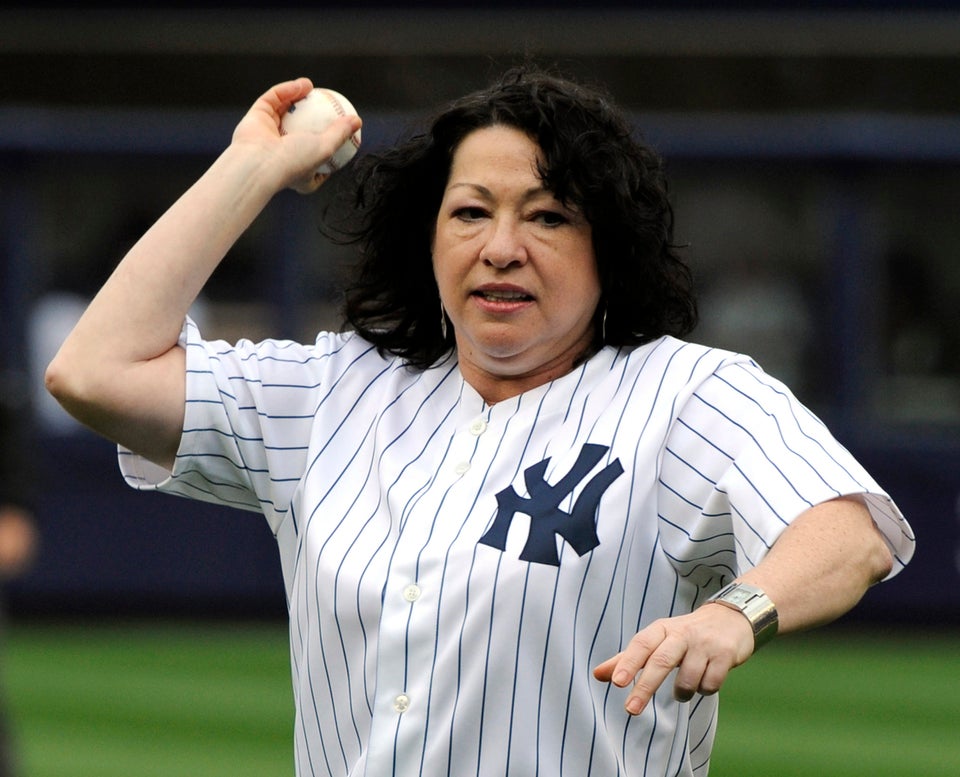 Supreme Court Justices Get Out Of The Office