WASHINGTON -- The 2012 election was the most expensive in history, with a pricetag as high as $6 billion. This staggering amount brought with it many broken barriers: the first $1 billion presidential candidate, the first $70 million Senate campaign, the first $20 million House candidate, and a record $1 billion spent by independent groups, which failed to disclose a record amount.
These broken records, like extreme weather in a changing climate, are just signs of the rising tide of money in the nation's political system. For even the non-record breaking political candidates, elections are getting more expensive and less transparent. As a result, candidates spend more time raising money from big-dollar donors and fearing the ire of billionaires, who can freely spend secret money to defeat them.
Aside from a possible vote for disclosure legislation in the Senate, Congress is unlikely to take up any reforms to the nation's overheating campaign finance system in the next two years. Republicans in both the House and the Senate, save for a few, oppose almost any campaign finance reform. That leaves Democrats, and that small number of Republicans, to craft legislative language for future consideration.
There are currently three moving pieces of campaign finance reform legislation in Congress.
"There's the disclosure issue, there's the small-donor empowerment issue, there's the constitutional amendment in the campaign finance front," said Democracy 21 president Fred Wertheimer, a lawyer at the center of campaign finance reform since the early 1970s. "They're on different time tracks in most people's mind."
In the House, Minority Leader Nancy Pelosi (D-Calif.) has combined those three pieces with the issue of voter empowerment and put Rep. John Larson (D-Conn.) in charge of a task force to shape the legislation for the Democratic caucus. The task force is constructed around the acronym DARE, which stands for disclose, amend, reform and empower.
The first part, disclose, at least on the House side, is already written. The main piece of legislation House Democrats will back is the Disclose Act, originally introduced by Rep. Chris Van Hollen (D-Md.) in 2010.
"The one that's ready to go is disclose and we are going to press forward immediately on the Disclose Act," Van Hollen said. "The public is on our side on this issue, I mean that's indisputable."
Despite widespread bipartisan public support, Van Hollen's reintroduction of the bill in the first week of January begins the third time through the ringer for the Disclose Act. Originally introduced after the Supreme Court's Citizens United ruling allowed unlimited spending on express advocacy by social welfare non-profits and trade associations, which are protected from disclosing their donors, the bill was filibustered by Senate Republicans once in 2010 and twice in 2012. The bill did not even receive a hearing in the House after Republicans, aided by the undisclosed "dark money" the bill is meant to bring to the light of day, regained the majority in the 2010 elections.
McConnell has further whipped opposition to the legislation in the ranks of House Republicans. The Hill reported that McConnell met with the House Republican Study Committee to ensure its continued opposition to the Disclose Act. This came as some Senate Republicans, including Sen. Lisa Murkowski (R-Alaska) and Sen. John McCain (R-Ariz.), began to warm to disclosure legislation.
Van Hollen remains steadfast, despite McConnell's efforts. "I am confident that we will ultimately prevail on this issue, but we've got a lot of battles to fight before we get there," Van Hollen said.
The creation of a public financing system for congressional candidates based around the idea of bringing more small donors into the fold also remains up in the air.
The House Democratic DARE task force is working to consolidate three bills. The three existing legislative proposals all feature as their centerpiece a public match of dollars for small-donor contributions.
"We need to have a vehicle that people can organize around and build support for, so that when the opportunity arises, the vehicle is there," Wertheimer, who is lobbying the task force, said. "And I think the goal is, over the next couple of months in the House, to come up with that vehicle. We would like to see that and that's what we're working on."
"The design of these things has to really always be premised on what would the average person look at and say, 'Alright, this thing is trying to empower me and I'm ready to participate in it,'" Sarbanes said.
Wertheimer's preferred bill is one introduced by Van Hollen and Rep. David Price (D-N.C.). This bill, the Empowering Citizens Act, provides a 5-1 match for the first $250 of any donation if participants agree to contribution limits of $1,250 per donor per election. The bill also requires participants to raise at least $40,000 from 400 in-state donors by only counting the first $250 given in any size contribution.
That match has been criticized as too generous, perhaps unintentionally, to big donors. By providing a match on the first $250 of any contribution, the legislation allows a big donor to give $1,250, with the public fund providing an additional $1,250 in matched contributions. Also, by counting the first $250 of any contribution toward the $40,000 raised from small donors that is required for participation, a candidate could still lean heavily on large contributions the average citizen cannot afford.
"Instead of it being something that does boost the attention that goes to grassroots donors, it ends up being a subsidy program, kind of, for the existing donor class," said Sarbanes, a co-sponsor of the Empowering Citizens Act, said. "I don't think that's an intended consequence, but when you play out the models, that's one of the potential pitfalls."
Sarbanes' legislation provides a match for contributions of $100 or less and requires participants to raise $50,000 from 2,000 donors giving $100 or less. The biggest difference Sarbanes' legislation has from both the Empowering Citizens Act and Rep. Larson's Fair Elections Now Act is its inclusion of a refundable tax credit provided to every voting-age citizen to be used to fund campaigns. This idea would put a $25 voucher every year in the hands of each voter to be used to contribute to the candidate of their choice.
"The goal there is to make it easy for average people to be able to step up and be part of the funding side of the equation, and that component was not part of any of the current set of proposals that are out there, so we added that," Sarbanes said.
All of these details will have to be hashed out in the task force, including what kind of public fund to create to help candidates respond to super PACs and other independent groups that get involved in their races.
The final part of the campaign finance reform effort is on the longest of all tracks: amending the Constitution. Thirteen states have already indicated support for reversing the Supreme Court's Citizens United decision that freed corporations and unions to spend unlimited sums on politics. In the last Congress, there were many amendments put forward. The idea for the task force, like with public financing, is to construct a single unifying bill.
Activists, however, are unwilling to wait for Congress to settle on legislative language. Good government groups and citizen advocates will continue to push more state legislatures to adopt resolutions acknowledging support for a constitutional amendment.
"We're happy that there is robust support in Congress for this idea; there's just not enough to amend the Constitution right now here, so we're doing it through the states," Lisa Gilbert, director at Public Citizen's Congress Watch, said. "We're at 13 states at this point and I think there are a number of really strong opportunities throughout this year. If you check back at this time next year I imagine we'll be able to say that we doubled that."
Before You Go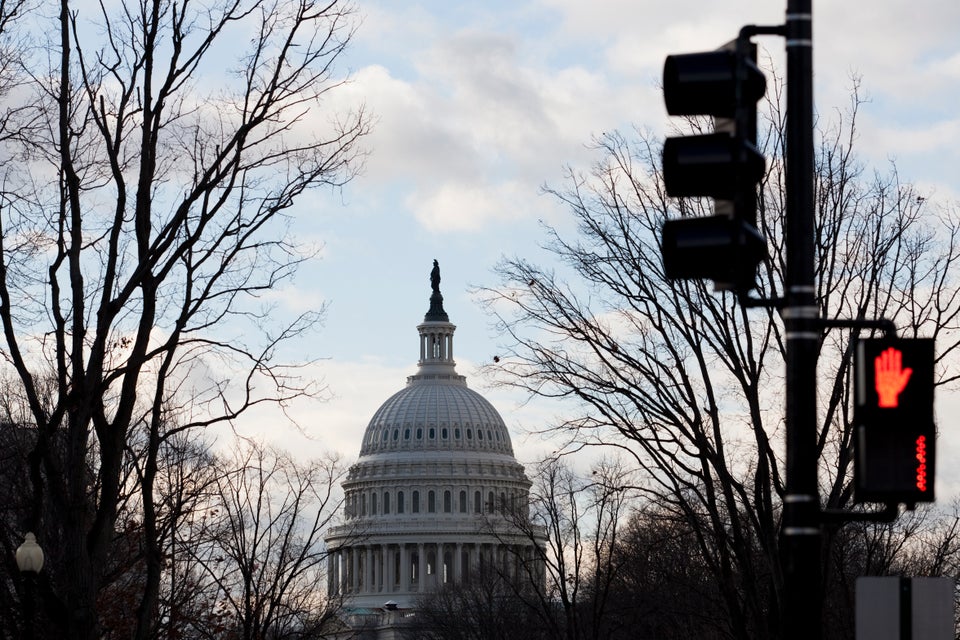 113th Congress Facts
Popular in the Community