WASHINGTON -- Midterm voters boosted Republican power in Arkansas by electing all Republicans to statewide office, enhancing the party's control of the state legislature and sending Rep. Tom Cotton (R) to Washington as their next senator. At the same time, they also voted in support of a broad sweep of campaign finance and ethics reforms initially proposed by a Democratic lawmaker.
Warwick Sabin, the first-term state representative, said the success of the ballot initiative, which passed by a 52-47 margin, was "a surprise to everybody." The reforms banned direct corporate and union campaign contributions to candidates; forbid lawmakers from accepting gifts of any kind from lobbyists; and increased the amount of time departing lawmakers must wait before lobbying from one to two years.
The passage of these reforms was in no way guaranteed -- Sabin had packaged them with an unpopular change to the state's term-limits law in order to gain bipartisan support in the legislature to get on the ballot in the first place.
"The citizens of Arkansas want to see these kind of reforms and might have even been more supportive of them had they been offered without any other provisions tacked on to them," Sabin said. "I would be surprised if further ethics reforms won't come to us in the coming years."
The final passage of Sabin's reforms are not just playing out in Arkansas, but reverberate across the country for anti-corruption reformers looking for a way to reach voters when elected bodies are frozen on the issue. The success in Arkansas shows that anti-corruption reforms -- whether for ethics, lobbying or campaign finance changes -- are popular on the ballot, even if lawmakers who support them face severe obstacles in their campaigns to get elected.
Arkansas was not the lone place where voters signaled their discontent with the current state of laws governing the influence of money over politics.
The Tallahassee amendment marked a successful beginning of a campaign by the national group Represent.Us to put these issues on the ballot across the country.
"This was the big field test for our theory," Represent.Us CEO Josh Silver said on Nov. 4. "You've got money-in-politics reform, for the most part, stuck for a long time, and what if you bring the issue to the voters and you do it in a different way."
In dozens of communities in four states, voters overwhelmingly favored resolutions to show their support for a constitutional amendment to allow elected officials to set fundraising limits and spending limits on campaigns, and to end corporate personhood.
While mostly non-binding, the resolutions, pushed by the national group Move to Amend, are part of a longterm strategy to organize citizens at the grassroots level in support of changing the way elections are funded.
In Wisconsin, 12 counties, including those heavily populated by conservative voters, passed resolutions calling on their elected officials to support an amendment to the U.S. Constitution. Voters passed similar resolutions in 18 communities in Massachusetts; in Alachua County, Florida; and in Edwardsville, Illinois. In Chagrin Falls and Mentor, Ohio, voters approved similar resolutions that also require elected lawmakers to report back to them on what they are doing to pass an amendment.
"This is a tactic that can be used to take the pulse of voters and I think that it's not the only strategy," Move to Amend national director Kaitlin Sopoci-Belknap said. "But when we are faced with a Congress and many state legislatures that are unresponsive, it's a way to create movement for a reform that really should be getting traction."
A recent HuffPost/YouGov poll found 53 percent of Americans in support of passing a constitutional amendment allowing Congress and other legislative bodies to pass laws reigning in election spending. A similar poll by Democracy Corps commissioned by the pro-reform Every Voice found 60 percent of the public considers campaign finance reform a high priority.
Ever since the Supreme Court's contentious 1976 Buckley v. Valeo ruling, Congress has been forbidden from limiting campaign spending, as the court found it to be an infringement of First Amendment free speech rights. The court determined that campaign spending provided the candidate a means to purchase speech, and limits on that spending effectively limited the candidate's speech. Limits on spending, according to the court, were then limits on the amount a candidate could speak. (The famous concept of "money equals speech" comes from this ruling.)
As reformers campaign for further, deeper changes to the way politicians raise and spend money for their campaigns, most states where public financing reforms are already in effect continue to chug along, though not without some hiccups.
Participation in the public funding regimes in both Connecticut and Maine remained above 50 percent in 2014, according to Public Campaign, a group campaigning to enact public campaign funding laws. In Arizona, however, participation continued to fall, as the state's system was gutted by the Supreme Court's David and McComish decisions.
The best participation came in Connecticut, where more than 80 percent of winning candidates were in the public funding system. Both gubernatorial candidates in the tightly fought race took public funds.
In Maine, over 50 percent of victorious candidates had participated in the state's system.
According to Nick Nyhart, president of the pro-public-funding Public Campaign, all of these systems need tweaks to deal with the increased outside spending swamping certain elections. In Connecticut's gubernatorial race, outside groups spent more than the candidates combined, while some groups found ways around the state's campaign finance laws to support the state Senate campaign of Ted Kennedy, Jr.
Nyhart says that the Connecticut system is "still a strong story and it makes a huge difference." Meanwhile, organizers in Maine "found a great swath of people ready to volunteer" to put a fix to their system on the ballot in the next two years.
"We're feeling very good about being able to put something on the ballot," Nyhart said.
Then there's incoming Maryland Gov. Larry Hogan, a Republican, who won a surprising victory while taking public funds. Hogan became the first governor elected in the state while running a campaign with public financing.
Back in Arkansas, Sabin's reforms are already going into effect. The state House speaker issued a memorandum detailing what lawmakers are allowed to accept from lobbyists (nothing) and what kinds of campaign contributions they're not allowed to accept anymore (corporate and union donations).
"It's had a very noticeable impact right away," Sabin said.
Before You Go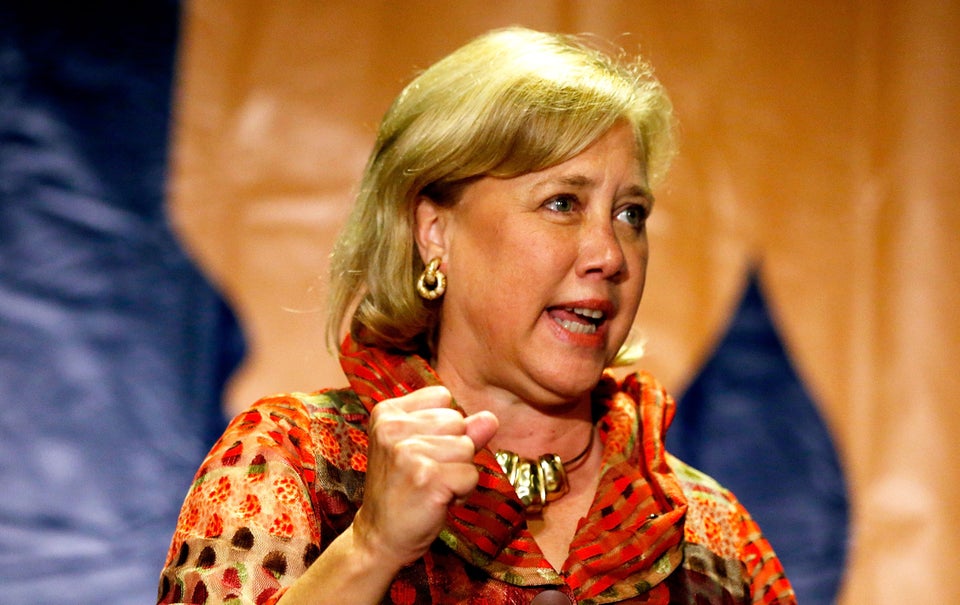 2014 Election Results: Winners & Losers
Popular in the Community