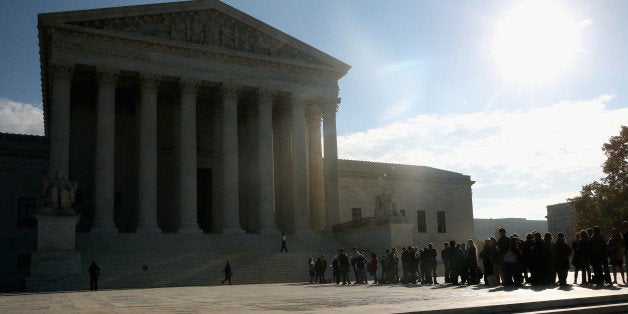 WASHINGTON -- Nearly five years after the Supreme Court decision in Citizens United altered the landscape for money in politics, Congress has done nothing to reverse the ruling's adverse side effects for disclosure and collaboration between independent groups and the candidates they support. A similar degradation of campaign finance rules has occurred in many states.
While reform remains unlikely in Congress, it's possible in some states, where extreme polarization on the issue of money in politics is less evident than in Washington.
Numerous states and municipalities have already enacted new disclosure laws and rules governing candidates' coordination with independent groups. Still others have pushed for small-donor matching fund systems to dilute the power of big money, or have passed conflict of interest restrictions on gifts from lobbyists and contractors.
In some cases, these reforms included raising campaign finance limits. In Maryland and Massachusetts, disclosure legislation was matched with higher limits for campaign contributions. This pattern played out across in other states. But in Minnesota and Florida, disclosure provisions were cut from bills that wound up increasing the contribution limits.
Over the next two years, there are possibilities for more reforms in states and municipalities. Here's where action is likely:
New Mexico was one of the worst-prepared states for the altered campaign finance landscape wrought by the Citizens United decision. The state's laws had no legal definition or standard for either independent expenditures or coordination between an independent group and a candidate or party committee. And, like every other state, New Mexico did not require disclosure of donors to nonprofits active in electoral politics.
"We don't have clear rules and reporting requirements for people who are not candidates or political parties," Common Cause New Mexico executive director Viki Harrison said.
State Sen. Peter Wirth (D-Santa Fe) will introduce two bills in the next legislative session on campaign finance reform. One will establish clear rules for independent expenditure disclosure and coordination. The other will seek to update the state's public financing system by allowing candidates who are outspent to receive matching funds for small donations.
Both bills have had bipartisan success in previous legislative sessions. The public financing bill passed both houses with substantial support in 2013, only to be vetoed by Gov. Susana Martinez (R). The disclosure bill passed the state Senate by voice vote in the most recent session, only to die in the House.
The state's legislative makeup is different this year, after Republicans won control of the state House for the first time in 60 years. But the campaign finance issue is not as polarized in New Mexico as it is in Washington. Republican state Rep. Jason Smith will introduce the House version of Wirth's bill. Harrison said she has had conversations with supportive Republican members.
"There's a bipartisan recognition that the current system is not working," Wirth said.
Arkansas voters this year passed a ballot initiative with significant campaign finance and ethics reforms, including a total ban on direct corporate contributions to candidate campaigns. The state-level reform group Regnat Populus hopes to build on this success with an initiative in 2016 to expand these reforms and enact new disclosure rules for independent groups.
"We aren't the most transparent state when it comes to campaign finance," Regnat Populus founder Paul Spencer said.
Arkansas is one of a few states that does not require disclosures for independent spending (known as independent expenditures) and does not recognize issue advertising close to an election (known as electioneering communications) as subject to disclosure. State laws also allow nonprofit groups to spend freely without disclosing their donors.
Regnat Populus' initiative would expand disclosures for independent expenditure and electioneering communication spending, and require donor disclosure of certain nonprofits engaged in electoral activity. The initiative also would tweak the 2014 ballot proposal's ethics reforms.
On Dec. 8, local newspapers reported that Missouri mega-donor Rex Sinquefield contributed $1 million to the lieutenant governor campaign of Republican Bev Randles. It was billed as the largest donation to a single candidate in state history, and an example of Sinquefield's growing influence. In recent months, the St. Louis financier made six-figure donations to other statewide candidates, including a $750,000 donation to Republican gubernatorial candidate Catherine Hanaway.
These outsized contributions that came after Missouri ended its campaign contribution limits are sparking action.
Democratic lawyer Brad Ketcher said he will propose a constitutional amendment for the ballot that would re-establish contribution limits for legislative candidates, place limits on lobbyist gifts and impose strong coordination rules on independent spending.
"I think there's a good and fair chance that we'll something on the ballot on the next election," Ketcher said.
The issue is gaining attention from Republicans as well. Republican state Rep. Caleb Rowden (R-Jefferson City) introduced legislation to require disclosure of dark money spent by nonprofit groups on elections, ban lobbyist gifts and increase campaign finance disclosure.
Both states are likely to update their public financing systems to adjust to changes in campaign funding.
In Maine, this means lawmakers would be allotted public funds in an amount appropriate to counteract the dramatic increase in independent spending since Citizens United. Maine Citizens for Clean Elections is working to get an initiative on the ballot in the next election.
Connecticut legislators are expected to tackle similar fixes, according to groups involved in reform efforts.
Other states and municipalities
Legislation related to the disclosure of donors to independent groups like nonprofits is likely to be considered in California, Minnesota and Nebraska. Legislators from both parties in Arizona also have shown interest in disclosure legislation, which may translate into action, considering the outsized role dark money played in the 2014 election.
Dark money disclosure is also likely to be up for debate in Texas after the state's ethics commission put new disclosure rules in place in 2014. These will certainly face a court challenge from disclosure opponents.
Philadelphia City Council members are looking to pass legislation requiring similar donor disclosure rules, as well as stricter coordination language.
Public financing systems will be considered by municipal lawmakers in Buffalo, New York; Howard County, Maryland; and Seattle.
There also will be efforts by the anti-corruption group Represent.Us to push ballot initiatives packaging lobbying, ethics and campaign finance reforms together as they did to much success in Tallahassee, Florida in 2014. The group will target multiple municipalities and states in 2016, but has not announced which ones yet.
Reforms are not the only thing on the docket in the coming years. Those pushing for these changes are also paying attention to court cases and other legislative moves to rollback reforms and increase the amount of money in politics.
"We expect to see efforts to weaken disclosure, weaken public financing programs that are out there, possibly weaken coordination language," Karen Hobert Flynn, vice president for strategy and programs at Common Cause, said.
Popular in the Community