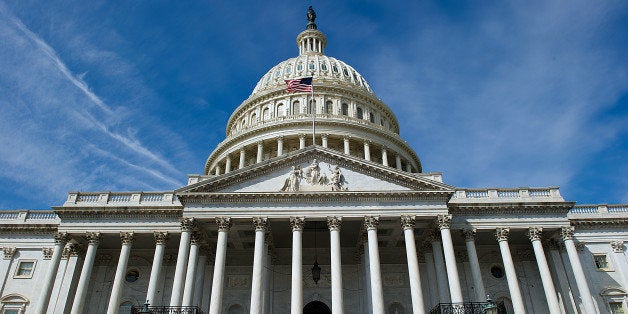 WASHINGTON -- Campaign finance reformers are taking their policy efforts to the hustings, raising millions of dollars in an unprecedented push to support candidates in the November elections. Among these groups, the pioneer of this electoral strategy is adjusting its tactics to advance campaign finance reform across the country.
For the past decade, the Public Campaign Action Fund, headed by executive director David Donnelly, has pushed both to elect campaign finance reform supporters and to pass federal and state legislation authorizing public financing of electoral efforts. Now, with a broader mission and new funds, the group is merging with its affiliated super PAC, Friends of Democracy, and changing its name to Every Voice.
"We feel that we've completely won the debate on the problem of money in politics," Donnelly told The Huffington Post. "Americans have a really good sense of what that is."
In particular, Donnelly points to the growth in spending by independent political groups since the Supreme Court's 2010 Citizens United decision; the disproportionate amount of time spent by lawmakers and candidates on fundraising, as evidenced by memos from the Senate campaign of Michelle Nunn and the Democratic Congressional Campaign Committee; and the number of fundraisers attended by President Barack Obama.
"Most people think that government is completely captured by special interests," Donnelly said. "So it's time now to win the debate on solutions."
In the effort to sell solutions, Donnelly intends to focus on empowering small donors and diluting the power of big money.
"We really think it's important to break through the public cynicism that nothing can be done," Donnelly said.
Public agitation on the issues of corruption and money in politics has expanded since the Citizens United decision allowed corporations, unions and, eventually, individuals to spend unlimited amounts on independent political efforts. At the same time, the Supreme Court has shown a willingness to unravel campaign finance restrictions set in place after the Watergate corruption scandals.
Traveling across the country to address donors, Donnelly has argued for the electoral viability of an anti-corruption, pro-reform message. His group backs up that point with polling. He said he has brought new donors into the fold and expects the budget for Every Voice to triple and the staff to double as it begins this latest push.
Over the three months leading up to the November elections, Every Voice plans to target races at the state and federal levels. In New York state, for example, the group intends to defend pro-reform lawmakers and challenge those who recently stood in the way of public financing legislation there. The Public Campaign Action Fund was a big player in the so-far unsuccessful effort to pass a New York state bill.
The group will also shift its focus from helping already existing groups at the state level to direct organizing of its own. Every Voice is undertaking a 50-state review for opportunities in 2015 and intends to organize in at least six to eight states.
"It's a shift between very good activists and very good leaders at the state level doing the work that identifies that they're worthy or they're successful enough to launch campaigns versus us going in to help build those campaigns from the ground floor," Donnelly said.
At the federal level, the group is already spending money in the Republican primary for Kansas' 4th Congressional District to back former Rep. Todd Tiahrt. Tiahrt is challenging incumbent Rep. Mike Pompeo (R) with anti-money-in-politics messaging.
Senate Minority Leader Mitch McConnell (R-Ky.), a leading opponent of campaign finance reform, is also a top target. Donnelly said that he expects Every Vote to have at least seven figures to spend against McConnell, who is facing Kentucky Secretary of State Alison Lundergan Grimes (D).
Every Voice is organized as a 501(c)(4) social welfare nonprofit, allowed to spend some of its funds on electoral activities. By law, these groups are not required to disclose the names of their donors and can -- and often do -- serve as conduits for "dark money." But Donnelly said Every Voice intends to continue the Public Campaign Action Fund's policy of periodically disclosing its donors on its website.
Much of the spending in support of candidates, however, will come from Every Voice Action, a super PAC that is required to disclose its contributors. Every Voice will also operate Friends of Democracy as a multi-candidate PAC, which can distribute funds directly to candidates at a $5,000-per-election maximum. Friends of Democracy was previously funded almost entirely by investor Jonathan Soros, but according to Donnelly, Soros has decided to disengage from the organization and will not be the primary funder of these efforts.
Every Voice joins Mayday PAC, launched by Harvard law professor Lawrence Lessig, in the ranks of well-financed efforts to bring campaign finance reform into the electoral realm. With the backing of many small donors as well as big donors from the tech sector, Lessig's super PAC will have at least $12 million to spend on elections in 2014.
Another tech-backed group aiming to limit money in politics, Counter PAC, launched in July to pressure Senate candidates to push back against spending by independent political groups in their contests. The concept is modeled on the "People's Pledge" agreed to by Elizabeth Warren and Scott Brown in their 2012 Senate race in Massachusetts.
Support HuffPost
The Stakes Have Never Been Higher
Popular in the Community