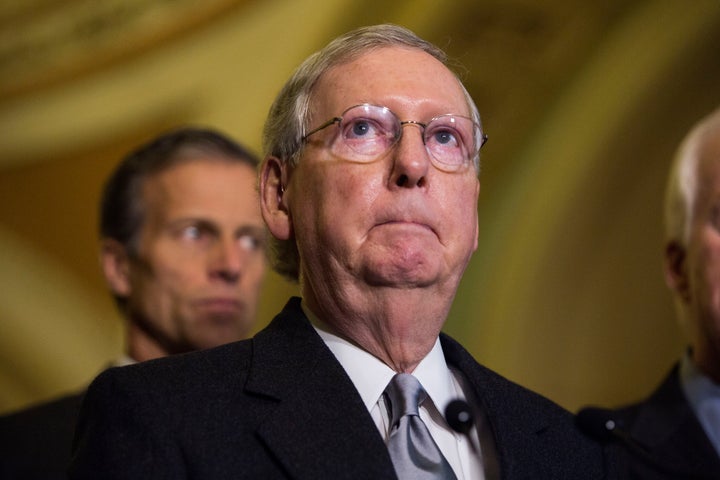 WASHINGTON -- House Democrats are organizing opposition to reports that Senate Majority Leader Mitch McConnell (R-Ky.) will insert a controversial campaign finance provision into the must-pass end-of-year omnibus spending bill.
Reps. John Sarbanes (D-Md.) and Ted Deutch (D-Fla.) are circulating a letter among Democrats calling on congressional leaders to oppose the inclusion of a provision that would allow political parties to spend unlimited money on coordinated expenditures with candidates. The letter, which will be sent to McConnell, along with Speaker of the House Paul Ryan (R-Wisc.), House Democratic Leader Nancy Pelosi (D-Calif.) and Senate Minority Leader Harry Reid (D-Nev.), has 113 signatures so far.
The effort comes one year after Republicans and Senate Democrats greatly expanded political party contribution limits through a provision inserted in the 2014 omnibus budget bill that received no prior debate.
"As negotiations over the omnibus agreement continue, we urge you to resist any attempt to include a controversial campaign finance provision relaxing political party coordination limits," the letter states. "This change would be a travesty coming on the heels of last year's erosion of the limits on big donor contributions to the parties. Americans have a right to expect that political parties and candidates will answer to them, but this change in the law would only further surrender the party apparatus to the influence of millionaires and billionaires."
Supporters of the provision believe it will help parties balance out the power assumed by outside groups following the 2010 Citizens United decision. But many of the biggest spenders among these outside groups are those controlled by party leaders and their allies. Opponents believe that without other reforms empowering small donors and reforming outside spending, unlimited party and candidate coordination will just serve to empower big donors.
The Sarbanes and Deutch letter also notes that "the 114th Congress has not held one hearing, commissioned a single study, nor investigated in any serious way the impacts of changing the current coordination rules governing political party spending."
Republicans in the right-wing Freedom Caucus have also voiced their opposition to the unlimited party coordination measure. The insurgent group of about 40 House members routinely clashes with party leaders in the legislative process and elections. They oppose any increase in the centralization of power within the Republican Party.
"It is designed to help elect candidates who will toe the party line in Washington rather than stand up for the people they were elected to represent," Rep. Jim Jordan (R-Ohio), chairman of the Freedom Caucus, told Politico.
The party coordination provision is not the only rider that looks likely to appear in the omnibus budget bill.
There is also likely to be a provision prohibiting the Obama administration from implementing an executive order requiring contractors to disclose political spending, including contributions to politically active nonprofits that do not disclose their donors. Other provisions would prevent the Securities and Exchange Commission from implementing a rule requiring publicly traded companies to similarly disclose their political spending, and keep the Internal Revenue Service from drafting new rules for nonprofits requiring them to disclose certain contributions.
Read Sarbanes and Deutch's letter below:
Calling all HuffPost superfans!
Sign up for membership to become a founding member and help shape HuffPost's next chapter