 The Campaign for America's Future has given 11 House Democrats poor grades in a new report card that rates how well politicians are standing up for the middle class. The progressive group based its scores on 10 key votes in the 112th Congress that affected middle-class Americans.
Lawmakers who received a low score voted for items including limiting consumer financial regulation, supporting the austere FY2013 Republican budget, weakening environmental protections and supporting the repeal of President Barack Obama's health care overhaul. According to the group's methodology, members of Congress who scored well cast votes in support of good-quality jobs, affordable health care and education, consumer protections, and other issues.
The House Democrats who earned poor grades are Timothy Walz (Minn.), Mike McIntyre (N.C.), Jim Matheson (Utah), Ben Chandler (Ky.), Mike Ross (Ark.), Collin Peterson (Minn.), Henry Cuellar (Texas), Dan Boren (Okla.), Jim Costa (Calif.), John Barrow (Ga.), and William Owens (N.Y.).
Republicans far outnumbered Democrats among the lawmakers who received poor grades in the report, however. All told, the Campaign for America's Future gave 27 Republicans in the House and 13 in the Senate poor scores. Two hundred more Republicans -- 19 in the Senate and 181 in the House -- including Rep. Paul Ryan (Wis.), the current GOP vice presidential candidate, received grades of zero percent. No Democrats received zero-percent scores.
"Every legislator claims to be a champion of the middle class -- yet in vote after vote, the big corporations and the wealthy get the gold, and the interests of the middle class get the shaft," said Robert Borosage, co-director of the Campaign for America's Future, in a statement.
The Campaign for America's Future is also buying Google ads to target nine Republican representatives who they labeled the "worst of the worst," in an effort to reach constituents who use the popular search engine to find out more about their congressman.
"Middle-class Americans now have one single place to get the definitive word on who actually stands with the middle class," said Van Jones, president of Rebuild the Dream, a progressive advocacy group, in a statement. "This vital tool provides a springboard to members of Congress who champion the middle class -- and puts the rest on notice that they can't undermine the American Dream without consequences."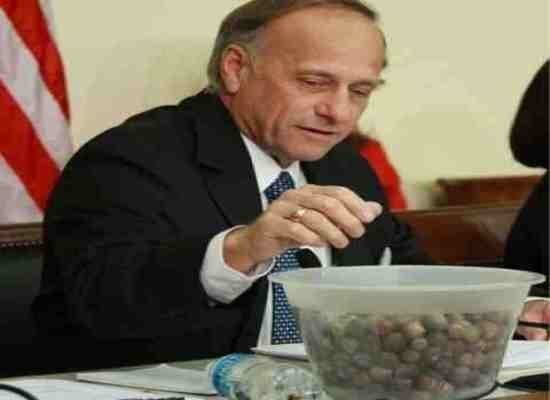 More Crazy Examples of Congressional Theatrics
Popular in the Community