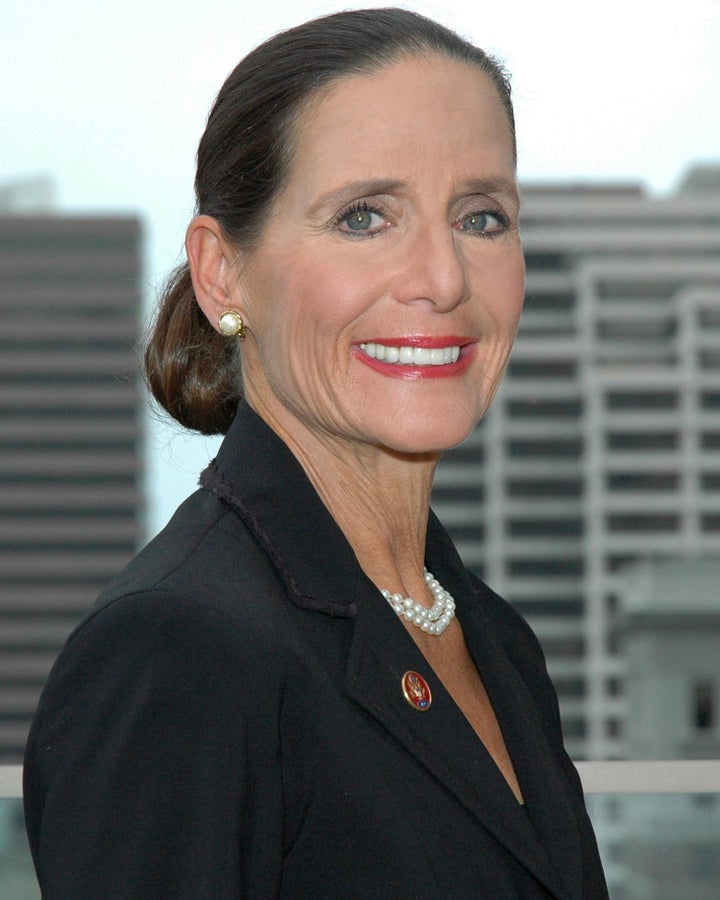 A little-known Super PAC that claims its only mission is shaking up incumbents scored its first win Tuesday, when Ohio Rep. Jean Schmidt (R) lost her primary to podiatrist Brad Wenstrup by a 49 to 43 percent margin.
The district's heavily Republican composition means Iraq War veteran Wenstrup, who has never held elective office, will most likely go on to Congress.
But liberals cheering her loss may be disappointed by the nature of the group that played an important role in bringing her down. According to the Campaign for Primary Accountability Super PAC, it spent more than $200,000 against her. The group, which had $1.4 million on hand for races nationwide as of its last Federal Election Commission filing, said it targeted Schmidt not because of statements she made but simply because people in her district didn't like her.
"We are not issue-driven," said Curtis Ellis, spokesman for the group. "We're the only Super PAC that is using the new tools of campaign finance to help people on the outside, the challengers." He said Wenstrup's success was a testament to the PAC's vision of "holding incumbents accountable."
Only in existence since September, the Campaign for Primary Accountability is already making a name for itself by taking on members of both major parties from Texas, where incumbent Democrat Rep. Silvestre Reyes claimed its a vehicle for "special interest money and family wealth," to Alabama, where Republican Rep. Spencer Bachus dismissed it as a "handful of rich people."
"We see the situation not through the Democrat or the Republican spectrum," said Ellis. "We see the spectrum and the determinant paradigm as the people versus the political insiders."
Ellis claimed the Campaign for Primary Accountability doesn't have a pro-charter agenda. "Categorically, that is not an issue," Ellis said.
Linbeck, Ellis added, "believes that the people of districts should choose people that represent their views. It's not for him to say that somebody on the other side of the country gets elected should agree with (Linbeck)." And, Ellis argued, an outside group like his wasn't pressuring the people of Schmidt's district to vote one way or the other, just "stepping in and equalizing the playing field, that's all."
Schmidt might disagree. In the waning days of the primary, the Super PAC pushed everything from radio ads to robocalls against her. A web ad suggested she was the "most corrupt" member of Congress and asked Republican primary voters to "rock the boat."
That kind of call in the waning days of a low-turnout primary race can have an impact, said Patrick Miller, an assistant professor of political science at the University of Cincinnati.
"Especially in her race, where it's low information and there are very few messages that are actually out there, I think that advertising could certainly have helped tilt the election against her," he said.
Ellis said the Campaign for Primary Accountability's donors were at peace with the bold new era of federal Super PACs, when a group of Texas businessmen can down an Ohio representative and then move on the next race. The group already has spend more than $50,000 against Bachus, whose race is March 13.
In order to avoid the appearance of coordinating with candidates, Ellis said, the Campaign for Incumbent Accountability doesn't interview or reach out to challengers before it takes on their opponents.
"I imagine we look like Santa Claus to some people," he said. "And we do sincerely hope to encourage more challengers to step forward."
The group had a less successful day elsewhere in Ohio, where it supported Rep. Dennis Kucinich in a race against another Democrat, Rep. Marcy Kaptur, on the grounds that he often bucked the party's leadership. The incumbents had been forced to do battle with each other in the Ninth Congressional district.
Popular in the Community