MANCHESTER, N.H. -- If you live in New Hampshire and have a mailbox, there is a very good chance that it is currently stuffed with glossy campaign fliers detailing horrifying traits of specific presidential candidates.
Over the weekend, a variety of mail pieces begin showing up at homes here in Manchester. And if one New Hampshire couple's collection of soon-to-be-recycled material was any indication of a larger trend, the majority of it was coming from the super PAC supporting Sen. Marco Rubio (R-Fla.).
Conservative Solutions PAC sent out at least three separate negative fliers over the weekend. There was the one that my colleague Scott Conroy reported, depicting Jeb Bush as a monarch and making a subtle jab at his mother, Barbara Bush. There was another one attacking Bush by placing him side by side with Hillary Clinton.
"Two names from the past, tied to the past, with ideas from the past," the flier reads.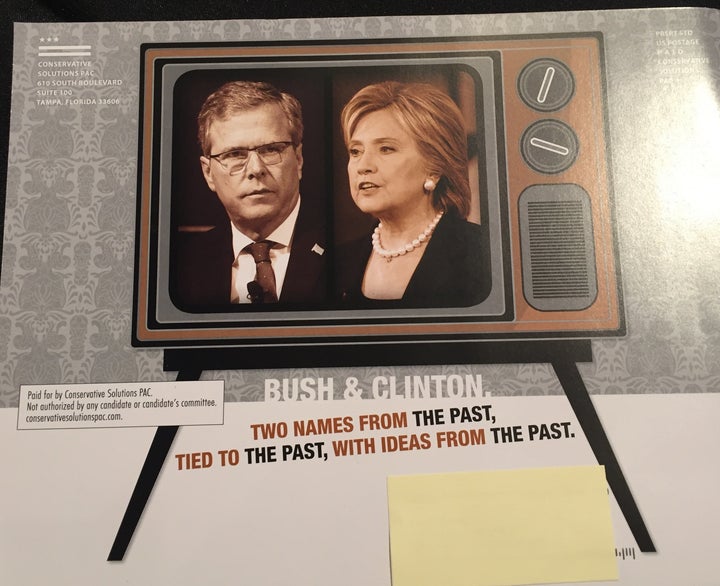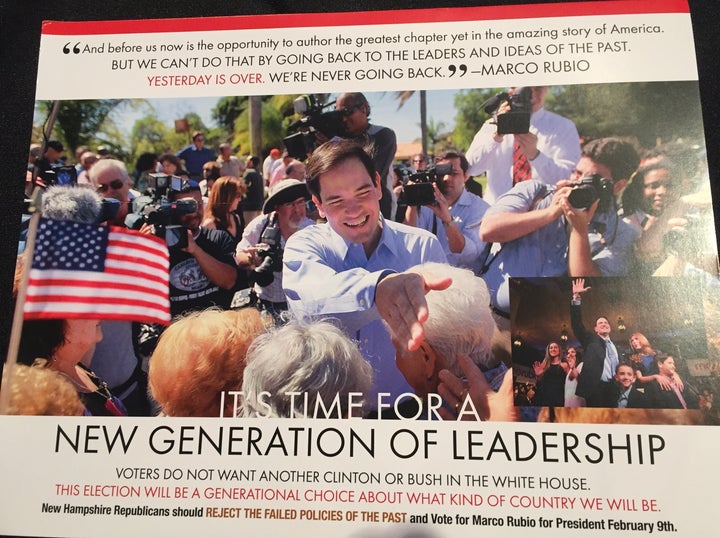 And then there was a flier attacking two of the other GOP governors in the race -- John Kasich of Ohio and Chris Christie of New Jersey -- for their support of "taxes, common core & Obamacare expansion."
 "That's a liberal agenda New Hampshire voters should oppose," the mailer reads.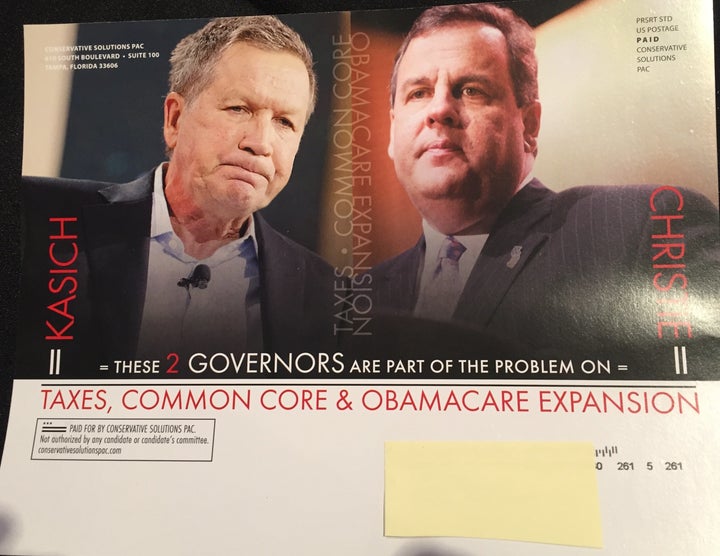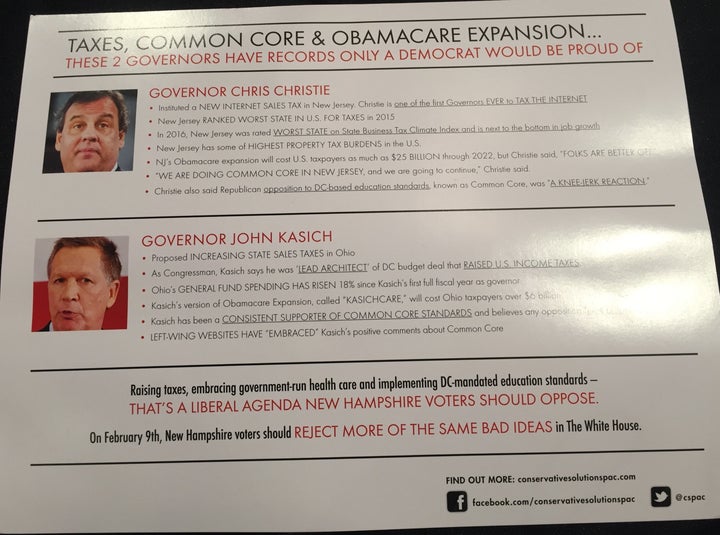 Two other attack mailers that hit this couple's mailbox over the weekend were put together by Our Principles PAC -- a group created with the sole purpose of arresting Donald Trump's rise in the Republican primary. Among the mailers, these probably packed the most punch. 
One accuses Trump of supporting a path to citizenship for "illegal aliens," claims that those same "illegal aliens" built Trump's hotels, and notes that Trump once claimed to be supportive of the DREAM Act. The back of the mailer has an alarming photo of people lined up by a border patrol unit.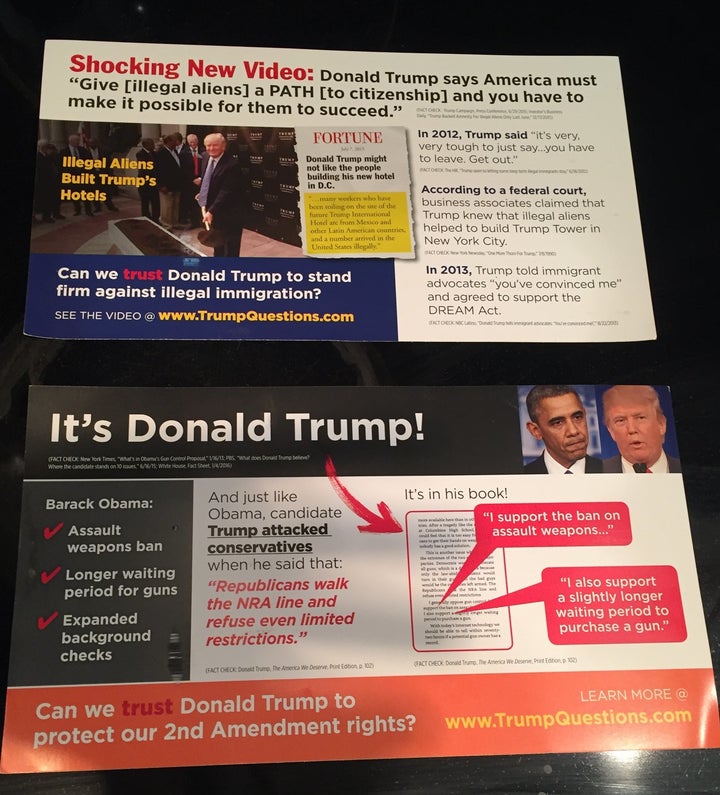 The other goes after Trump on gun rights. "You might be surprised which Republican candidate is the most like President Obama," it reads, before going through positions Trump has since disavowed.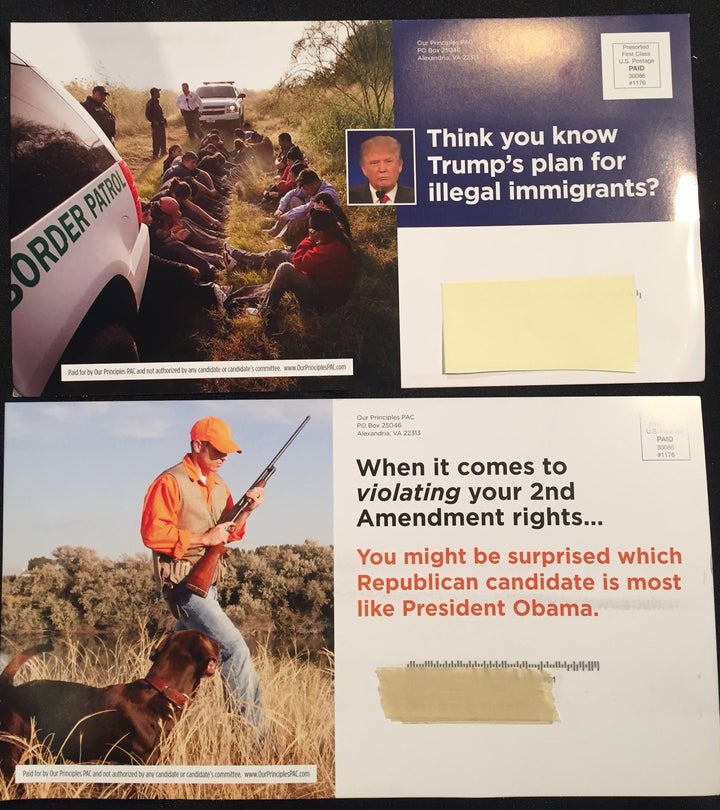 Gun policy was the topic of the last mailer of the bunch, though for diametrically different purposes. The flier, paid for by Hillary Clinton's presidential campaign, took Sen. Bernie Sanders (I-Vt.) to task for voting against the Brady Bill and for giving legal immunity to gun manufacturers. On the back, former Rep. Gabby Giffords (D-Ariz.), a Clinton supporter, applauds the former secretary of state.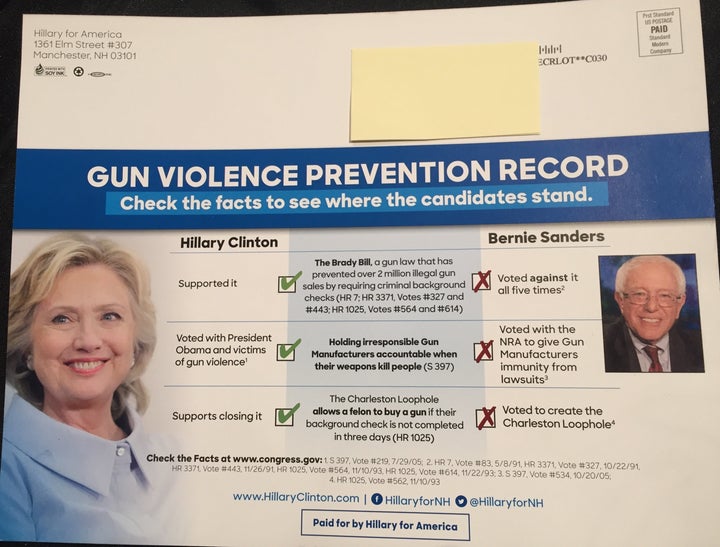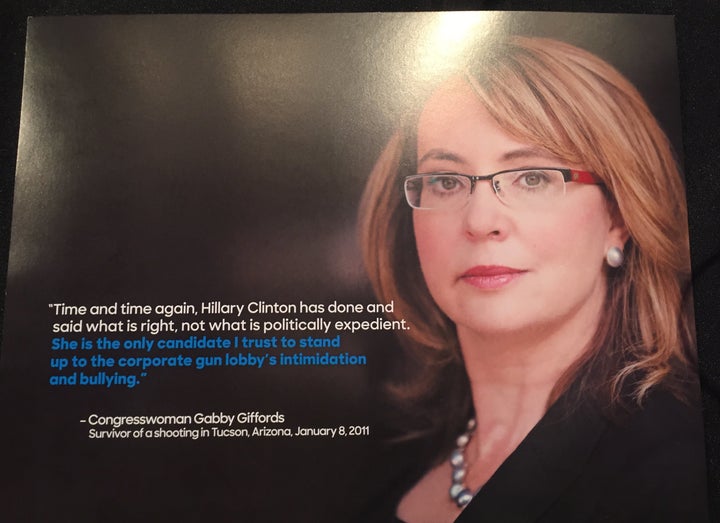 REAL LIFE. REAL NEWS. REAL VOICES.
Help us tell more of the stories that matter from voices that too often remain unheard.