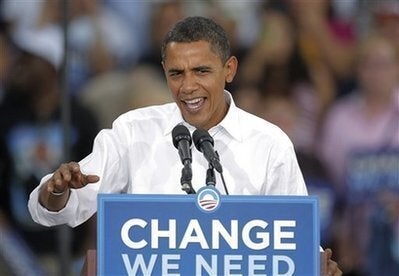 Barack Obama, whose campaign many feared was collapsing in the Democratic presidential tradition of Kerry, Dukakis, and Mondale, has pulled slightly ahead of John McCain in the latest polls, while Republicans watch the boost McCain got from Sarah Palin evanesce.
There is no concrete evidence of what is driving the revival of Obama's strength, but he has been pounding McCain on economic issues, especially hitting McCain's Monday assertion that "the fundamentals of our economy are strong."
On television, an Obama spot asks, "How can John McCain fix our economy if he doesn't understand it's broken?" On the stump, playing for free media, Obama asks his opponent, "Senator -- what economy are you talking about?"
Obama's improved fortunes are relieving an epidemic of Democratic anxiety from Beverly Hills and South Central Los Angeles to the Upper West Side and the Democratic Congressional Campaign Committee. Recent fears among Democratic activists have been based on a brief spate of polls. After holding a relatively consistent lead for five months, Obama, two weeks ago, suddenly looked vulnerable. In six out of seven national polls conducted from September 5 to September 11 and tracked by RealClearPolitics, McCain led:

Over the past six days, however, Obama appears to be regaining his footing, pulling ahead of McCain in four out of the five most recent surveys, culminating in leads ranging from 1 point (Rasmussen) to a relatively solid 5-point advantage in the September 12-16 CBS News/New York Times survey published in the September 18 paper.

Providing a lift to Democratic spirits, the New York Times wrote:
"Polls taken after the Republican convention suggested that Mr. McCain had enjoyed a surge of support -- particularly among white women after his selection of Gov. Sarah Palin of Alaska as his running mate -- but the latest poll indicates "the Palin effect" was, at least so far, a limited burst of interest... the Times/CBS News poll suggested that Ms. Palin's selection has, to date, helped Mr. McCain only among Republican base voters; there was no evidence of significantly increased support for him among female voters in general. White women are evenly divided between Mr. McCain and Mr. Obama; before the conventions, Mr. McCain led Mr. Obama among white women by a margin of 44 percent to 37 percent."
There is continuing evidence in the survey that any new national security threat, such as the September 16 attack on the US Embassy in Yemen, could work to the advantage of McCain, who was rated as likely to be an effective commander in chief by an overwhelming 82 percent of voters, compared to a 59 percent rating for Obama. In addition, the survey found that exactly half of voters questioned believe the surge in Iraq troop strength - a policy initiative strongly backed by McCain, has improved conditions in the country.
Poll data has not yet captured the full partisan consequences of the crisis on Wall Street.
The CBS-Times poll suggests that McCain will have an uphill struggle distancing himself from GOP orthodoxy: "57 percent of all voters said they viewed him as a typical Republican, compared with 40 percent who said he was a different kind of Republican." The poll found, in addition, that the Democratic Party retained a 50 percent favorable rating, while the Republican Party stood at 37 percent.
CBS, in its write-up of the poll, pointed to additional evidence suggesting that McCain's VP pick is not wearing well: "Palin's favorable rating stands at 40 percent, down 4 points from last week. Her unfavorable rating, which stands at 30 percent, has risen eight points in the same time period. Her favorable rating among women has fallen 11 points in the past week." Palin's favorability ratings have also dropped steadily in tracking polls conducted by Hotline/Diageo and Research2000.
As Obama regains momentum in national surveys, the real question becomes: what will trends be over the next 48 days in the key battleground states that will, in fact, determine the outcome in the Electoral College?
Popular in the Community