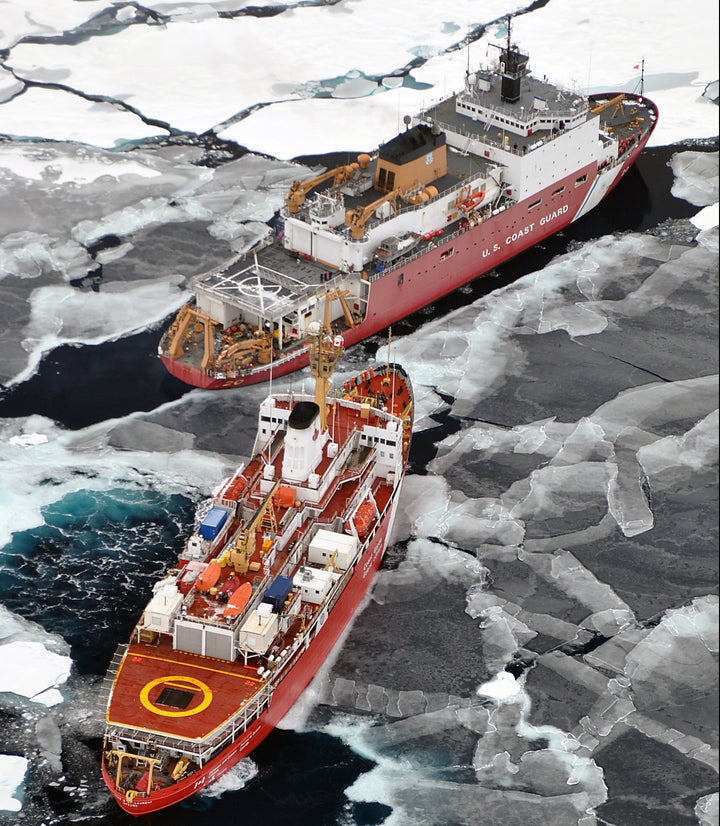 This may have gotten lost in the shuffle, but last month the Office of the Director of National Intelligence issued a memorandum titled "Implications for US National Security of Anticipated Climate Change." The memo analyzed "the possible impacts of climate change on national security over the next 20 years." The intelligence community expects "significant effects … across social, economic, political, and security realms" by 2036, which "will be all the more pronounced as people continue to concentrate in climate-vulnerable locations, such as coastal areas, water-stressed regions, and ever-growing cities."
The findings of the National Intelligence Council, released on Sept. 21, included the following: "Fueled by unusually warm Arabian Sea waters, two separate tropical cyclones hit Yemen in 2015 in the span of just 10 days, including the first hurricane-strength storm to hit the country in recorded history." The memo continued,
Already suffering a humanitarian crisis from war and water shortages, Yemen was unable to provide adequate relief for its citizenry. Heavy rains have since fueled the breeding of an unusually large population of desert locusts that threaten to devastate Yemen's agriculture, and efforts to eradicate the locusts have been stymied both by the difficult security situation and by fear of killing bees, a crucial pollinator for the region's honey and crop production.
Currently, Yemenis think "the United States has been waging an extended campaign in the country, the hidden hand behind Saudi Arabia's punishing air war," the New York Times reported on Oct. 14. "A year and a half of bombing — along with the deaths of thousands of Yemeni civilians — has stoked anger in Yemen not only toward the Saudis, but also toward their perceived patrons in Washington."
A report from Vice on Oct. 12 stated that in Yemen the "bombardment continues, enduring ongoing criticism for what NGOs and aid groups say is a disregard for civilian deaths that equates to indiscriminate warfare." That "air war is being waged with American support." Even without the war, the country is suffering from a lack of water, according to a World Bank bulletin from 2014: "Yemen today is a glimpse of what's in store for other parts of the Middle East and North Africa ... as climate change and rapid population growth combine to put more and more pressure on the resources essential to human life."
The US intelligence memo released two weeks ago added that "climate-induced environmental stresses... are likely to contribute to migrations that exacerbate social and political tensions, some of which could overwhelm host governments and populations." In a nutshell, "climate-change related disruptions are well underway." In a J.P. Morgan Chase report released on Sept. 27, titled "US Election Equity Guide," one of the central issues "with market impact that are at stake this election season" includes energy, of which the first bullet point identifies "clean power and climate change" as critical.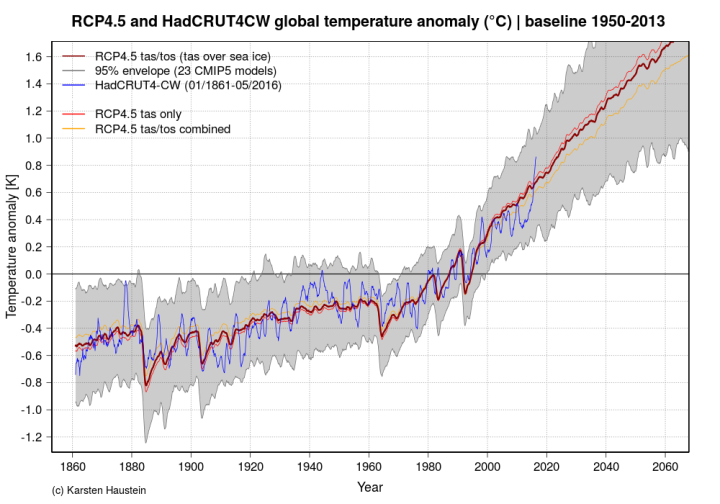 It does not seem to be widely commented on, but solar and wind power installations in the US grew "by almost 70 percent in the last five years even as investment flat lined," according to an article in Bloomberg New Energy Finance published a few days ago, which adds that the cost of wind power alone has dropped by 50 percent in the last seven years. Much more needs to be done, particularly to start removing carbon from the atmosphere. A recent report by Oil Change International produced the below projection showing a 50 percent chance of keeping the global temperature increase under 1.5 degrees.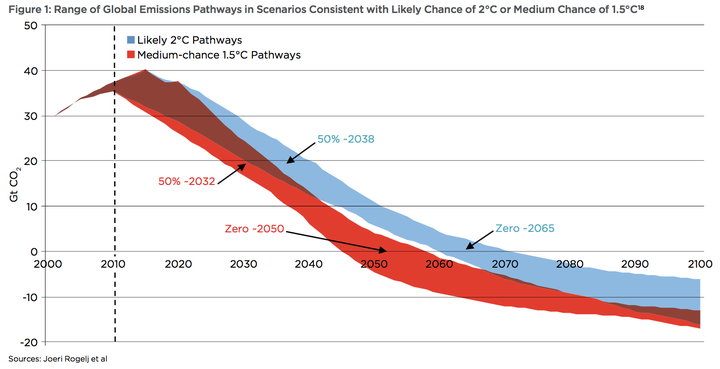 More immediately, the JPMorgan report states that "Clinton would likely target greenhouse gas emission cuts, favor of expanding solar/wind tax credits and grants, and continue Obama administration green energy initiatives such as the Clean Power Plan," whereas her opponent "will aim for a more energy friendly policy and has stated numerous times that his focus would be to achieve energy independence." The president of the World Bank, Jim Yong Kim, spoke on the subject earlier this month, saying "we can and should all help to find renewable energy and energy efficiency solutions that allow them to phase out coal." One week before, on Oct. 2, the third-largest carbon emitter, India, ratified the climate accord struck in Paris ten months ago. Meanwhile, what is arguably the issue of all issues has received scant attention in this year's electoral imbroglio.
Looking toward the next two decades, it remains to be seen whether that approach will mean more torment for suffering countries — and discomfort for the affluent countries.
Calling all HuffPost superfans!
Sign up for membership to become a founding member and help shape HuffPost's next chapter