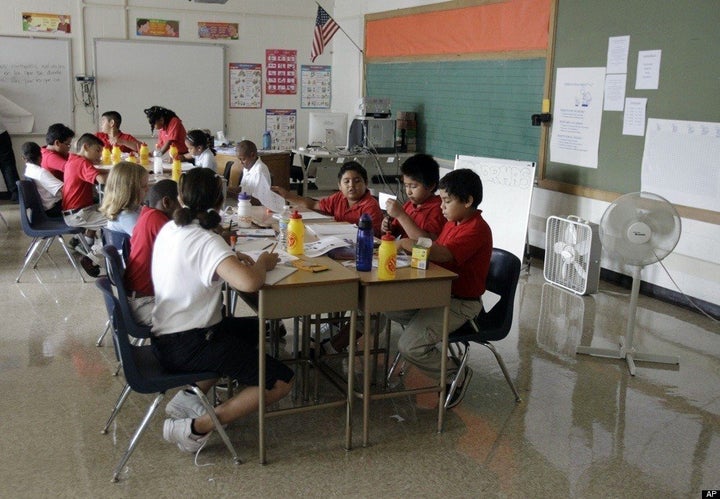 In Pocatello, Idaho, miserable forecasts cancelled Memorial Day soccer games. But the rain won't stop Bill Davis, a soon-retiring English teacher at the local Kinport Academy.
He'll be sitting at the farmer's market, as he's done every weekend since the beginning of April, to collect signatures for putting a trio of education laws passed this year on the 2012 ballot -- and hopefully get them repealed.
The three bills, introduced by Idaho's superintendent Tom Luna, mirror legislation passed in states across the country, from Florida to Wisconsin to Illinois, that drastically alter what it means to be a teacher. They mandate online learning, limit collective bargaining and introduce merit pay for teachers.
"Two days ago, we exceeded 48,000, the number needed to put it on the ballot," Davis, who is also president of the local arm of the Idaho Education Association, told The Huffington Post Friday. "We're keeping on going because once they go to the state, challenges could be issued. We're going for 60,000 which gives us some padding."
He hates that the measure would have to wait until 2012. "That's November 2012, because the legislature heard that the referendum drive was going to take place," he said. "At the end, they attached an emergency clause to each of these three bills. Now we have to wait."
But he's still working on gathering signatures. Once his group reaches that 60,000 figure, he'll turn to another campaign: to recall Luna, as the Idaho State Journal reported earlier. "Mr. Luna knows my name," Davis said. "He doesn't like me much."
"Because we're smaller, Idaho tends to get ignored," Davis said. "Many of the same things that are happening elsewhere are happening here. They're whacking us just as hard here and we're fighting back."
The passage of such laws illustrates a broad national debate about measuring academic success and teacher accountability. Observers cite the wave of newly Republican state houses, budget crunches and federal incentives for accountability as motives for these laws, which vary state by state. But a report released this week concluded that the last decade of accountability-focused education policy resulted in few learning gains.
Most Idahoans, said James Gregson, associate dean of the University of Idaho's College of Education, support the idea of teacher accountability. "But right now, there is dissatisfaction with the way that many standardized tests are being used to determine student academic achievement. And, on top of that, to determine the effectiveness of a teacher based on standardized tests are arguably flawed," Gregson added.
One of the three Idaho bills eliminates continuing contracts, requiring teachers to negotiate their jobs every year. "We can't negotiate for our work day or talk about class size," Davis said. "We can't talk about personal leave or sick leave, we can't negotiate those things."
For his part, Luna feels that a repeal of these laws would restore the "status quo" in Idaho education, according to a statement from his office. "We knew the referendum was a possibility, but I remain confident that a majority of Idahoans support education reform in Idaho," he wrote, adding:
Repealing these laws would mean a return to the status quo, where the hands of local school boards are tied, educators receive tenure, the state distributes retirement bonuses, every teacher is paid the exact same, staffing decisions are made solely based on seniority, and classrooms remain stuck in the 20th century. This isn't the answer to the challenges we face in education today. The burden of proof should be on those who want to defend the status quo, not on those who want to change it.
Idaho, according to Gregson, ranks 49 out of 50 states in the number of students it sends to college. That's what makes reforms feel so urgent.
But a feeling that the changes come with little input from stakeholders, Gregson said, resulted in significant backlash. "In Idaho, there's a really strong local control mindset," Gregson said. "Morale is very low. When you're looking at a profession comprised of individuals who use their own dollars to support classroom instruction, a lot of community members feel like this has been a top down reform mandate rather than a bottom up one."
REAL LIFE. REAL NEWS. REAL VOICES.
Help us tell more of the stories that matter from voices that too often remain unheard.