What does black-on-black crime have to do with police violence? Nothing, according to a new report from Campaign Zero, a policy platform that grew out of the Black Lives Matter movement and offers solutions to ending police violence in America.
Among this larger statistical breakdown of police violence, Campaign Zero also discovered that there is no direct correlation between police violence and violence that occurs within a given community.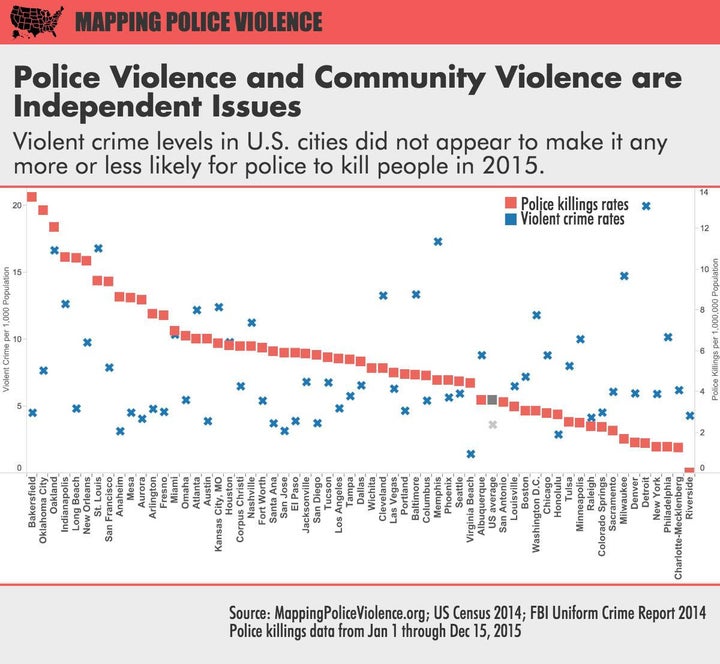 "The police often say that the police are where the crime is as a way to suggest that the reason that they are more violent in certain communities is because they have to be there because the communities are more violent," DeRay Mckesson, a member of Campaign Zero's planning team and one of the most prominent voices in the Black Lives Matter movement, told The Huffington Post. "We wanted to see how the data matched to that suggestion, and what we saw is that it doesn't."
"It just reminds us that the police are choosing to be violent in communities," he added.
A common retort to movements against police violence has been "Well, what about black-on-black crime?" -- a phrase that originated in the 1980s and has been used to cite black people as the problem instead of poverty, poor educational opportunities, proximity and other factors that spike crime rates in all communities despite racial composition.
"For us it was pretty simple. We've been hearing these arguments going around without any data or any evidence from folks who are saying that police are killing so many people -- particularly black people -- because they say black people are in high-crime communities and potentially involved in criminal activity," said Samuel Sinyangwe, another member of the planning team.
The group compared violent crime rates from the 2014 FBI Uniform Crime report to the number of people police killed in each city this year. To confirm the findings, Sinyangwe said Campaign Zero also ran three years worth of police killing data and arrived at the same conclusion.
"This myth that people have created that community violence is the cause of police violence is absolutely false," said Brittany Packnett, another member of Campaign Zero's planning team, who also sat on Missouri Gov. Jay Nixon's (D) Ferguson Commission. "This is an issue of policy, of accountability and of culture inside of departments."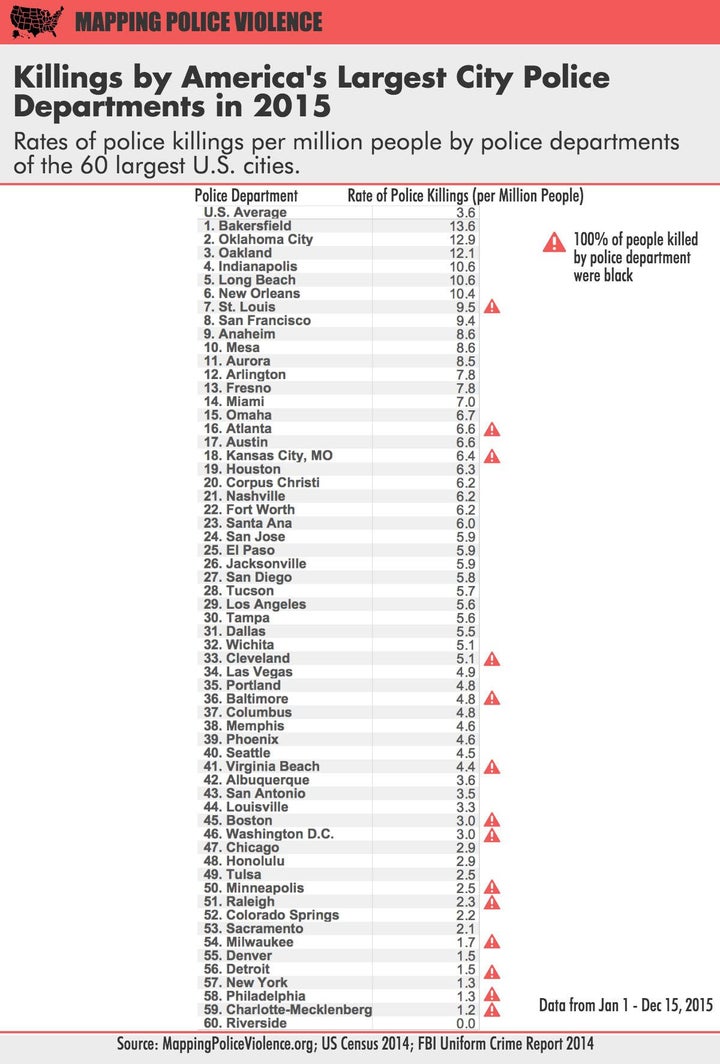 Law enforcement officers have killed at least 1,152 people since January 1, according to Campaign Zero's report. The data also found that police departments in America's 60 largest cities were responsible for around 25 percent of these deaths and that black people accounted for 41 percent of those killed, despite only comprising 20 percent of the population in those jurisdictions. In addition, 14 of these departments only killed black people this year, while five jurisdictions solely killed white people.
Sinyangwe said 60 departments were chosen because a higher number could be hard to quantify. There would most likely be cities that had zero or only one police killing due to department and population size. He added that cities that have seen protests in the past year factored into the decision making (these cities also have large populations and police departments).
"We wanted to make sure that cities that really have been sort of at the epicenter of the movement and what we've seen around the country in terms of police violence were included," Sinyangwe said.
Cities such as St. Louis, Baltimore, Chicago and Minneapolis have become focal points in the Black Lives Matter movement this year.
Protests have shaken St. Louis county since 18-year-old Michael Brown was killed by a Ferguson police officer in August of 2014. Baltimore was also the site of large scale protests following the death of 25-year-old Freddie Gray, a black man who died after a "rough ride" in a police van in April. Residents took to the streets of Chicago after video footage showing the murder of 17-year-old Laquan McDonald was released. The Minneapolis chapter of Black Lives Matter has rallied for justice in the fatal police shooting of 24-year-old Jamar Clark since November -- even in the face of a terrorist attack directed toward them.
St. Louis Police Department had a rate of 9.5 police killings per one million residents, while Baltimore's was 4.8 per one million. Chicago sits at 2.9 per one million and Minneapolis' rate is 2.5 per million.
Johnetta Elzie, another member of Campaign Zero's planning team and a leading voice in the Black Lives Matter movement, member of Campaign Zero, said the team will continue to push this information out to the public. The study will provide good talking points for activists -- and others -- and help guide conversations on this issue, she said.
"Now that we've made the correlation … It's definitely something that we'll continue to tweet about it and between all of us we reach about 360k people on Twitter," Elzie said. "I'm a firm believer that if we post it enough, it'll reach people who will be able to spread it far and wide."
The use of this data won't be limited to people on the ground. Packnett, who sits on President Barack Obama's Task Force on 21st Century Policing, said she will take the data with her to the White House. She added that it helps provide a cumulative understanding of what the year has been like in terms of police violence.
"Lots of people just know one name or a couple of hashtags and they might not know what the whole picture is," Packnett said. "This analysis is critical to helping us understand what this year was like and this data is critical to helping us understand that this year was both particularly violent and that that violence continues to be felt disproportionately by black communities and communities of color."
Obama's task force, the Justice Department and others in the president's office are familiar with the Mapping Police Violence project and Campaign Zero, according to Packnett, and that these initiatives set an example for what can be done.
"As the FBI moves toward stronger data collection, I think the work of Mapping Police Violence, KilledByPolice.net and both mainstream and citizen journalists can be a strong example of what's possible," she said.
"If regular people can develop this level of comprehensive data without massive resources, imagine what the federal government can do as they become more serious about this," she added.
Popular in the Community