If elected, Raja Krishnamoorthi will only be the second Indian American in Congress, even though the South Asian community is one of the fastest growing and economically strong communities in the United States. For years being invisible and faceless -- and often stereotyped as the model minority -- historically, South Asians have not been politically assertive in the U.S.

This may be changing. Krishnamoorthi, who is running from the 8th Congressional District in Illinois, asserts that even as a Democratic candidate, he has received bi-partisan support on what he calls the "samosa circuit." He coined the term, he says, to acknowledge the South Asians who have come out to support him not just in Illinois's eighth district from where he is running, but Indian Americans around the country who have hosted fundraisers or supported his campaign whole heartedly. Along with chai and samosas, a typical Indian high tea menu, he notes that the support has been very gratifying.

As of 2010 census, India was the country of origin of the second-largest group of immigrants to the Midwest -- second only to Mexico. An overarching idea of a common South Asian background is implied when they are referenced as "Desi."

Raja says he likes the term "Desi," as it is an inclusive one and shuns differences that are religious geographical or cultural. And "Desi" might just be that unifying term that reflects the mosaic of the South Asian community even as Latino also sums up a complex set of identities.

He refers to his being comfortable with his own background as the son of Indian immigrant parents and feels unabashed pride in associating himself with his heritage, including his not easy to pronounce name. He has been called "Raja Pepper" by the Hispanic community and "Roger Christian Murphy" by the Irish Italian in his district.

Jeremy Gevinson, who assists in his campaign office points out that at Indian American galas when Krishnamoorthi talks to the community, he says, "When I go to Congress, it won't just be me there, it will be all of us there. Everyone will have a voice at the table." He stresses how Krishnamoorthi is a voice for everyone, not like Bobby Jindal, former Governor of Louisiana, uncomfortably trying to distance himself from the South Asian community."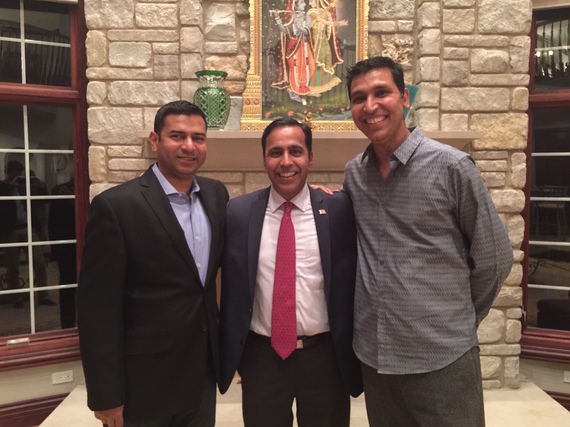 Photo credit: Dr Veerpal Singh (on the candidate's left), the candidate Raja Krishnamoorthi (center) and Krishna Mushyam, (on the candidates's right)
The candidate flanked by a couple of Indian Americans from South Barrington, Illinois, at a fundraiser held for him by Dr Veerpal Singh in his home.
"He is our face for tomorrow and motivation for our kids," says Veerpal Singh, a physician who hosted a fundraiser for Krishnamoorthi in his South Barrington home. Veerpal clarifies that he is not into politics, and not even a registered Democrat, but he feels that Krishnamoorthi is "one of us" and "understands the working class as well as our society, culture and community." Krishnamoorthi frequently talks about his childhood with hardworking immigrant parents and embraces his cultural heritage and identity with pride.

According to the 2010 census, there are over 92,000 Asian Americans in the 8th Congressional District, and over 43,000 of them are South Asian, but civic engagement has been a challenge for this community in the past. Raja knows this first hand -- he lost by a margin of less than 300 votes in another run for public office in this district.

The sizable Indian population in this district can be seen at the flagship Indian grocery chain - Patel Brothers in Schaumburg. The signage in front of the store besides the name reads : Celebrating our foods... Our culture. "This cultural belonging needs to translate into a sense of civic belonging and participation as well," says Kapur, of SAAPRI.
Whether showcasing the iconic three-wheeler auto-rickshaw at the store entrance a few months ago, or the automated chappati-maker -- that churns out fresh Indian wheat breads in an assembly line everyday -- the store offers a complete "Desi" experience replete with Indian vegetables and spices. However as South Asians in this area have almost doubled, spawning the rise of such ethnic retail establishments, will that translate to a more cohesive identity and more civic engagement?

"I voted for him in the primary and he won the election this time." says Vithalbhai Patel, who immigrated to the Chicago area after living in Africa for 40 years. This April in the primary he voted for the first time, after becoming a citizen. As he shopped in the packed aisles of Patel Brothers, the candidate he referred to was Raja Krishnamoorthi.

The lack of voter engagement has flown under the radar in how it has impacted Krishnamoorthi's earlier runs for public office. In an earlier attempt at public office in 2010, he ran for State Comptroller and lost the race by less than 1%. This startlingly slim margin of defeat becomes important when we bear in mind the low voter engagement within the South Asian community. Krishnamoorthi says that given a different level of voter engagement, "it is very possible that that race could have had a different outcome."

"According to analysis by Asian Americans Advancing Justice -- Chicago, fewer than 300 votes decided the 2010 general election in this district," says Reema Kapur, of SAAPRI, South Asian American Policy & Research Institute, a non-partisan, organization, "Our community members know that if they show up in November, they can decide the winner." Even so do most members of the community know that an Indian American is running for Congress?

Krishnamoorthi is grateful for the support he has from the South Asian community and hopes that it translates into votes come November. He says that sometimes even dispelling simple myths may promote civic participation. He mentioned some misperceptions he encountered from within the community like -- if they voted then the chances of them being selected for jury duty may go up. Also if they understood they had options like early voting or mailing in their ballots then they may not worry so much about taking time off from work and family. "Voting on the day of the elections is not their only choice."

Whether it is his volunteer base, his campaign donors or supporters who display signs and tell their friends and neighbors, he says that everyday he is energized by the young Indian Americans who volunteer at his Schaumburg office.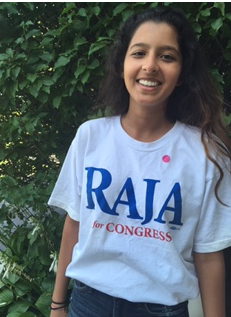 Tanvi Sharan, who attends Barrington High School, and volunteered at his campaign headquarters this summer, feels pride at supporting a candidate who speaks to her future. "It was exciting to be involved in something close to the heart of the community, that also helps me nurture future aspirations in the political sphere,." she says.

In the 8th congressional district from where Krishnamoorthi is running, the 2010 census data indicates that out of a population total of about 700,000, the registered voters total about 425,000. However amongst the South Asian population in 2010 totaling approx. 60,000, the registered South Asian voters totaled only about 10,000.

Why voter registration and engagement in the South Asian community is important, becomes immediately apparent. Even though civic engagement is still a challenge for a majority in this community, professional Indian Americans have been rallying around this candidate. In the nearby village of South Barrington, home to an affluent community of doctors and professionals, a few fundraisers hosted by successful Indian American families have widely lauded the fact that finally the success of its community is finding ratification in political office representation as well, enabling the voice of their community to be heard.

As the population continues to grow, their engagement in the electoral process is central to leveraging potential policies that impact them, she points out. The community's level of political assertion or involvement remains to be seen. Kapur, believes that that this community needs to recognize that they have "the power to turn an election." She emphasizes that there is potential for the South Asian population to talk collectively.

Kapur says, that SAAPRI, South Asian American Policy & Research Institute, is also working on an election policy instrument and "basically wants the voters to just show up." Raja Krishnamoorthi, agreed whilst adding that at least Trump's candidacy becomes "extremely important in just motivating people to get out and vote."

He says he believes in the adage: If you are not at the table you will be on the menu. The featured item on the menu are samosas and "Desis" are at the table.
Popular in the Community