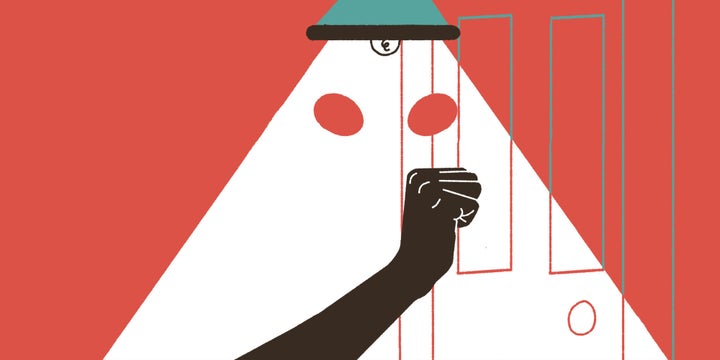 Alexiss Kurtz was registering voters on a wooded road in North Carolina when she saw them gathering across the street: a group of about 10 white men, all eyes trained on her.
Kurtz, who is black, pretended not to notice them. She was there as part of a furious effort to re-elect the Democratic senator, and she had work to do. But a few minutes later, the men were perched in the bed of a pickup truck and driving slowly around the neighborhood, whistling and jeering.
Kurtz walked faster. The truck pursued her at a crawl while the neighborhood grew more forested. She panicked ― were they going to attack her? Finally, she made a big show of calling someone on her phone, and the truck gradually peeled away. Kurtz was left shaking.
"It was straight 1960s," she said. "I felt like they were unclothed KKK."
Her story spotlights the hazardous reality for people of color active in politics: While any political canvasser can face harassment, black and other nonwhite people face a unique and elevated potential for danger. Campaign staffers and volunteers who spoke to HuffPost say they have endured threats, racial slurs and Islamophobia. Residents frequently report them as potential burglars to police.
And with political partisanship appearing to fuel a rise in hate crimes, nonwhite activists on the campaign trail this year are bracing for worse.
"Especially after the election of Donald Trump, it seems that it's OK to be racist out in public," said David Villalobos, who oversees a get-out-the-vote drive in Dallas. "We expect to be running into more of these situations as we get closer to the election."
Two incidents like this have gone viral just in the past few weeks. In western Oregon, a black state representative was campaigning in her own district when one of her constituents called 911 to report she looked suspicious. A few days later, police were called to an Atlanta suburb because two black college students were going door to door for a congressional campaign. One of the students, Eli Sabur, made a video of the encounter — but only because the police response was larger than usual, he said.
Residents call the police "at least three times a month," Sabur told a local news channel. "That's a good month."
"It was straight 1960s. I felt like they were unclothed KKK."
No one tracks how often canvassers face a police response or racist threats. Eric Lundy, the program director of Inclusv, a group that helps people of color find paid campaign roles, suspects most incidents go unreported. But there could be thousands of cases every election cycle. Even during the midterms, millions of people — as many as 5 percent of all registered voters — volunteer for political campaigns.
The campaign staffers HuffPost spoke to said they almost always experience these threats in majority white neighborhoods.
As a canvasser in Rhode Island, Charon Rose says the only time she encountered the police was in Warwick, where nine out of every 10 residents are white. It was 2010, and she and a white volunteer were wearing matching campaign T-shirts and buttons. When they got separated, two officers asked her partner if he knew who the "black girl" was and what they were doing in that neighborhood.
"The Northeast is supposed to be this beacon of progressivism," Rose said. "But once you get outside the urban core — and Warwick is not that far outside the urban core — you're not 'supposed' to be there." Afterward, Rose stopped door-knocking beyond Providence and a few select suburbs.
Earlier this year, Michelle Landry was in rural Wisconsin when a white woman became incensed that Landry was canvassing inside her apartment complex. The woman called the police and braced herself against the door to the building so Landry couldn't leave. Landry, who is half Vietnamese and half white, doesn't know if her race played a role. But for her, there was no question that the white woman's did.
"There is definitely this assumption, if you are a white person and you are uncomfortable, that the police will take care of any discomfort you're having," Landry said.
On this day, that backfired. Police told Landry, who was in tears, that she had a right to be in the building and chewed the woman out for blocking the door.
But black and brown canvassers described much tenser encounters with police. The Texas Organizing Project, whose volunteers are mostly black and Latino, said when residents call police on its volunteers, the officers frequently ask the volunteers to leave.
In one Dallas neighborhood, residents called the police so often that the group wondered if it should stop going to that neighborhood altogether.
"We train our canvassers that they will" — not may — "deal with this threat and have people calling police," said Villalobos. Villalobos prepares volunteers with a short rebuttal about their right to go door-to-door. Political canvassing enjoys strong constitutional protections, and courts have repeatedly struck down all but the narrowest restrictions on it.
"But if they're uncomfortable having an interaction with the police?" he said "We want to stand up to racist behavior, but you really have to ask the canvasser if they feel safe."
White supervisors can be oblivious to the dangers their co-workers face.
"'We train our canvassers that they will' — not may — 'deal with this threat and have people calling police.'"
Kurtz's bosses on another campaign in North Carolina sent her to the tiny, mostly white town of Lizard Lick. Each house sat at the end of a long driveway off the main highway, meaning there was nowhere for her to park when she went door-to-door except on the voter's property. "North Carolinians love their guns," she said. She decided it wouldn't be safe for her to canvass there.
Her supervisor, who was white, wrote her up for an infraction. He took it off her record only after she laid out how routinely she experienced racism in North Carolina and reminded him the state has an extreme Stand Your Ground law. There is no duty to retreat before opening fire.
Kurtz has taken lots of other precautions. She parks her car strategically — never on dead-end roads and always backing into her parking space in case she needs to drive away quickly.
Other door-knockers described wearing not only campaign T-shirts but large-type buttons and badges announcing their purpose. It rarely seemed to make a difference. Amit Banerjee, who worked on a political campaign in the Dallas area this year, says he never wears a hat. "I don't want people to be able to say, 'Oh, I couldn't see where his eyes were looking' if there was some sort of confrontation with police," he said. Banerjee is of Indian descent and was recently stopped with a white organizer by police in a ritzy part of the city.
Kurtz no longer spends much time going door-to-door. She has risen to the role of political director for a progressive group in Maryland, something she credits in part to her canvassing days.
"I can't say I regret it," she said. "I had to out-organize people and learn how to reach people even with barriers."
In fact, in the harrowing minutes her stalkers were gathering down the street, Kurtz knocked on the door of a black family.
When Kurtz left their home, the truck was sitting in front of her, waiting to follow her. But behind her were two newly registered voters.
CORRECTION: This article has been updated to reflect that Alexiss Kurtz was canvassing for a Democratic senator, not the governor.