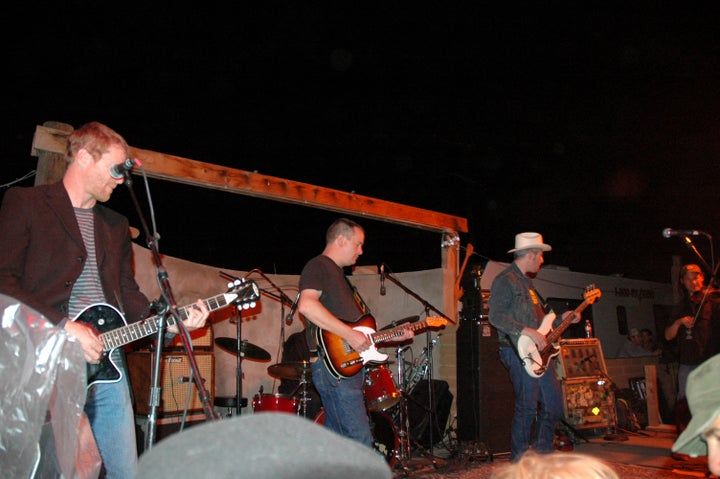 You don't want to miss this one at a CVB show. It spent three weeks as No. 1 on Billboard's Modern Rock Tracks in late 1989, and stands out among the band's very catchy repertoire.
The sold-out gig was 2017's traditional MLK weekend double bill at the venerable Cambridge, Massachusetts club, featuring frontman David Lowery's post-punk Camper Van Beethoven, which formed in California in 1984 and signed on with Virgin Records in 1987, and his more commercially successful (but nonetheless, no less beloved ;>}) alt-rock Cracker.
Both bands were audience pleasers in Cambridge. Camper Van Beethoven ran through their slew of quirky, noveltyesque numbers that included their debut single "Take The Skinheads Bowling," the lovelorn "One of These Days," a slow tempo version of the Clash's "White Riot," "(I Was So) Wasted," and "All Her Favorite Fruit."
And in the middle — was that Hava Nagila? Yes, it was, in frenzied fashion, violinist Jonathan Segel sawing with virtuosity, mixed in with "Roundabout" and "Dazed and Confused," yet. Fans were jumping, and if there was more room, may well have been doing the hora.
"'No Krugerrands for David' (a very-Klez tune that appeared on CVB's 1986 II & III LP), used to go there," Segel, a California native who lives in Stockholm, told HuffPo after the show. "But because Christmas and Hanukkah coincided this year, we started playing it instead on this tour," he said.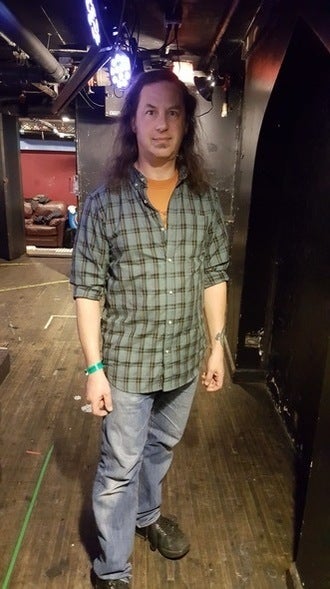 Segel, who has been with Camper since 1983, said the show date had no particular tie to the MLK holiday. "It's a long weekend, and we just played through some of the holidays in Portland, Seattle, Minneapolis, Chicago, Cleveland, and North Carolina," he said. They had also just played the 9:30 in D.C.; Lowery sported a T-shirt from the famed club.
Athens, Georgia is next week. That would be the current hometown of Lowery, as well as Cracker pedal steel guitarist Matt "Pistol" Stoessel, who also chatted with HuffPo post-gig. (Apparently, his curious nickname is a nod to an appearance, in cowboy boots and hat, that prompted Athens mandolin player Matt Dawson to liken Stoessel to a riverboat gambler of that name.)
With their unconventional, often deconstructivist blend of punk, ska, folk, pop, country, and/or world, Camper Van Beethoven was charged and compelling. It's no wonder that the band released three LPs in 18 months in their day, which clearly continues.
Cracker formed in 1991, also immediately signing on to Virgin Records. Stemming from Redlands in Central Valley, it's unsurprising that the band is so twangy. The area is the center of a country music genre that originated in the 1960s called the "Bakersfield sound." In fact, "King of Bakersfield" was Cracker's first encore, featuring Pistol's long pedal steel guitar segments.
But their alt-country is also for people who don't like country, and their rockers are danceable, edgy, irreverent, and memorable, i.e., the bratty "Teen Angst" and "Euro-Trash Girl," the commercial hit "Low," and "March of the Billionaires" (do check out this YouTube video).
"My mother was from Boston," lead guitarist Johnny Hickman told the crowd, "and I used to call her, putting my cellphone to the mike." She would complain about his accent, he said, as he sadly noted that he had lost her in the past year.
Playing a double gig must be a lot of work for Lowery, but he put his all into it, with his distinctive, craggy-in-a-good-way vocals in fine form.
Fans look forward to hearing the songs each year, and that was evident. Looking around, most everyone was excitedly mouthing the words on cue.
Civil rights, Camper and Cracker — a good combination, a good annual weekend.
Susie Davidson tweets at @SusieDavidsonMA.