If I'm honest, a week in the woods of Maine at an LGBT summer camp didn't sound like my idea of a perfect vacation. But after a friend invited me to go with her to 'Camp' Camp, I agreed without giving it very much thought.
As the time came closer, however, I began to regret my rash decision. Touted on their website as "America's premier summer camp for LGBT adults," 'Camp' Camp involved a lot of things that took me out of my comfort zone. Sharing a rustic cabin with strangers? Eating meals in a lodge with almost 250 people? All those organized activities? I'm an introvert who treasures her privacy. I'm extremely fussy about my food. I hate anyone else trying to organize my time.
But I was already committed. There was no backing out.
When I arrived, the first thing that struck me was the beauty of the location. It was on a lake. We were surrounded by trees. I stepped out of the car and felt the tension of the city melt away. The second thing i noticed was just how happy everyone was to be there. People were beaming, hugging, grinning. There was disco music, rainbow flags, and glitter.
"Welcome to 'Camp' Camp!" declared a person of indeterminate gender wearing a tiara. I was handed a folder of information, then a burly lesbian offered to take my suitcases to my cabin. I must have looked as nervous as I felt because she reassured me that the week was going to be great. "You'll have the best time ever," she said, repeating the 'Camp' Camp slogan. I nodded, but wasn't convinced.
Within a short time, I met most of my cabin mates. They were warm, friendly, and had already made our simple pine cabin feel quite homey. Maybe sleeping in the same room as these women wouldn't be as bad as I feared.
At that evening's dinner, I discovered that camp food could be a lot tastier than I'd anticipated. At the ice cream social afterwards, I chatted easily with folks from around the country and learned more about the myriad of things to do. Besides classes in yoga, dance, tennis, stained glass, and jewelry-making, I could join a kayak trip around the lake, go mountain biking or hiking, play volleyball, draw, paint, learn how to knit or how to play guitar.
Much to my surprise, over the course of the week I found myself cramming in as many new activities as I could. Along the way, I met some amazing people. I had intense and engaging conversations. I laughed. I played cards on our porch with my cabin mates. I laughed. I went to the barn dance and the tea dance. At the bingo night lead by a couple of hilarious drag queens, I laughed so much that tears rolled down my cheeks. And then I laughed some more.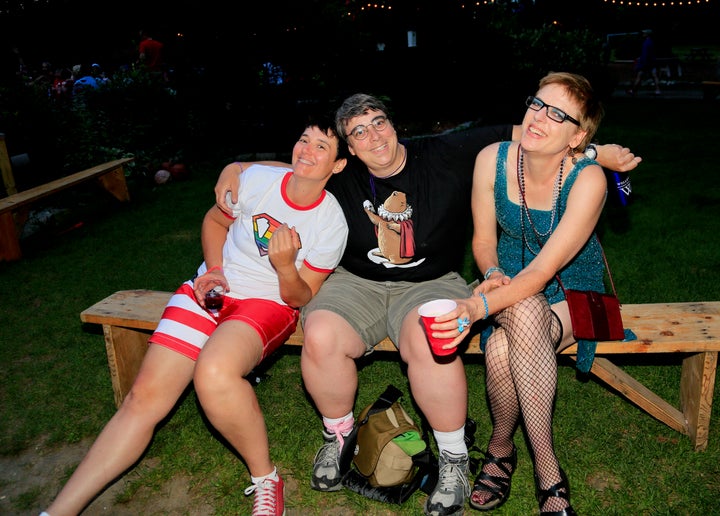 By the end of the week, I'd gained several new friends and (thanks to that delicious Camp food) a couple of pounds. I returned home rejuvenated, despite my sides aching from laughing so much.
Since then, I've returned to 'Camp' Camp five times. In subsequent years, I've taken it a whole lot easier than I did that first year. I usually take a couple of classes and have even made a couple of appearances in the annual Talent/No Talent Show, but mostly I relax at the beach, swim, and spend a lot of time simply hanging out (and, yes, I still laugh a lot). It's always wonderful to see other repeat Campers, and I also love meeting the many new Campers who come each time. I haven't gone every year, but when I don't I miss it.
After three summers as a Camper, I decided to become one of the 100+ attendees who are a part of the staff. I still get to enjoy Camp's amazing atmosphere, but my experience as a staff member surprised me yet again. Helping to ensure that everyone has a great Camp experience makes it especially meaningful and even more fun for me. (The fact that I receive a discount on my registration fees in exchange for being on staff is more bonus than incentive.)
This year, for the first time, I'll be taking two new positions – roles that allow me to use my creative skills. I was thrilled when I was invited to take over as instructor of the writing class (a recent addition to the schedule) and to join the team of staff photographers.
After that first year at 'Camp' Camp, I learned that impulsive decisions can reap surprising rewards. If I hadn't jumped in, I would have missed what continues to be a consistently amazing experience. And I'd never have had the chance to experience a vacation that promotes our community's best features and values. 'Camp' Camp is utterly fun and fabulous – as any LGBT vacation should be. But it also embraces inclusion, respect, acceptance, and diversity. In today's political climate, that's a priceless addition to any vacation.
This year, as August draws near, I'm anxiously anticipating my seventh season at 'Camp' Camp. But unlike that first year, I know I'll have the best time ever. And, of course, I'll laugh a lot.
Popular in the Community