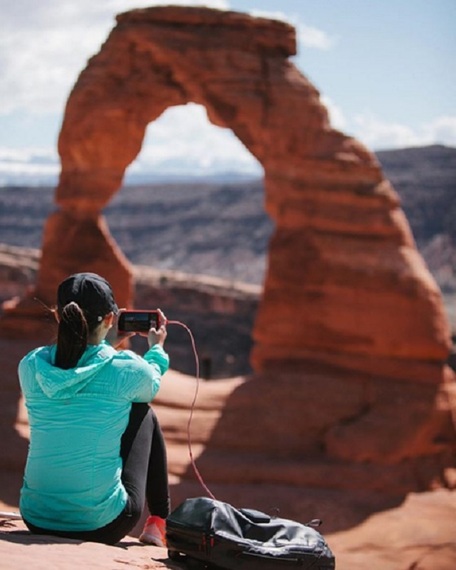 If you're like me, you probably love the idea of spending time in nature surrounded by swaying trees, twittering birds, and frolicking baby animals. I want a Disney movie. Only with internet service.
Like most web addicts, I have a hard time disconnecting. If you can't get through dinner without checking your phone, don't worry. You can take along enough tech to keep you in your happy place, even in the great outdoors.
Power
Unless you're camping in an RV or staying at a campground with electrical hookups, you need to bring your own power sources.
Fortunately, there are some truly amazing ways to power any number of items. You can convert your cooking surface into a USB porting energy hub, use your campfire to plug and play, or use the sun to keep you connected.
Connection
Getting your devices to full power is the first hurdle when camping. The second is staying connected. There are a couple of ways to do this. If you're traveling in a group, you can use external antennas to connect. Sort of like turbo walkie talkies. It works by connecting with other devices using the same antenna, and supports text and GPS.
Bottom line, if someone wanders off, search and rescue is less likely to require dogs and helicopters.
Worried about bad service? Turn any smartphone into a satellite phone. The device links wirelessly to your phone and allows you to update Facebook and Twitter, send short emails and text messages, or send an SOS with your GPS location. Neither of these requires a cell signal to work - perfect if you're in an area so remote you have no bars.
Practicality
If you're taking all that tech along, you need a way to haul it around. Lander offers a backpack engineered with weatherproof materials to protect your electronics. You need something comfortable and easy to carry, with compartments sized for various devices. Easy accessibility is a bonus too, especially if you'll be using apps on your device to navigate.
Camping is rough, and you'll also need protective cases to keep your devices safe in a variety of environments. Look for case that will make your phone dirt, water, and shock proof.
You might also want to bring along some additional gadgets to make full use of your device. For dancing under the stars (or under a romantic waterfall) a waterproof speaker is a definite must. If you're traveling with little ones who need a favorite movie to wind down, a tiny pocket projector takes up minimal space.
Need to justify taking your device to a skeptical spouse or old-school fishing partner? No problem. You can get a case that serves as a multi-purpose tool, check wind speeds with your personal wind meter, find fish faster for dinner, or turn your phone into a night vision scope.
How did we survive the wild without tech?
For most people the appeal of camping is to get away from it all...an idea that makes tech-centered people a little itchy. I think we've come full circle now. With the newest technology, you can immerse yourself in nature and still share real-time selfies of your trip on Instagram.
I could probably live without social media and the internet for a week, but I don't want to. And these days, I don't have to.
Related
Popular in the Community