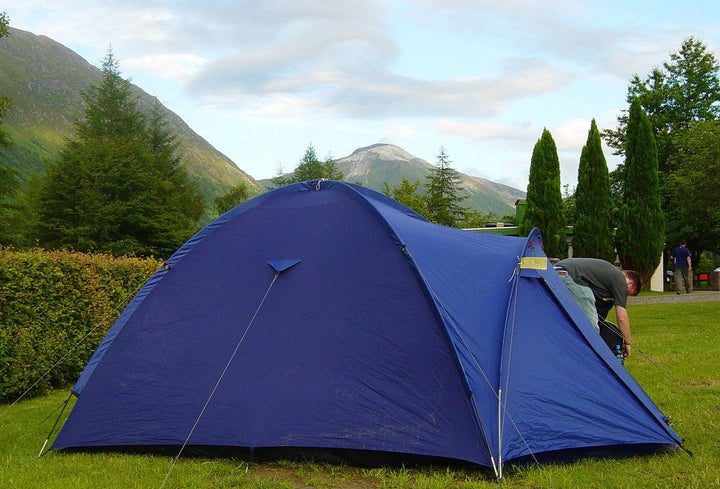 It's a lot easier to see the stars without the the hazy orange glow of a skyline clouding your view. Fortunately for Chicagoans, the chance to swim in the Mississippi River, walk amid prairie grasses, and sleep under Ursa Major and Orion are but a short drive away. We've scoped out five area spots to go camping, whether you want to pitch your own tent or luxuriate in a cabin amid the woods.
Goose Lake Prairie State Park and Gebhard Woods State Park: See why Illinois is nicknamed the "Prairie State" at Goose Lake Prairie State Park in Morris, Ill. It's there where sheaves of grass as high as your torso blow in an unadulterated swath of about 2,500 acres of prairie. Its land carved out by glaciers, Goose Lake Prairie retains mostly big bluestem, Indian and switch grasses. In some areas, prairie cordgrass can reach 12 feet high. Amid Goose Lake's seven miles of hiking trails, visitors will find Cragg Cabin, a reconstructed cabin made in 1830s pioneering style. The nearest campsite to Goose Lake, lies about seven miles away at Gebhard Woods State Park. It's strictly do-it-yourself there, as the camping site, which is about one-third of a mile from the parking lot, has just a drinking fountain and an outdoor pit toilet. The cost is $6 per night per tent, unless your family brings a pup tent for the kids, which is free. For fishing enthusiasts, three ponds populated with bass, bluegill and bullhead are a short walk away. 5010 N. Jugtown Rd., Morris, Ill. Drive time from downtown Chicago: 1 hour
Luxe at Lake Carroll: If you prefer a little more luxe in your nature getaway, check out Hickory Hideaway. Situated among 10 acres of woods by Lake Carroll in the Galena area, Hickory Hideaway offers whirlpool cottages and family country cottages, as well as luxury cabins made of knotty pine and equipped with a jacuzzi, fireplace, king-size bed and wet bar. Guests can also use a clubhouse with grills and picnic tables, along with bench swings and a fire pit. One-night-stay rates range from $115 to $159, and three-day packages start at $350. 24366 Payne Road in Shannon, Ill.; 1-866-333-1333 Drive time from Chicago: 2 hours, 30 minutes
Yogi Bear's Jellystone Park Chicago: If you're not sure whether you want to pitch a tent, have an RV sleepover or stay in a cabin, Yogi Bear's Jellystone Park will let you do all three. The park, which has several locations in Illinois but whose closest to Chicago is in Millbrook, located southwest of Oswego, has plenty for families to do. It features heated pools, a kiddie pool, a hot tub, a mini-golf course, hay wagon rides, volleyball and basketball courts, a game room, a ceramics and art program, movies, and, should you not want to cook food yourself over an open fire, it can even deliver pizza to your campsite. 8574 Millbrook Road, Millbrook, Ill.; 1-800-438-9644 Drive Time from Chicago: 1 hour, 15 minutes
Seven Eagles RV Park & Campground: Perhaps you want to take your bike onto a scenic, winding path. Or paddle a kayak onto the Mississippi River. Or go spot geese, pelicans and eagles in the Spring Lake Wildlife Refuge. If so, the Seven Eagles RV Park & Campground could be your camping spot. Seven Eagles has enough overnight options, so that you can try burrowing in a tent for one night and then walking a few minutes to a motel room the next. Rates start at $16 for "primitive" tent site to $100 for a stay inside of a motel suite. 9734 Route 84, Savanna, Ill.; 815-273-7301 Drive time from Chicago: 2 hours, 45 minutes
Shawnee National Forest: If your camping ideal is to be surrounded by an ocean of trees, then head to Shawnee National Forest. The sprawling, federally protected area has a swath of camping options that include free, primitive tent camping to campgrounds that have showers and electrical sites. As with most of the campgrounds in the forest, those like Bell Smith Springs and Lake Glendale recreation areas are located near streams and bodies of water, where campers can fish, boat and swim. For one of the most beautiful views in the state, check out the Pharaoh Campground at the Garden of the Gods Recreation Area, where panoramic vistas overlook sandstone rock formations that jut out from the wilderness. 50 Highway 145, South Harrisburg, Ill.; 618-253-7114 Drive time from Chicago: 6 hours
Calling all HuffPost superfans!
Sign up for membership to become a founding member and help shape HuffPost's next chapter