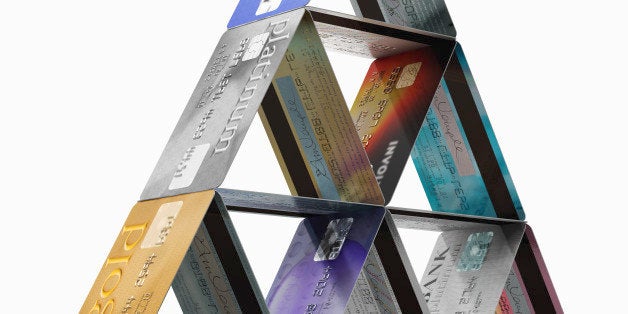 Every year the Consumer Financial Protection Bureau (CFPB) reports to Congress on credit card deals between financial institutions and colleges. Though the number of campus credit cards are declining, students must remain aware of the dangers of using easy-to-obtain campus credit and debit cards, and Congress should consider passing new reforms to better protect students.
First, some quick history. In 2009 Congress passed the much needed Credit CARD Act ("CARD Act"). The act limited marketing credit cards to college students by, among other things, prohibiting giveaways at on-campus tables, requiring that students between 18 and 21 show an ability to pay or obtain a co-signer, and forcing colleges and universities to publically disclose agreements with credit card companies.
These were important reforms. While it can be helpful for students to develop a good credit history, far too many inexperienced borrowers do not pay their monthly balances. This results in high interest rate charges or -- even worse -- students choosing to finance educational expenses with credit cards instead of using far safer federal student loans with lower interest rates. The good news from the 2014 annual report is that the restrictions on marketing and transparency provisions appear to be working, as the number of campus credit cards continues to decrease significantly.
So what's the bad news? First, colleges appear to be evading the transparency requirements in the CARD Act. The CFPB found "that the overwhelming majority of schools provided no information on their website regarding the agreement," estimating that "[o]nly one of every five schools provided a link to their marketing deal or online guidance on how to obtain their marketing agreement with a credit card issuer." If you want to learn about your school's marketing deals with financial institutions, try the CFPB's College Credit Card Agreement Database. Congress should ensure that colleges and universities that don't meet transparency standards in the CARD Act face significant financial penalties.
Worse, it appears the decline in credit card agreements has resulted in an increase in campus debit cards that are not covered by the CARD Act. According to the CFPB, campus debit cards are now more common than credit cards.
As we've reported before, students should also be wary of campus debit cards. These cards are often loaded with fees, including overdraft and insufficient funds fees, reloading fees, transaction (including PIN) fees, abandoned account fees, account closure fees, check fees, refund fees, replacement card fees, balance inquiry fees, dispute fees, transfer or wire fees, fees for using a different bank's ATM... Did we mention they can be loaded with fees? Students should not waste money -- which often comes from educational loans or grants -- to pay fees to third-party financial institutions.
This is another area where Congress should step up to the plate. Students need to be protected from deceptive marketing. And debit card agreements between companies, colleges and universities should be subject to the same transparency requirements as campus credit cards.
In the meantime, it behooves students to compare their options, choose the best financial products for their needs, and use them wisely. A debit or credit card that has your school's logo may not be the best product. In fact, it might be benefiting your school more than it benefits you.
Isaac Bowers is Associate Director for Law School Engagement & Advocacy, overseeing the Student Debt, Student Engagement, and Law School Relations programs. He was previously responsible for the organization's educational debt relief initiatives. In that capacity, he wrote a weekly blog for U.S. News; conducted monthly webinars for a wide range of audiences; advised employers, law schools and professional organizations; and worked with Congress and the Department of Education on Federal legislation and regulations. Prior to joining Equal Justice Works, he was a Fellow at Shute, Mihaly & Weinberger LLP in San Francisco, where he represented citizen groups and local agencies in environmental litigation and land use and planning issues. Isaac received his J.D. from New York University School of Law.
PHOTO GALLERY
Top 8 Financial Worries Of Americans
REAL LIFE. REAL NEWS. REAL VOICES.
Help us tell more of the stories that matter from voices that too often remain unheard.