Dozens of university police departments around the country are sitting on small caches of the same type of weapon that has been standard issue for U.S. soldiers since the mid-1960s. But the schools in possession of such lethal, military-style equipment say no one should worry, most of it is just sitting in storage.
At least 63 schools have M16 rifles, 14 have M14s, six colleges have mine-resistant vehicles and two have grenade launchers, according to a report by the Chronicle of Higher Education. More than 100 campus police departments are obtaining such weapons from the U.S. Department of Defense, according to Muckrock, a website that archives government documents and FOIA requests. Equipment sold by the feds can range from trousers and hammers to sniper rifles and Humvees.
Schools are scoring these items through the 1033 program, which the Defense Department uses to dole out surplus equipment to local law enforcement agencies. The program gained new scrutiny this summer following the heavy-handed response by police in Ferguson, Missouri, to unarmed protesters. Members of Congress have signaled their intent to review the program.
When the University of Central Florida was asked why its police department has a grenade launcher, a school spokesperson explained it had been retrofitted for tear gas canisters and "hasn't been out of the armory in several years."
"Orlando was one of the host cities for the 1994 World Cup. The games took place at the Citrus Bowl, where our football team used to play before the on-campus stadium opened," Chad Binette, a UCF spokesman, told The Huffington Post. "UCF Police inherited the modified launcher around that time for security and crowd-control purposes, and at one time the launcher was used for training."
In reference to the school's 23 M16 rifles, Binnette pointed to an incident from March 2013, when police encountered a student who committed suicide in a residence hall after pulling a gun on his roommate. Reports at the time suggest the student had possibly planned to attack campus with multiple weapons and explosives in his possession. Binette suggested the incident illustrates why UCF patrol officers keep rifles in their vehicles as an emergency precaution.
That student had "vastly more ammo than the three officers who responded to the scene with rifles had," Binnette said. "We know that college campuses are targets, and that these bad guys have access to weapons and ammunition that can cause a lot of damage. In order to keep up with them and protect our community, officers need training and equipment for responding to these types of scenarios."
Police at Hinds Community College in Mississippi have a grenade launcher as well, as well as two M16s. But spokeswoman Colleen Hartfield said the school's president, Dr. Clyde Muse, plans to declare the items as surplus and have them "disposed of according to legal means."
"The items were purchased in 1998 by a former campus chief of police, who retired in 2003," Hartfield said. "They remained on college inventory, and, to our knowledge, have never been used for any purpose on the college campus."
University of Akron police have 20 grenadier sets, which are designed to hold grenades, but a representative said the department uses them as bags in which to carry other items.
As for the military-style vehicles, Ohio State University said it used its vehicle primarily as emergency transportation during severe weather, like flooding or in snow conditions, since their mine-resistant vehicle has off-road capabilities. Dan Hedman, OSU marketing director, said the vehicle is critical to the police department's "ability to respond at a moment's notice to any disaster -– natural or man-made."
The University of California, Berkeley had to back off from purchasing a military-style vehicle in 2012 following backlash from the community, but the UC police has already amassed a stash of M16s.
Central Washington University got an armored truck, produced in the early '60s and refurbished in 1994, after it had been owned by at least two other agencies. CWU said they've used it for training in active-shooter scenarios, and the school's single M14 tactical rifle has remained in a safe and hasn't been used in 12 years.
University of Maryland Police Chief David Mitchell said his department has always been transparent about its two Humvees and stockpile of firearms (50 M16s, two M14s, 16 shotguns) acquired through the 1033 program. They've saved thousands of dollars they would have otherwise spent, Mitchell says, and none of equipment has been used against students. Instead, Mitchell told HuffPost, it is there in case of threats like an active shooter on campus.
"Seconds save lives," Mitchell said, noting the most frequent question he's asked by parents at orientation for the school's approximately 5,000 incoming students is "How prepared are you for something like Virginia Tech or Columbine?" Mitchell said when he explains his department's equipment and training, "parents have been appreciative" to hear about the precautions.
"After what we saw in Ferguson, people are concerned about police militarization," said Mitchell, who teaches a class on police administration. He met with members of the student government association this month to discuss the equipment on campus and the 1033 program. "I think the question should be how do they use and account for [the military equipment], how transparent are they that they have it, and do they record and document use?"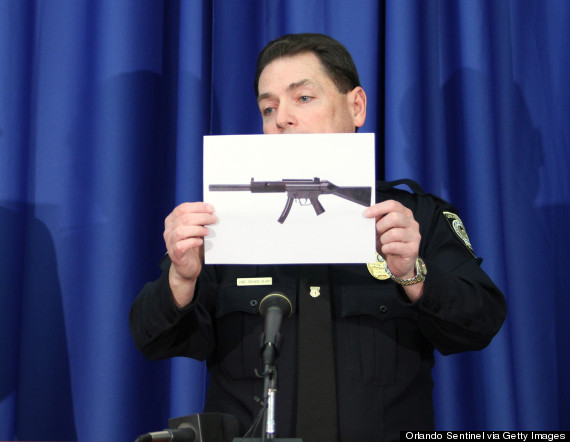 University of Central Florida Police Chief Richard Beary shows the type of gun found in the room of a UCF student during a press conference in Orlando, Florida, Monday, March 18, 2013. Police found a former male student dead from what appears to be a self-inflicted gunshot wound. Law enforcement officers investigating the incident found a handgun, an assault weapon and improvised explosive devices, a campus spokeswoman said. (Gary W. Green/Orlando Sentinel/MCT via Getty Images)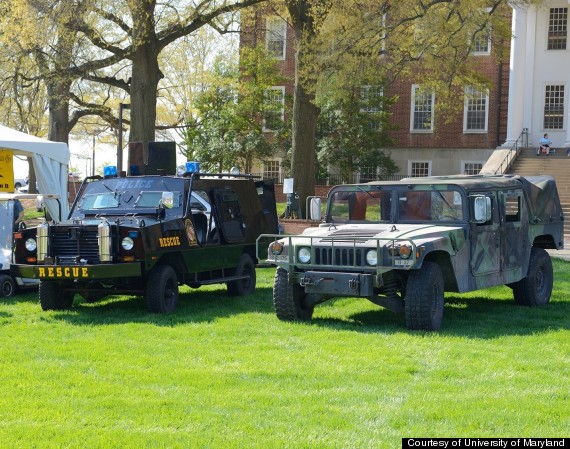 The University of Maryland said the military-style vehicles the police department has in their possession are necessary for student safety.
Popular in the Community